Taxi Transfer from Santorini Port - Athinios to Fira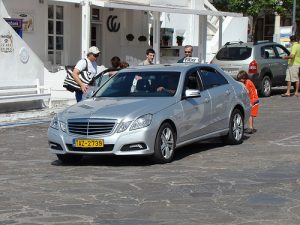 There is a taxi queue at Athinios port, the main port of the island that all the ferry boats from other ports of Greece arrive.
The distance from Athinios Port to Fira (main village) is just 12 km, however during summer the island streets can get very crowded it can take you 45 minutes to reach Fira.
I suggest that you already know how you are going to get from the port to your drop off destination. It can get chaotic when there are hundreds of people disembarking at the same time.
If you choose a taxi, keep in mind that the whole island has a limited number of taxis so it is highly possible that you share a taxi with someone else. That might be fun but if you would like a private transfer it's advisable that you pre-book you transfer. A pre-arranged transfer is more expensive but also stress free knowing you will have a taxi waiting for you as you step your feet on the island.
Taxi charges are determined yearly, according to destination and season (low or high). You can find an estimation on the table below.
Santorini Airport Taxi Fares
Santorini Port - Athinios to Fira (downtown)
Daytime (05:00-24:00)
35 €
Santorini Port - Athinios to Imerovigli (downtown)
Daytime (05:00-24:00)
40 €
Santorini Port - Athinios to Oia (downtown)
Daytime (05:00-24:00)
50 €
Santorini Port - Athinios to Kamari (downtown)
Daytime (05:00-24:00)
25 €
Useful Tips
Make sure you hold some cash, the taxis in Santorini cannot accept credit cards.
Although the distances are relatively small the island gets really busy during summer months
According to Greek law a taxi can carry up to of four people at a time, including children
Keep in mind that the cruise port is different than Athinios Port
Check with your hotel whether they provide any kind of transport to and from the port
Bus Transfer from Santorini Port to Fira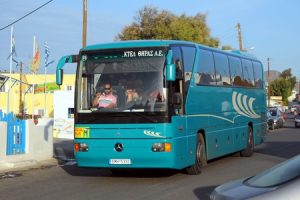 The cheapest alternative to reach Fira from Athinios Port is by the local bus.  The buses try to meet the arrival times of all ferries.
During summer months the bus transfers are more frequent and there are more destinations covered other than Fira, so stay tuned and check the time table at the official website of Santorini Buses.
The tickets can be purchased directly from the driver and cost just 2.30 € per person.
Bus Departure Times: Santorini Port to Fira 
Monday to Friday 
| | |
| --- | --- |
| Hour | Minutes |
| 7 | 20 |
| 10 | 25 |
| 14 | 10 |
| 17 | 45 |
| 18 | 55 |
Bus Departure Times: Santorini Airport to Fira 
Saturday to Sunday
SANTRORINI AIRPORT BUS TICKET PRICES
From Santorini Port to Fira
Adult - one way transfer
2.30 €
From Santorini Port to Messaria
Adult - one way transfer
2.00 €
From Santorini Port to Perissa
Adult - one way transfer
2.20 €
From Santorini Port to Fira
Kids under 4 yeard old
Free
Santorini Port - Athinios Bus Route to the Fira - Useful tips
During summer, buses run more often and, apart from the most popular destinations, you can also visit other places of interest.
You can find some authentic little restautants if you have to kill some time in Athinios Port
Tickets can be purchased directly for the bus driver
Check whether your hotel offers any kind of transportation to and from the port