Transfer from Santorini Old Port to Fira - Cable Car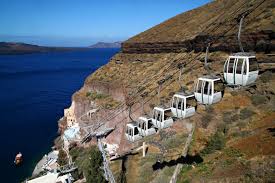 You have just arrived with your cruise ship at the old port, it might seems impossible to climb the hill all the way up but there are actually three ways of reaching Fira.
The easiest and most comfortable way is by the cable car. It runs every 20 minutes during summer time and costs € 5. It ride takes just 3 minutes to reach Fira village, Santorini's capital at an altitude of 220m and has an astonishing view!
During the peak travel season, the cable car can only carry a maximum of 1200 passengers an hour, whereas some of the larger cruise ships have double or triple that amount of passengers disembarking!
As soon as you reach Fira (main village) you can take a taxi or the local bus to rest of the island, Oia for the famous sunset or Perissa for the extraordinary beach with the black sand.
Santorini Airport Taxi Fares
Cable car (downtown)
One way adult
5 €
Cable car (downtown)
One way children under 5
2.5 €
Cable car (downtown)
One way luggage
2.5 €
Useful Tips
Especially on the way back to the old port you have a direct magnificent volcano view
The last trip to from the top station during summer months is at 22:40
Special trips are highly unlikely during summer months but you can always check at the ticket booth
All the revenues from the cable car go to the municipality of the island
For the cable car up there is often a long waiting line due to the many cruise passengers.
Transfer from Santorini Old Port to Fira - Donkey station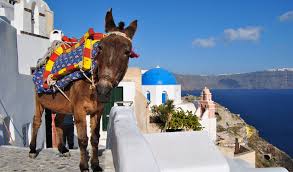 Another option of climbing up the steep cliff from the old port –  is on a back of a donkey. That is the most traditional but also controversial alternative to reach Fira from the cruise port.
It can consider as dangerous, animal unfriendly on one hand. On another hand donkeys played an essential role in the cultural and economical development of Greece especially in the inaccessible paths of Santorini, it's part of the culture and the only transportation mean that people used before the 70′.
The mule drivers of Santorini try to continue their old traditions, giving an authentic beautiful sight of the island with respect for the animals, although some travelers might have different opinion.
The ride costs 5 € and it takes around 30 minutes for the donkeys to climb the stone path of the 586 steps.
The last option is to try the path on foot! It's the same path the donkeys take so you might encounter some of the lovely animals on your way up. It recommended for those who are in good physical condition but you can anyway take it on your own pace. Avoid it on a very hot day!
SANTRORINI AIRPORT BUS TICKET PRICES
Donkey ride (downtown)
One way adult
5 €
Donkey Ride - Useful tips
The way up is steep, it might be scary for some and it's not recommended for children
During peak season it can be five cruise ships arriving in the old port the same morning, it can be crowded
For the donkey ride you pay directly your driver, they will be happy to take you a photo with your donkey
The old port of Santorini is a natural harbor that was created by the volcanic eruption at 1650 BC