Santorini Taxis
The stunning island of Santorini is spread out over many levels, with lots of small winding roads, so it can be extremely difficult to navigate by car. However, there are around 40 taxis on the island that can help you get from one destination to another, giving you more time to enjoy your holiday.
Taxis in Santorini don't use a taximeter to calculate their fare, so you will have to agree upon a set fare with your driver before you begin your journey. You can get a Santorini taxi by hailing one from the street, calling one of the few companies on the island or waiting at a taxi rank. However, it's good to be aware that flagging down a taxi or waiting at a rank may be difficult during peak season due to the limited number of taxis on the island.
TRAINED DRIVERS
Hand picked & english speaking drivers
LOW PRICES
Same price as a regular Taxi from the line
FLIGHT MONITORING
Drivers are always on time
QUALITY SUPPORT
24/7 Email & Phone support
How much does a taxi cost?
Night time


(00:00 - 05:00)
FROM SANTORINI AIRPORT TO - OIA
FROM SANTORINI AIRPORT TO - FIRA
FROM SANTORINI AIRPORT TO - FERRY PORT
FROM FERRY PORT TO - FIRA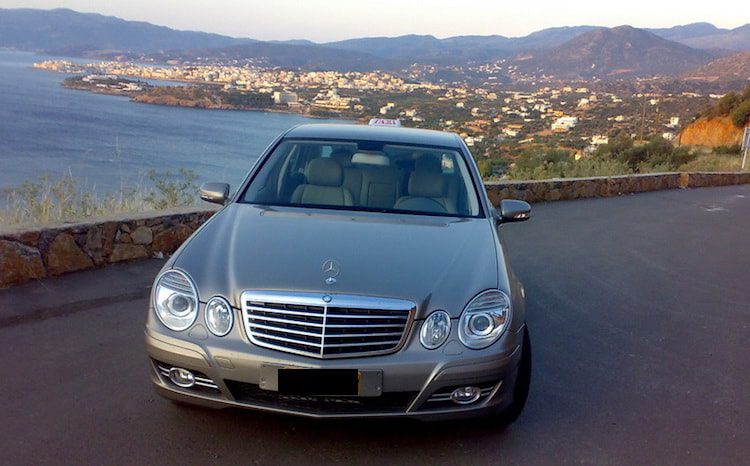 Santorini taxi prices
Taxis on the island do not operate using taximeters, Santorini taxi fares are fixed depending on your destination. To avoid being overcharged, we fully recommend discussing a set price with your driver before you set off. Once in Santorini, you shouldn't pay more than around €45 for any journey you need to take. If you want to ensure a fixed fare not subject to any changes, you can book a private transfer in advance.
*Keep in mind that travelling to and from the airport or port may be a little more expensive and prices increase in the evening and again after midnight. 
To discover more detailed information about travelling to specific destinations within Santorini, you can click here and find detailed breakdowns of all available transfer options to each destination.
What our customers say about Welcome
How to get a taxi in Santorini
Due to the low number of taxis in Santorini, getting a cab can be a little difficult and slow. However, you can hail one from the street, walk to a taxi rank or call for a taxi. If you see an empty taxi in the street, you can easily flag it down by sticking out your arm. If you'd prefer to go to a taxi rank, you can find one in the centre of Fira and at the bus station in Oia. Taxis also usually wait outside of the airport and at the ferry port, but there's usually a long queue for this service. 
If you'd prefer, you can call a taxi at +30 228 602 2555 or have your hotel book one for you. This service is usually very slow, so you may be waiting up to an hour for your Santorini taxi. 
Booking your Santorini taxi in advance
Although taking a local taxi in Santorini may seem like the easiest mode of transportation, the island gets extremely busy during the summer months and you'll likely end up waiting a long time to find a taxi in the street or for one to arrive after you call.
Instead, why not book your Santorini taxi in advance so that it arrives at the exact moment you need it? Booking with Welcome Pickups not only ensures a fast and reliable service but also guarantees unbeatable set rates and friendly English-speaking drivers. 
Santorini taxi tips
Not all taxi drivers in Santorini speak English, so be sure to write your destination down to avoid any miscommunication issues.
Asking your hotel to call a taxi for you may be quicker, but it may also be more expensive.
Make sure you agree upon a price with your driver before beginning your journey.
If you feel your driver is taking a wrong turn, you can check your route on Google Maps.
There are less than 40 Santorini taxis, booking in advance can save you long waiting times.
Santorini taxis don't offer baby seats as standard but you can fit your own for free.
Be sure to carry change in Euros as taxi drivers are not required to have change for large bills.
Wheelchair-accessible taxis in Santorini
Standard taxis in Santorini aren't wheelchair accessible. You can fold and store your chair for free, but they don't have custom ramps or space to house a standing wheelchair. However, some of the private tour companies on the island have minivans that can offer this service. 
One of the top-rated companies is Santorini Karavas Travel (+30 228 602 3308), they provide minivans equipped with ramps and plenty of space, as well as accessible private tours.
Santorini taxi complaints and safety
As there is such a low number of taxis in Santorini, safety isn't a a big concern. The only thing that may go wrong is if you don't agree on a set price before your journey, your driver may overcharge you.
Having said that, if you do experience any problems during your journey, such as a rude driver or a scam, you must ask for your receipt, take down the driver's ID number and the taxi number and report it to the local authorities.