The best Chania airport taxi service
The island of Crete is one of the most popular tourist destinations, which is great for soaking up some sun, but not so great when it comes to travelling from the airport. Taking public transport usually involves extremely long queues and long waiting times. Instead, why not begin your vacation with a relaxing transfer from Chania airport by taking a taxi. 
The moment your plane touches down at Chania airport (CHQ), your driver will be waiting for you just outside of the arrivals hall exit doors, holding a sign with your name on it. After a warm greeting, they will give you a hand with your luggage and lead you to your pre-selected Chania airport taxi. To make sure our drivers are always on time, we give them live updates on your flight's schedule and any delays that may occur. 
During your Chania airport transfer, your English speaking driver will answer any questions you may have about Crete and will share with you a few local tips, so you can make the most out of your stay on the island. With all your transfer needs taken care of by Welcome Pickups, all that's left for you to do is sit back, relax and enjoy the scenic ride. 
While on the island of Crete, you can book your journeys with Welcome Pickups or grab a local Crete taxi by hailing one from the street, walking to a taxi rank or calling a radio taxi company.
TRAINED DRIVERS
Hand picked & english speaking drivers
LOW PRICES
Same price as a regular Taxi from the line
FLIGHT MONITORING
Drivers are always on time
QUALITY SUPPORT
24/7 Email & Phone support
How much does a taxi cost?
Night time


(00:00 - 05:00)
FROM CHQ - TO CHANIA PORT
FROM CHQ - TO CHANIA CITY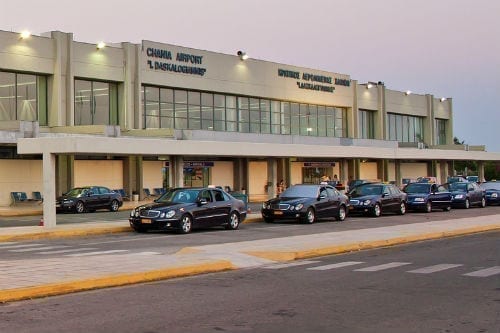 Welcome Chania airport taxi fleet
At Welcome Pickups, we know the importance of keeping your family close in a new city. That's why we have a large fleet of different sized Chania airport taxis to suit every group. If you're travelling with up to 8 people, one of our spacious minivans will be the perfect vehicle for you. However, if you're travelling with 4 people or fewer, you can enjoy a ride in one of our state of the art sedans.
What our customers say about Welcome
Directions for your transfer from Chania airport
Chania International Airport (CHQ) is the second-largest and busiest airport on the island of Crete. The airport is a transport hub for millions of tourists that flood to the island during the summer season. The shortest route from Chania airport to the city centre of Chania is 14.5 km and the taxi ride should take approximately 22 minutes under normal traffic conditions. Your driver will begin your transfer from Chania airport by heading west on the EO Aerodromiou Soudas. Your driver will then take Κonstantinou Μitsotaki street to Daskalogianni in Chania. From here, they will take the local roads to reach your accommodation. 
Is a Chania airport taxi for you?
Hiring a Crete Chania airport taxi is the most convenient and safe option when it comes to travelling from Chania international airport (CHQ) to your hotel in the city centre. Crete is a very large island, so taking public transportation can be long and complicated. So why not save ourself time and hassle by booking your Chania airport transfer in advance with Welcome Pickups.
Chania airport taxi prices
The local Chania airport taxi drivers charge a flat-rate fee for the journey into the city centre of Chania. No matter what time of day you're travelling, you can expect to pay €24. However, local drivers may charge you extra for things such as vehicle type, excess luggage and travelling during major holidays. To secure a flat-rate with no hidden extra costs, we recommend booking your taxi from Chania airport with Welcome Pickups.
The benefits of booking a Welcome Airport Taxi
There are many things that make Welcome Pickups stand out from the other transfer companies, but our main accomplishment is that we offer complete in-destination travel packages and fully tailored experiences. You can take advantage of our amazing travel extras, like skip the line tickets for some of the top attractions in Chania and our 5-star rated Sightseeing tours. To ensure that you enjoy each and every second of your experiences with us, we hand-pick all of our providers based on real customer reviews. Let Welcome Pickups take care of all your in-destination travel needs so you can focus on having a vacation to remember for a lifetime.