Competitive Fixed Prices for your Cartagena Airport Transfer
Cartagena, located on Colombia's Caribbean coast, offers a fascinating blend of history, culture, and natural beauty, making it a must-visit destination. With its charming colonial architecture, vibrant atmosphere, and stunning beaches, the city has so much for travellers to explore, and the best way to get around is in a Cartagena taxi.
When landing at Cartagena Airport, your Welcome Pickups driver will be waiting for you to exit Baggage Claim with your luggage, and for easy identification, they'll be holding a sign with your name. Once they greet you warmly, they'll help out with your belongings and take you to your pre-selected vehicle to begin your journey downtown. Your handpicked, Welcome-trained driver will be a friendly local professional, so you can rest assured the experience is going to be a memorable one, and you're guaranteed to get some insider tips on how to make the most of your time in Cartagena before you reach your accommodation.
TRAINED DRIVERS
Hand picked & english speaking drivers
LOW PRICES
Same price as a regular Taxi from the line
FLIGHT MONITORING
Drivers are always on time
QUALITY SUPPORT
24/7 Email & Phone support
How much does a taxi cost?
Night time


(00:00 - 05:00)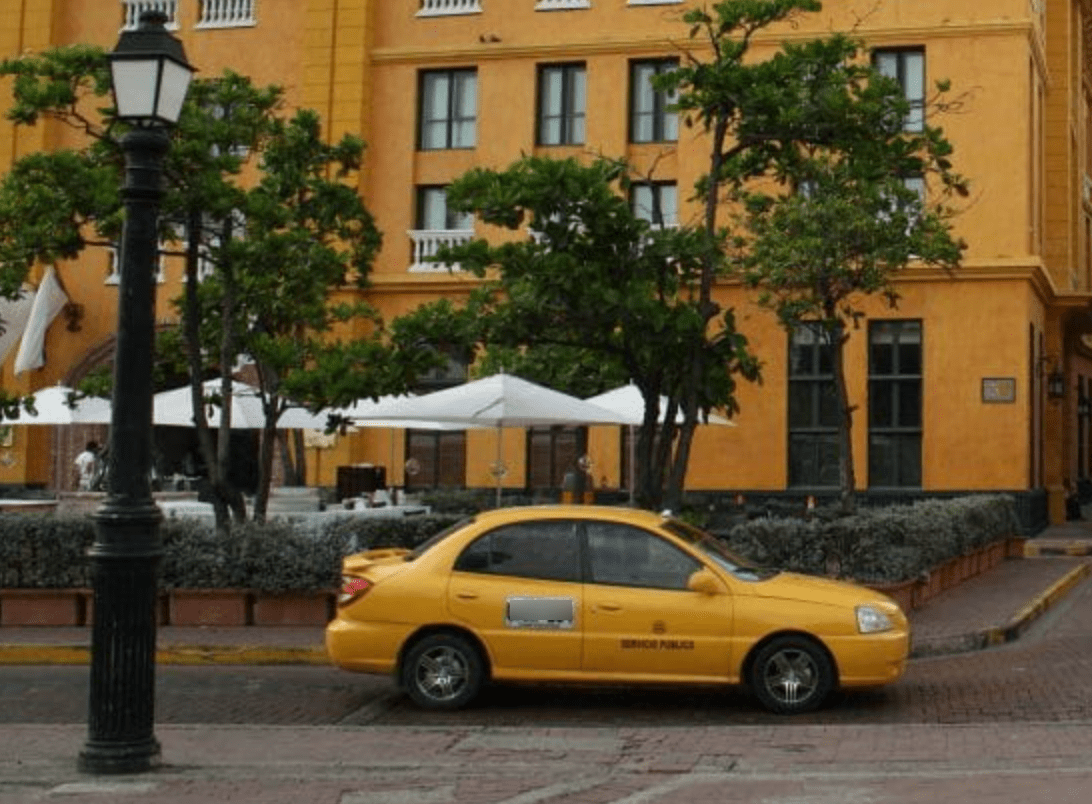 Welcome's Cartagena Airport Taxi Fleet
At Welcome, we understand the challenges of navigating a new city, particularly when accompanied by children or carrying heavy luggage. That's why we offer a range of Cartagena Airport taxi vehicles to cater to your needs. For groups of up to four people, we provide modern Sedans, ensuring a stylish and comfortable journey to your accommodation. Or, if you're travelling with a larger group of up to eight people, our spacious minivans are designed to provide ample room, getting you to your Cartagena hotel or apartment comfortably.
What our customers say about Welcome
Directions for your Cartagena Airport Transfer to the City Centre
Rafael Núñez International Airport, located in Cartagena, Colombia, is a busy airport serving domestic and international flights. With over 5 million yearly travellers, it is a key gateway to the enchanting city located 11.4 km southwest of downtown; it takes around 20 minutes to reach by car or taxi.
To get from the airport to the city centre, your Cartagena Airport taxi driver will exit the airport and head southeast on Avenida Santander. They will continue straight until they reach the Avenida Pedro de Heredia intersection. Your driver will turn left onto Avenida Pedro de Heredia and follow the signs for the city centre, heading straight into the heart of Cartagena.
Why Book a Cartagena Airport Transfer with Welcome Pickups?
Finding your way around a new city can be confusing and very stressful if you are travelling with children. So why not start your holiday stress-free by pre-booking a trustworthy Cartagena Airport taxi with Welcome Pickups?
We provide stellar 24/7 customer service, great set prices, no hidden fees, and English-speaking local drivers – hand-picked and trained by us. Once you land at Cartagena Airport, your Welcome driver will be waiting for you at the arrivals gate with your name sign in hand. They will then assist you and your travel companions to your pre-selected vehicle and share local tips on what to see and do on your Colombian holiday.
And now, you can conveniently book your private airport transfer in Cartagena, Colombia, in less than a minute using our user-friendly mobile application!
Cartagena Airport Taxi Fare
Standard Cartagena Airport taxis calculate their fares using a taximeter based on the time and distance travelled. You can expect to pay around €4 (COP 20,430) for your 20-minute trip from Cartagena Airport to the city centre. Please note that a surcharge is applied to night (20:00 to 05:00) and weekend fares, bringing your taxi's cost to €6 (COP 30,650).
If you wish to travel at a competitive, set rate with no hidden fees, it is highly recommended to pre-book your private Cartagena Airport transfer with Welcome Pickups.