The Most Reliable Porto Alegre Airport Transfers and Taxis
Arriving in a new place is always exciting, and you'll probably want to make the most of your time in Porto Alegre. To get to your destination without wasting any time after landing, consider booking your Porto Alegre airport taxi with Welcome Pickups for a hassle-free and comfortable transfer.
After landing at Porto Alegre International Airport Salgado Filho (POA) and collecting your luggage, your friendly driver will be waiting for you at the arrivals hall holding a sign with your name on it. Welcome drivers receive live updates on your flight's arrival time, so if you are delayed or even early, your driver will still be there waiting for you at no extra charge. After meeting up, your driver will guide you to the taxi and load your luggage into your pre-selected vehicle. During your journey, your driver can answer any questions you may have about Porto Alegre and can make some recommendations for must-visit places. All you have to do is sit back, relax, and enjoy the ride!
TRAINED DRIVERS
Hand picked & english speaking drivers
LOW PRICES
Same price as a regular Taxi from the line
FLIGHT MONITORING
Drivers are always on time
QUALITY SUPPORT
24/7 Email & Phone support
How much does a taxi cost?
Night time


(00:00 - 05:00)
POA TO PORTO ALEGRE HISTORICAL CENTRE
PORTO ALEGRE TO ARENA DO GREMIO
PORTO ALEGRE TO MOINHOS DE VENTO PARK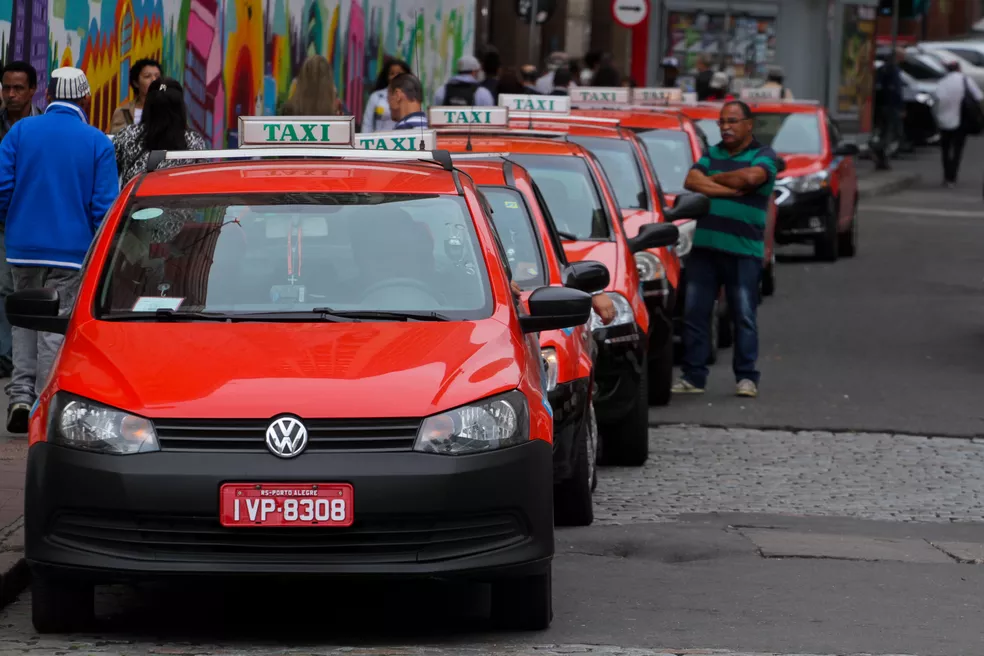 A Welcome Airport Taxi for Every Group Size
If you are travelling in a group, usually it is best to stick together. Welcome understands the importance of keeping your group together to avoid complications or confusion. We offer different sizes of vehicles to accommodate groups of travellers who want to book their Porto Alegre airport transfer with us. More specifically, we have stylish Sedans for groups of up to four, whilst if you have a larger group, we can also accommodate up to eight people in one of our spacious minivans.
What our customers say about Welcome
Directions for your Porto Alegre Airport Transfer
Porto Alegre Airport (POA) is around 9 kilometres northeast of the historical centre of Porto Alegre. The route you take may differ depending on where exactly you are headed. Generally, to reach the historical centre, you will take BR-116 heading southwest, and follow it to Av. Sertório, which you will then take to R. Voluntários da Pátria. You will then get on Av. Castelo Branco (turns into R. da Conceição), continue onto Av. Osvaldo Aranha and take a right onto Praça Raul Pilla to reach the centre. The drive takes 10 to 20 minutes.
Why book your Porto Alegre airport taxi with Welcome?
Rather than having to wait to take often crowded public transportation from Porto Alegre airport to your destination, you can pre-book a Porto Alegre transfer with one of Welcome's trusted English-speaking drivers. Welcome Pickups offers world-class customer service and a personalised experience. Our goal is to give you the most convenient and comfortable ride to help ease the stress that sometimes comes with travel.
After landing and gathering your luggage, your Welcome driver will be ready and waiting for you at the arrivals hall. Once your driver helps get your belongings loaded into the pre-booked vehicle, you can relax and enjoy the drive. We offer competitive set fares, so you don't have to worry about what a taxi meter may add up to. Our local drivers are professional, knowledgeable, and friendly. They are ready to answer any questions you might have about your stay in Porto Alegre and can recommend some fantastic places to visit during your stay in Porto Alegre.
Porto Alegre Airport Transfers and Fees
Porto Alegre taxis charge based on a metered rate, so you won't know the exact cost of your trip until you reach your destination. The fare is estimated to cost a base rate of €0.94 (BRL 5.18) plus €0.47 (BRL 2.59) per kilometre and €3.33 (BRL 18.31) per hour for standing/waiting. The cost to reach Porto Alegre from the airport is estimated to total €5.46 (BRL 30). Alternatively, you can pre-book your Porto Alegre airport transfer with Welcome Pickups for a competitive flat rate with no hidden charges.