Top service for your Venice Airport Water Transfer
With Welcome, your trip from Venice Airport to the city centre of Venice is easier than ever! Cars can reach the lagoon area only up to Piazzale Roma. In order for travellers to reach their hotels in the lagoon area, they need to continue their journey by boat. We offer a combination transfer all the way to your hotel, so all you need to do is sit back, relax and enjoy the views of one of the most beautiful cities on earth!
After exiting the baggage claim area at Venice Airport (VCE), you will meet your friendly, English-speaking driver waiting for you, holding a sign with your name. No need to worry about a delayed flight! Your driver will receive updates on your flight arrival time to be there exactly when you arrive in Venice. After meeting your driver, they will help with luggage and guide you to your designated taxi. Eager to provide you with local tips and hidden gems in Venice, your driver will answer any questions you may have about the city. Once you reach Piazzale Roma, your water taxi will be ready for you, to take you directly to your hotel.
TRAINED DRIVERS
Hand picked & english speaking drivers
LOW PRICES
Same price as a regular Taxi from the line
FLIGHT MONITORING
Drivers are always on time
QUALITY SUPPORT
24/7 Email & Phone support
How much does a taxi cost?
Night time


(00:00 - 05:00)
FROM VCE TO PIAZZALE ROMA
FROM VCE TO HOTELS IN CITY CENTRE
FROM VCE TO VENICE LAGOON
FROM PIAZZALE ROMA TO VENICE LAGOON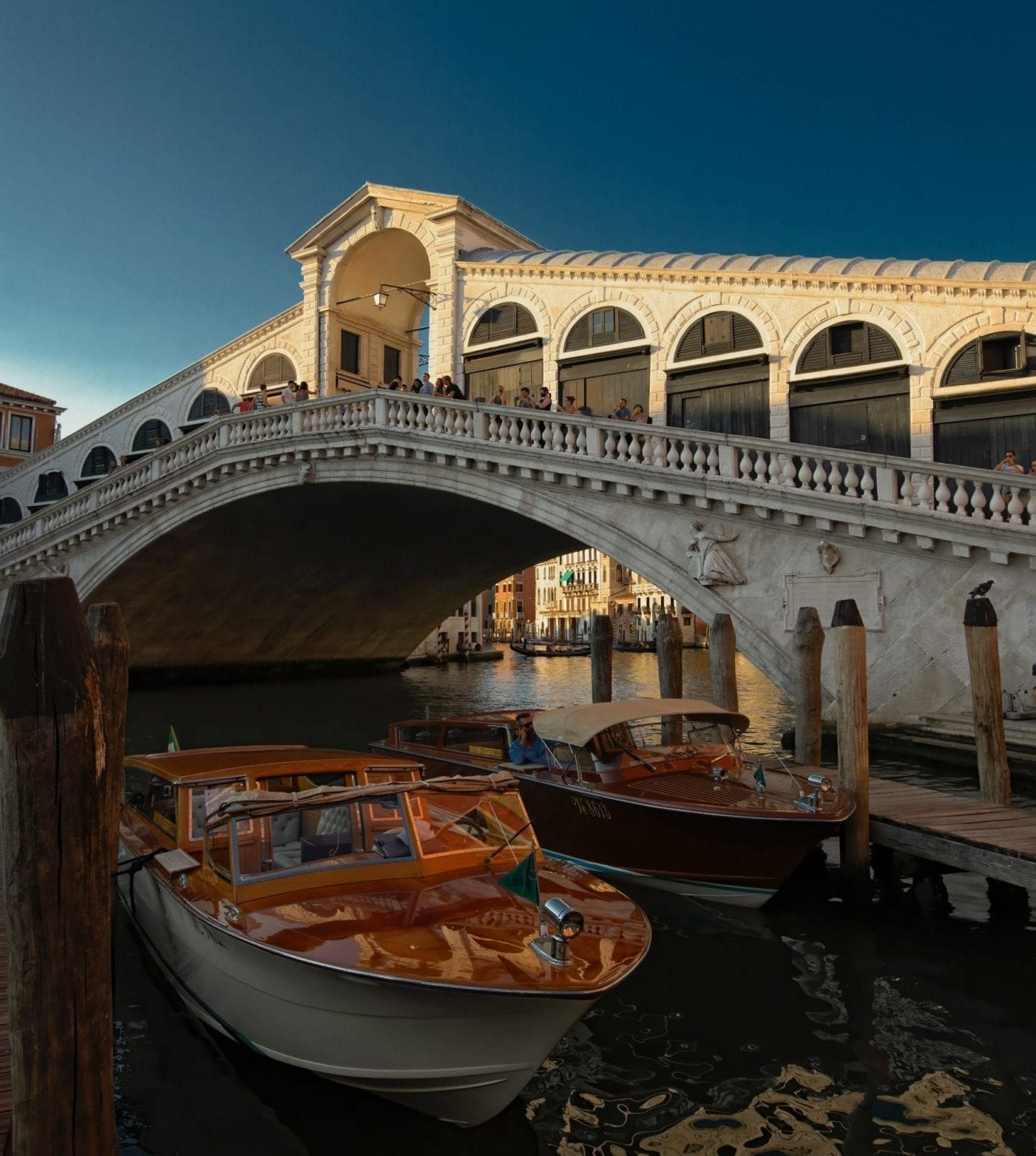 Our Venice Airport Water Taxi Fleet
A wide array of taxi services is available for you at Venice Airport when booking with Welcome. With our large fleet of sedans and minivans, as well as private water taxis,  we provide transfers all the way to your hotel in the Venice Lagoon.
What our customers say about Welcome
Directions for your water taxi transfer from Venice Airport
Venice Marco Polo Airport (VCE) is located 14km from Piazzale Roma and you reach the city either by public transport or with a private Welcome taxi. Your taxi transfer from Venice Airport will take 20 minutes on average. Your experienced English-speaking driver will take you all the way to Piazzale Roma, where all motorised vehicles stop. Then they will help you board your booked private water taxi, in order to continue your transfer in the Lagoon. Venice has an extensive network of canals that your private Venice boat taxi can navigate directly to your final destination. No need to be nervous about finding your way around Venice water transport network. When you book with Welcome Pickups, your entire transfer is taken care of. The total travel time from VCE to the Lagoon is approximately 30-60 minutes when booking with Welcome.
Why a Venice airport water taxi is for you
Finding your way from Venice Airport to the city centre of Venice can feel intimidating. By booking a Welcome airport taxi and water airport taxi, a driver will greet you at Marco Polo Airport, comfortably take you to Piazzale Roma in one of our stylish sedans and then guide you to your private water taxi to continue your transfer to your final destination. Welcome water airport taxi services are available 24/7 and are personalised to your itinerary.
Cost of a Venice airport water transfer
A private water taxi from Piazzale Roma to the rest of the Venice Lagoon will be approximately €80. The final fare depends on your final Lagoon destination, the number of passengers and your luggage items. To secure a flat-rate fee and pay in advance avoiding extra charge, book a Welcome Pickups water taxi from Venice Airport to the Lagoon in advance. The total transfer from the airport of Venice to your Lagoon destination using our airport and water taxi services will be approximately €120.