Top-rated Taxis from Düsseldorf Weeze International Airport
When planning your holiday to the lesser-known city near Düsseldorf, Weeze, you will be landing at Weeze International Airport (NRN). Located in North Rhine-Westphalia, Germany, Weeze is home to an impressive selection of attractions and experiences, making it well worth a visit. It is also close enough to Düsseldorf. That is why the best way to get around the area is to take a relaxing and reliable Weeze airport transfer.
And look no further. At Welcome Pickups, we provide premium, fully personalised private airport shuttles around Weeze and Düsseldorf. Welcome guarantees friendly local English-speaking drivers who are happy to take care of everything you need. From the moment you land at Weeze airport to the moment they drop you off at your hotel, our chauffeurs will assist in making your trip as easy, relaxing and unforgettable as can be.
TRAINED DRIVERS
Hand picked & english speaking drivers
LOW PRICES
Same price as a regular Taxi from the line
FLIGHT MONITORING
Drivers are always on time
QUALITY SUPPORT
24/7 Email & Phone support
How much does a taxi cost?
Night time


(00:00 - 05:00)
DUS ➙ DÜSSELDORF CITY CENTRE
NRN ➙ DÜSSELDORF CITY CENTRE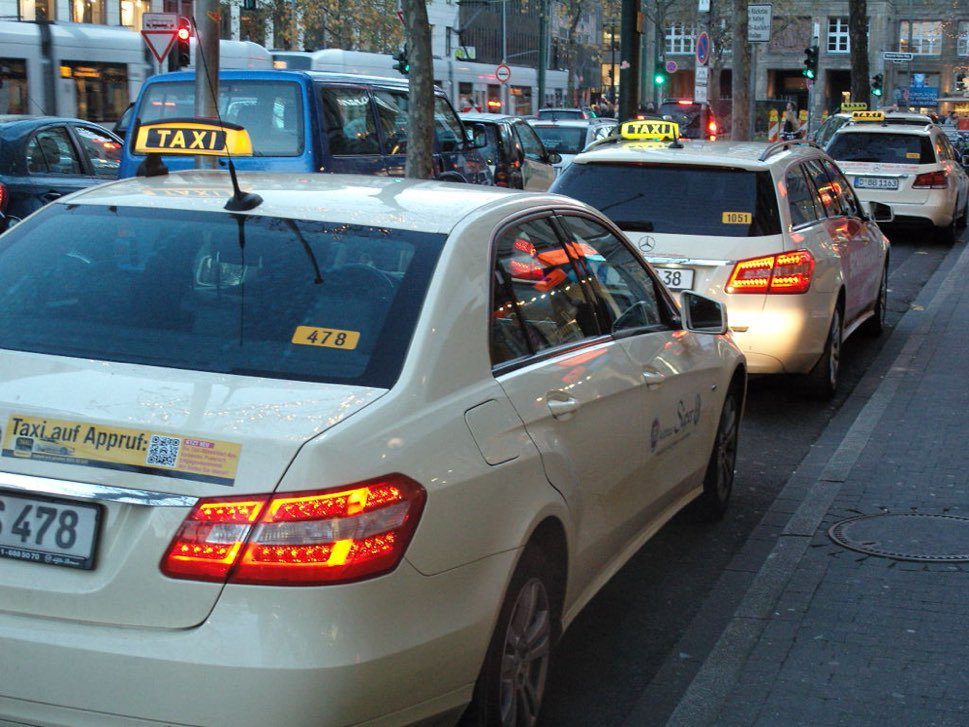 Welcome's Weeze Airport taxi fleet
At Welcome, we understand that finding your way around a new city can be daunting, especially if you when travelling in a larger group or with children. For that reason, we supply various sized vehicles to accommodate all. If you are a small group of 4 people or less, we have trendy Sedans to get you where you need to be, in style. Alternatively, if you are travelling in a group of up to 8 people, we have spacious minivans that can comfortably take you to your Weeze accommodation.
What our customers say about Welcome
Directions from Weeze Airport to the City Centre of Düsseldorf
Weeze Airport is a minor international airport in the Lower Rhine region of Germany and is commonly used for those travelling with Ryanair, amongst others. Located a short 3.7 km southwest of Weeze's city centre and longer 85.8 km to Düsseldorf city centre, taking around 1 hour to reach by taxi.
After hopping in your cab, your Weeze airport taxi driver will head west toward the Flughafen-Ring, before turning left onto Wember Str. Here, your driver will turn right onto Kevelaerer Str. and follow the signs for A57/Köln/B9/Geldern/Kevelaer. They will then turn left to continue onto Schloß-Wissener-Straße before merging onto A57 toward Köln/U78. Your driver will continue on A57 to Düsseldorf and take the exit toward Flughafen D-Nord from Rheinkniebrücke and will keep right on the interchange 17-Kreuz Kaarst, following the signs for the A52 toward Düsseldorf. They will then continue onto Brüsseler Str./B7 before taking the exit toward Flughafen D-Nord. Your driver will keep right at the fork, following the signs for A52/Essen/Düsseldorf-Nord/Altstadt/Flughafen/B1 and merge onto Rheinufertunnel/B1, before reaching Downtown Düsseldorf.
Why book a Weeze airport transfer with Welcome Pickups?
If you need a reliable and stress-free taxi, Welcome Pickups is the perfect Weeze airport transfer solution for you. We provide stellar 24/7 customer service, competitive prices, no hidden fees, and English-speaking drivers hand-picked and trained by us.
Your friendly driver will meet you at the arrivals gate with a name sign in hand. They will then assist you and your loved ones to your pre-selected vehicle. During the trip, feel free to ask any questions, as all of our drivers are locals and happy to share insider tips on what to do and see during your stay in Düsseldorf. Thus, ensuring your utmost comfort and an exceptional vacation.
Düsseldorf Weeze Airport Taxi Fare
Weeze airport taxis calculate their fares using a taximeter based on the time and distance travelled to your exact location. The 1-hour trip costs around €140, depending on traffic conditions. However, it is good to know that there is no price difference for day, night and weekend fares in Germany.