Taxis in Düsseldorf
Düsseldorf is one of Germany's leading university towns and an essential art and fashion hub. It is also home to some of the most highly regarded museums and galleries in Europe. With over 1 million yearly visitors, Düsseldorf is a great holiday destination and best explored in a Düsseldorf taxi.
TRAINED DRIVERS
Hand picked & english speaking drivers
LOW PRICES
Same price as a regular Taxi from the line
FLIGHT MONITORING
Drivers are always on time
QUALITY SUPPORT
24/7 Email & Phone support
How much does a taxi cost?
Night time


(00:00 - 05:00)
FROM CITY TO SCHLOSS BENRATH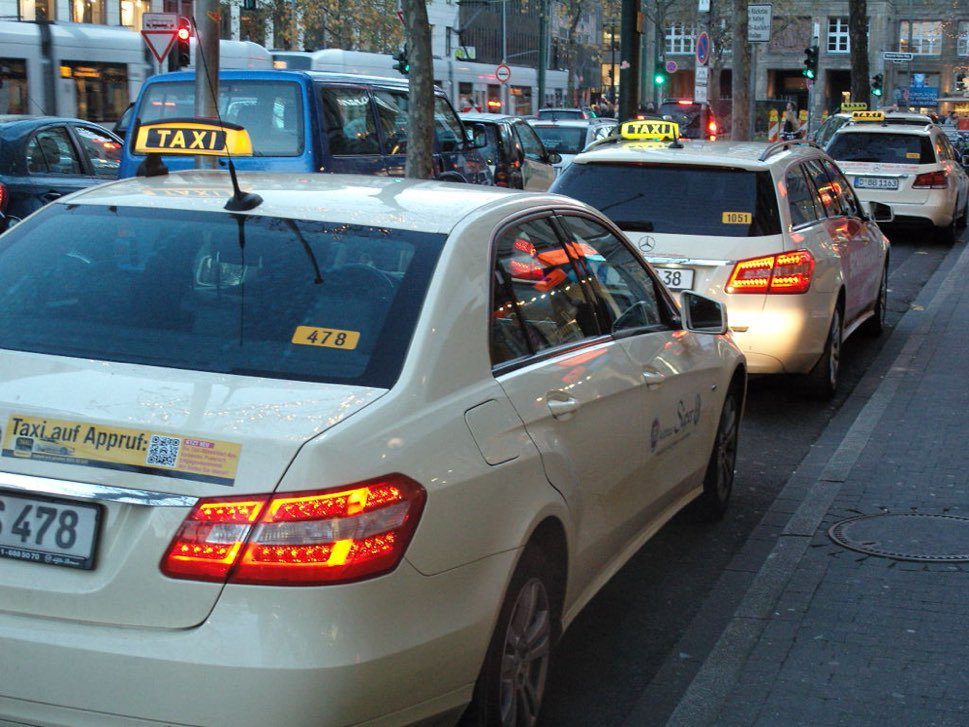 Düsseldorf Taxi Prices
Düsseldorf taxis calculate their fares using a taximeter based on the time and distance travelled to your exact location. There is only one tariff as no price difference applies for day, night and weekend trips.
Düsseldorf prices are as follows:
Base fee: €4.50
Per Km: €2.20
Waiting time per hour: €35
Nevertheless, if you wish to travel with a local friendly English-speaking driver at a fixed price, you can pre-book your private transfer online with Welcome Pickups.
What our customers say about Welcome
How to get a taxi in Düsseldorf
A few taxi services operate in and around Düsseldorf, making them easy to come by. If you are looking for a cab, you can hail one directly off the street, go to one of the many official taxi ranks around the city or at major tourist hubs and hotels, alternatively, you can book your Düsseldorf cab through a mobile application or via telephone:
Taxi Düsseldorf: +49 (0) 211 33333
Rhein Taxi: +49 (0) 211 212121
Taxiruf Düsseldorf: +49 (0) 211 714141
The Benefits of Booking a Düsseldorf Transfer in Advance
Arriving in a new city can be daunting, especially if travelling with children. So finding your way around Düsseldorf's public transportation can be a stressful ordeal. That is why it is best to organise and pre-book your Düsseldorf private transfer with Welcome, ensuring a seamless and enjoyable ride.
What is more, Welcome Pickups isn't just a simple transfer company; we provide premium customer service, personalised rides, and local English-speaking drivers hand-picked and trained by us.
So, avoid long waits by pre-booking your fast and reliable Düsseldorf taxi in under 60 seconds with Welcome Pickups.
Düsseldorf Taxi Tips
Tipping in Germany shows appreciation, and taxi drivers are used to relatively small tips. Most travellers tip anywhere between €1 to €2, depending on the final fare.
Most taxi drivers in Düsseldorf accept credit card payments; however, it is always best to ask before starting your journey.
Make sure your taxi driver resets their taximeter before beginning your trip.
It is good to know that there are no price differences for day, night or weekend trips.
Düsseldorf Wheelchair Accessible Taxis and Transfers
It is good to know that some official Düsseldorf taxis can accommodate wheelchairs; you will need to pre-book and confirm with your driver beforehand. However, the most reliable wheelchair accessible company is:
Taxiruf Düsseldorf: +49 (0) 211 714141 or +49 (0) 163 9129359
Düsseldorf Taxi Safety and Complaints
Taxis in Düsseldorf are usually very safe and reliable. Nevertheless, if you experienced a bad journey, you can always report your driver and file a complaint. This can be done directly through the taxi company's website.
However, you will need to keep your receipt which contains your travel information and driver details.