Reliable Airport transfers in Genoa
Once you've landed at Genova City Airport (Christopher Columbus Airport), hopping into a pre-arranged modern, air-conditioned vehicle and enjoying a smooth ride to your destination is the best way to start your holiday.
Opting for a fully personalised, private Genoa Airport transfer service provides you with door-to-door pickups and drop-offs and is a considerably more convenient and comfortable way to travel compared with public transport. So for a hassle-free arrival, consider pre-booking a Welcome Pickups taxi from Genoa Airport to your destination.
Your English-speaking Welcome driver will be waiting for you outside of the arrivals terminal holding a sign with your name on it. After greeting you, they will lead you to your pre-selected vehicle, helping you with any luggage. Plus, if your flight is delayed – there's no need to panic. All of our drivers receive live updates on your plane's landing time, so they will be waiting to welcome you to Genoa no matter what time you land.
As you sit back and enjoy your airport transfer from Genoa Airport, your driver will point out the best areas of the city and give you a mini tour, sharing local tips so that you can make the most out of your stay. Let Welcome Pickups take care of all your transfer needs for a smooth and seamless arrival.
While in Genoa, you can still book a ride with Welcome Pickups, or find a local Genoa taxi from a taxi rank, by hailing one in the street or by calling a local radio taxi company.
TRAINED DRIVERS
Hand picked & english speaking drivers
LOW PRICES
Same price as a regular Taxi from the line
FLIGHT MONITORING
Drivers are always on time
QUALITY SUPPORT
24/7 Email & Phone support
How much does a taxi cost?
Night time


(00:00 - 05:00)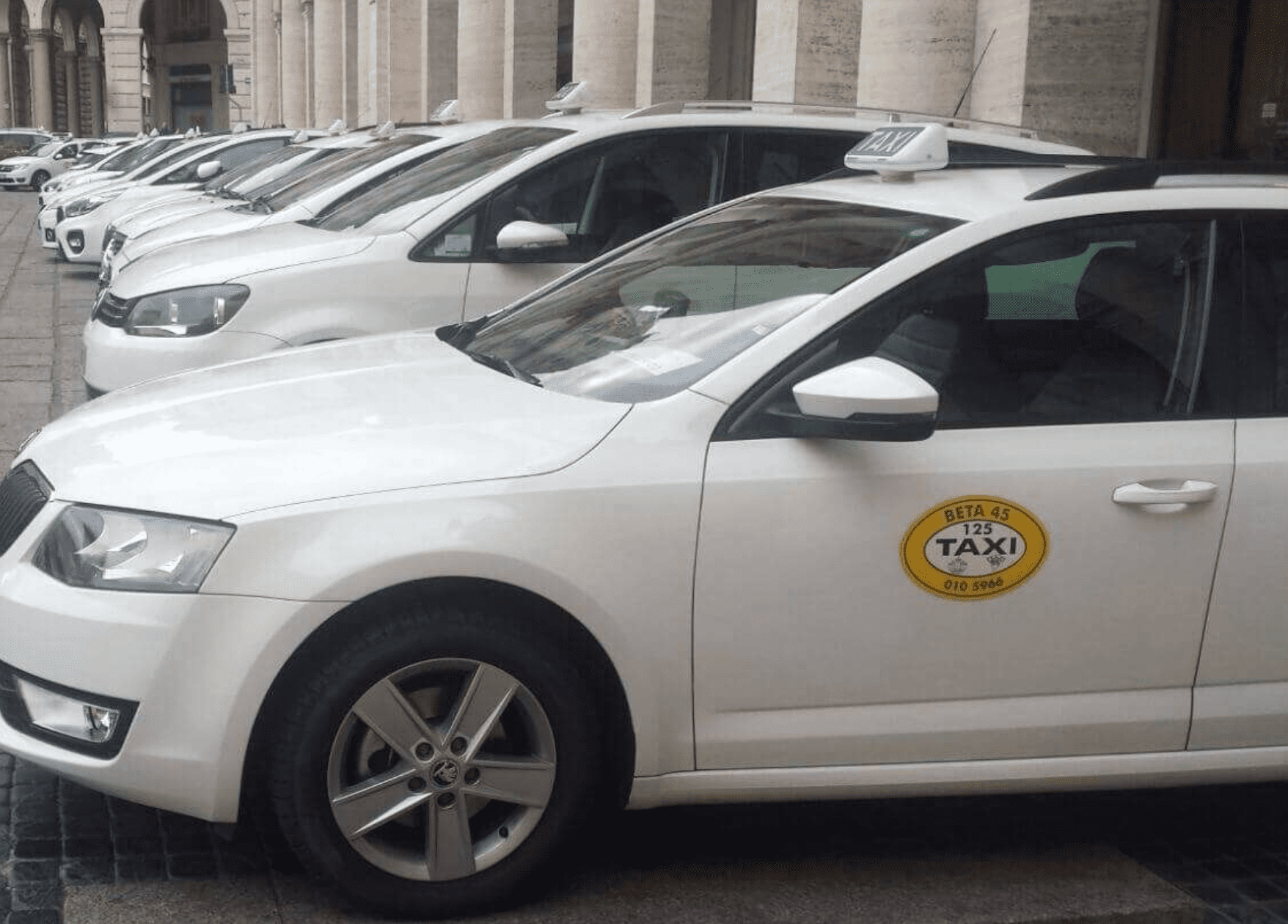 Our fleet of Genoa Airport taxis
At Welcome Pickups, we offer a range of different Genoa Airport taxi sizes to suit each and every group. If you're travelling with a group of 4 people or fewer, we recommend picking one of our stylish sedans. Alternatively, for larger groups of up to 7, we have spacious minivans available for your transfer.
What our customers say about Welcome
Detailed directions for your airport transfer in Genoa
Genoa Airport is located approximately 8 km away from Genoa city centre. A drive into the city should take around 15-20 minutes by car, depending on traffic. 
After leaving the airport, your driver will head southwest on Via Pionieri e Aviatori d'Italia for about 800 metres and then take the 1st exit at the roundabout, staying on Via Pionieri. You'll continue straight and take the slip road to Centro/Cornigliano and merge onto SS 1. Your driver will continue on SS 1 until taking the exit towards Centro/Sopraelevata/Nervi/Fiera di Genova before merging back onto SS 1. At the roundabout, they'll take the 2nd exit and drive for about 1 km, continuing straight onto Viale Emanuele Filiberto Duca d'Aosta and making a U-turn at SS 1. Your driver will then turn right onto Viale Paolo Thaon di Revel in central Genoa, using local roads to get you to your final destination.
How much does a taxi from Genoa Airport cost?
Genoa Airport taxis are metered, which means there are no fixed fares when travelling between the airport and Genoa and the cost of your transfer will depend on the distance and time travelled. 
The average cost of a taxi from Genoa Airport to the centre is approximately €25-€30 depending on traffic and surcharges. Keep in mind that you might be charged extra for luggage and travelling at night. If you end up hopping in a taxi from the ranks at the airport, we suggest that you inquire about the price of the ride before you get in.
If you find comfort in the known, you can opt for a flat-rate fee with no hidden costs by booking your Genoa Airport transfer in advance with Welcome Pickups. You can manage your booking using our mobile app and enjoy our guaranteed low, fixed prices with flexible cancellation and 24/7 customer service.
Why book an airport transfer in Genoa with Welcome Pickups?
At Welcome Pickups, we are proudly raising the standard of taxi services worldwide by being the first company to offer unique, in-destination travel experiences.
We know that arriving in a new city and trying to make your way to your destination can be stressful. That's why we offer unbeatable fixed prices, carefully-trained drivers and fully personalised services, as well as 24/7 customer support. We're here to support you through your stay and make sure your experience is as seamless as possible, to allow you to have the best possible time. 
Not only that, but we offer plenty of travel extras such as skip-the-line tickets for the top attractions in each destination, which you can pre-book with us and your driver will hand-deliver them on the day of your pickup.
So take the stress out of your arrival by booking a premium airport transfer in Genoa with Welcome and let us handle all of your in-destination needs from start to finish.