Taxis in Genoa
A fascinating port city and easily recognisable with its colourful buildings sitting by the water's edge, Genoa is a historical city packed with stunning architecture. From UNESCO-listed buildings and plenty of museums to a vibrant culinary scene and a buzzing nightlife, you won't run out of things to do here. 
Whether you're planning on venturing further out or need a quick ride within the city, travelling by taxi in Genoa is a great choice. They give you the freedom to explore as much as you want without worrying about time or public transport. Besides, there's nothing better than getting into your air-conditioned taxi with your driver to show you around the city. Plus, taxis can be arranged in advance, allowing your trip to remain hassle-free throughout.
TRAINED DRIVERS
Hand picked & english speaking drivers
LOW PRICES
Same price as a regular Taxi from the line
FLIGHT MONITORING
Drivers are always on time
QUALITY SUPPORT
24/7 Email & Phone support
How much does a taxi cost?
Night time


(00:00 - 05:00)
PIAZZA DE FERRARI TO AQUARIUM
GENOA PORT TO PIAZZA DE FERRARI
PIAZZA DE FERRARI TO VILLA DURAZZO-PALLAVICINI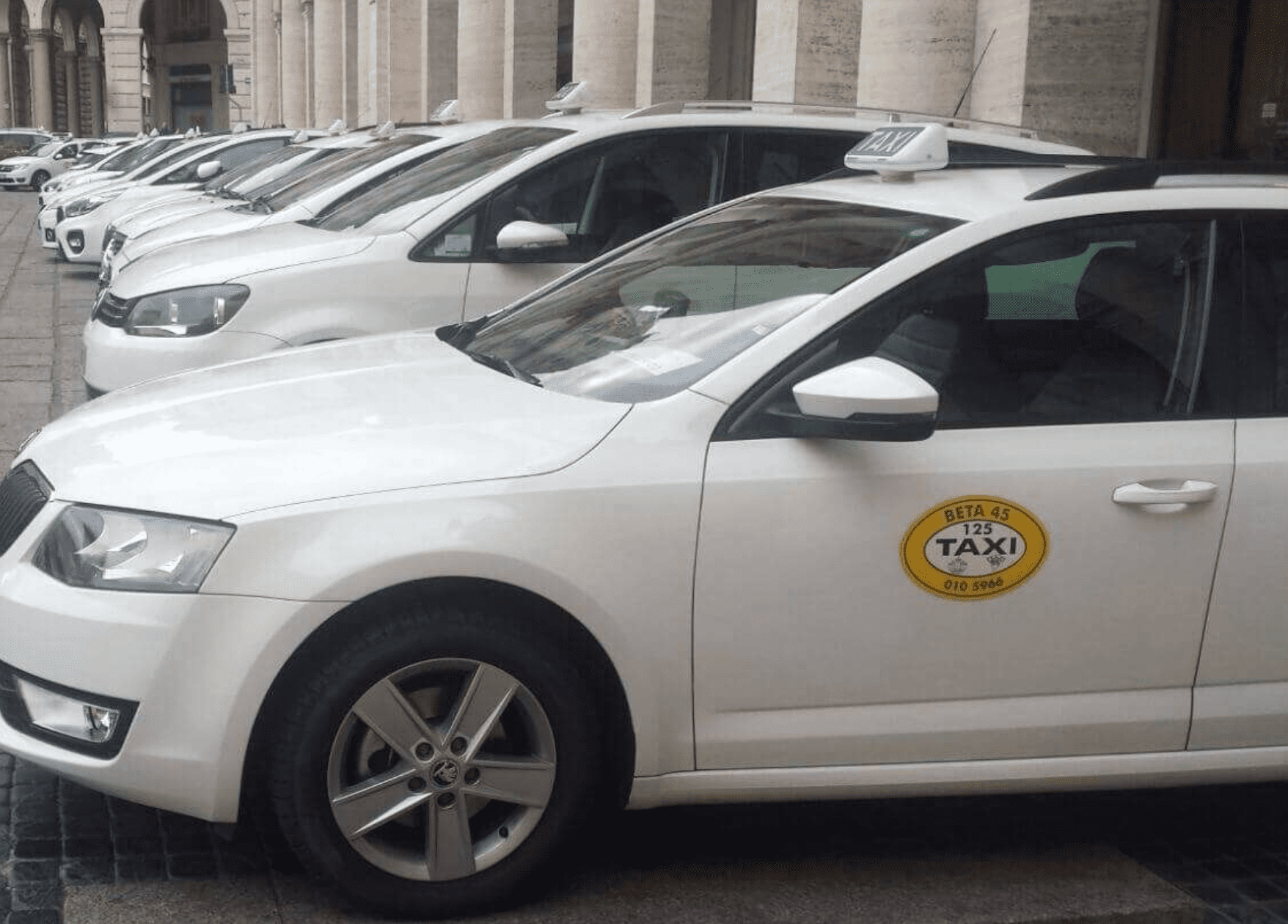 Genoa taxi prices
Taxis in Genoa follow a taximeter system and must adhere to regional regulations. Genoa taxis calculate fares based on the length of the journey, the time of day and the day of the week. Despite this system, it's worth trying to negotiate a price beforehand, you might find that some drivers will accept. The fares are calculated as follows:
Day rates:
Base Fare – €5
Rate/km – €0.90
Waiting charge per hour – €24
Night rates (22:00 – 06:00):
Base Fare – €7.50
Rate/km – €0.90
*There might be extra charges for pieces of luggage or extra passengers (€0.50).
Rides to and from the airport to the Genoa Brignole and Principe train stations operate at a fixed rate of €7-€8 per person, however, this discount is only available for groups of 3 or more. If you're travelling by yourself or with another person, you'll be charged at least €20 for the same journey
What our customers say about Welcome
How to get a taxi in Genoa
There are plenty of taxis in Genoa and many ways to find one. The majority of taxis are either white or yellow with the name of the company and their contact details displayed on the sides of the vehicle. You can hail one in the street, find the nearest taxi rank (at the train stations, the airport and at the port), order through Whatsapp (+39 392 5966 120), book one online or use a Genoa taxi app (IT Taxi or Telepass Pay).
If you want a more personalised service, you can book your private Genoa taxi service in advance or use one of these recommended local taxi companies:
Preno Taxi – +39 (010) 77277
Radio Taxi Genova – +39 (010) 89333
Radio Taxi – +39 (010) 5966
How to book a Genoa taxi in advance with Welcome
Arriving at a new destination can be stressful, especially if you haven't booked anything in advance. Hailing a Genoa taxi on the street or calling and waiting for a radio taxi to arrive can be time-consuming and comes with the risk of surcharges and extra costs. 
With Welcome Pickups, you can pre-book your Genoa taxi with ease and ensure that a trusted English-speaking driver will be waiting for you on the other side. We offer competitive prices, 24/7 customer support and a 5-star service you can rely on.
Welcome's services don't just stop when we leave you at the door, we offer an array of exciting travel extras and support our customers throughout their stay in every way possible. From skip-the-line tickets to carefully-curated, private sightseeing tours – booking with Welcome allows you to benefit from a fully personalised experience from start to finish.
Genoa taxi tips
It is recommended to discuss the taxi fare with the driver before starting your trip.
Always ensure that the taximeter is turned on and working before you get going.
Tipping in Italy is not expected, but if you truly enjoyed the service, some spare change will always be appreciated.
If you enjoyed your taxi driver's service, you can always ask for their number and reuse them throughout your stay.
If you don't want to hail a Genoa taxi on the streets, there are at least 2 widely-used taxi apps in Genoa.
Wheelchair-accessible taxis in Genoa
Local taxis in Genoa generally use standard vehicles that aren't wheelchair compatible. If you're in need of an accessible vehicle with a lift or ramp, you can book your transfer with a trusted company such as Preno Taxi and request a "Type B Vehicle" which is equipped with a hydraulic lift and space for 2 passengers and 1 wheelchair. You can call them on +39 (010) 77277 or check out their official website for more details.
Genoa taxi safety and complaints
Taxis in Genoa have a good reputation and are usually quite safe and reliable. Just make sure you use a licensed taxi.
On the odd occasion, taxi drivers might try to take you on a longer route or avoid turning the taximeter on. If you experience any issues such as this during your ride, simply ask for the receipt which has all of their details. With this, you can report any issues or complaints to the taxi company you travelled with or the local police on +39 010 550 4131.