Top-Rated New Chitose Airport Taxi Services
Sapporo, Japan, is a beautiful holiday destination packed with adventures, ski resorts, and an annual Snow Festival, while it's also famed for its delicious beer. So when visiting the city, the best way to get around is by pre-booking a Sapporo airport transfer with Welcome Pickups. 
Welcome Pickups guarantees a fully personalised premium experience; once you land, your local English-speaking driver will be waiting for you outside the Arrivals Hall, with a name sign in hand. After greeting you, they will escort you and your travel partners to your pre-selected vehicle. Moreover, you don't need to worry if your flight is delayed or early – all of our Sapporo airport taxi drivers are equipped with a live-update system that notifies them of any changes, ensuring they will be waiting for you when you land. With all your transfer needs taken care of, sit back, relax, and enjoy your trip.
TRAINED DRIVERS
Hand picked & english speaking drivers
LOW PRICES
Same price as a regular Taxi from the line
FLIGHT MONITORING
Drivers are always on time
QUALITY SUPPORT
24/7 Email & Phone support
How much does a taxi cost?
Night time


(00:00 - 05:00)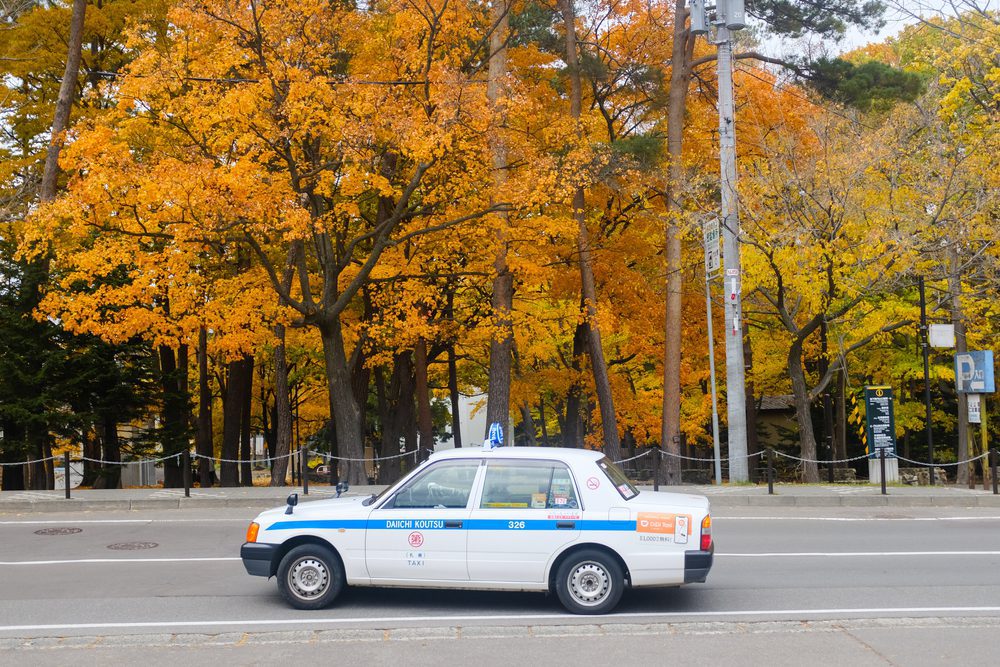 Welcome's New Chitose Airport Taxi Fleet
We understand the importance of keeping family and loved ones together. That is why, at Welcome, we provide a large selection of vehicles to choose from. If you are travelling in a group of 4 people or less, we have modern Sedans to get you to your hotel in style. Alternatively, if you are travelling in a group of up to 8 people, your Sapporo airport transfer will be accommodated in one of our spacious minivans that can take you comfortably to your hotel or apartment or another preferred destination downtown.
What our customers say about Welcome
Directions to Downtown Sapporo for your New Chitose Airport Taxi
Sapporo holds two airports; New Chitose and Okadama airport. New Chitose International Airport (CTS) is located 52km northeast of Sapporo city centre, taking 50 minutes to reach. It is Sapporo's largest airport, bringing in just under 23 million yearly travellers.
To get from the CTS airport to Downtown Sapporo, your New Chitose Airport taxi driver will head south to Road 130 before turning right onto Road 1091. They will then continue straight onto Road 1175 (toll road) and keep right at the fork, following signs for Sapporo/Doto Expy and merging onto Hokkaido Expressway. Your driver will then take the exit Kitago IC to merge onto Sapporo Shindo/National Route 274 toward Kitago/Shiroishi. From here, your driver will turn left at Kitago 8-4 (intersection) and right at Kitago 4-4 onto Atsubetsu before taking a slight left onto Yonezato, Gyokei Michi (signs for Toyohira/Higashisapporo). Your driver will turn left onto Minami 7jo, Mirito and right at Kikusuikamimachi 3-3, then right again onto Nangodori/Mizuho Bridge before following Nango-Dori. They will turn left at Odori-Higashi 10 onto Odori, right at Odori-nishi 3 onto Nishi 3-chome street, and right again onto Odori-nishi 2/Odori-nishi 3 before taking the local roads to reach your destination in Downtown Sapporo.
Taxi Fare from New Chitose Airport
New Chitose airport taxis calculate their fares using a taximeter based on the time and distance travelled, with a night surcharge from 22:00 to 05:00. Your 50-minute trip from Sapporo airport to Sapporo city centre should cost around €70.50 (JPY 10,000), depending on traffic conditions.
However, if you prefer travelling at a fixed rate with a local English-speaking driver, you can pre-book your Sapporo airport transfer with Welcome Pickups.
Why Book your Sapporo Airport Transfer with Welcome Pickups?
Travelling to a new city can be stressful, especially when local taxi drivers don't speak your language. For that reason, Welcome Pickups guarantees 5-star personalised airport transfer services with handpicked local English-speaking drivers thoroughly trained by our team. Furthermore, we ensure on-time pickups thanks to our flight monitoring system and provide insider tips on what to see and do during your stay in Sapporo.
Start your holiday in a stress-free manner by pre-booking your private Sapporo Airport transfer in under 60 seconds. Then let us take care of the rest.