Taxis in Sapporo
Sapporo is an outstanding city packed with fun adventure opportunities, culinary pleasures, shopping, and unique cultural and creative experiences. With so much to visit, the best way to explore the town is in a Sapporo taxi. Taxis are available 24/7 in and around Sapporo, offering reliable service you can count on when you want a speedy transfer from point A to B. So save time and effort and make the most of your trip by choosing a taxi as your primary mode of transportation.
TRAINED DRIVERS
Hand picked & english speaking drivers
LOW PRICES
Same price as a regular Taxi from the line
FLIGHT MONITORING
Drivers are always on time
QUALITY SUPPORT
24/7 Email & Phone support
How much does a taxi cost?
Night time


(00:00 - 05:00)
FROM CTS TO JR SAPPORO STATION
FROM SAPPORO TO MARUYAMA PARK
FROM SAPPORO TO ODORI PARK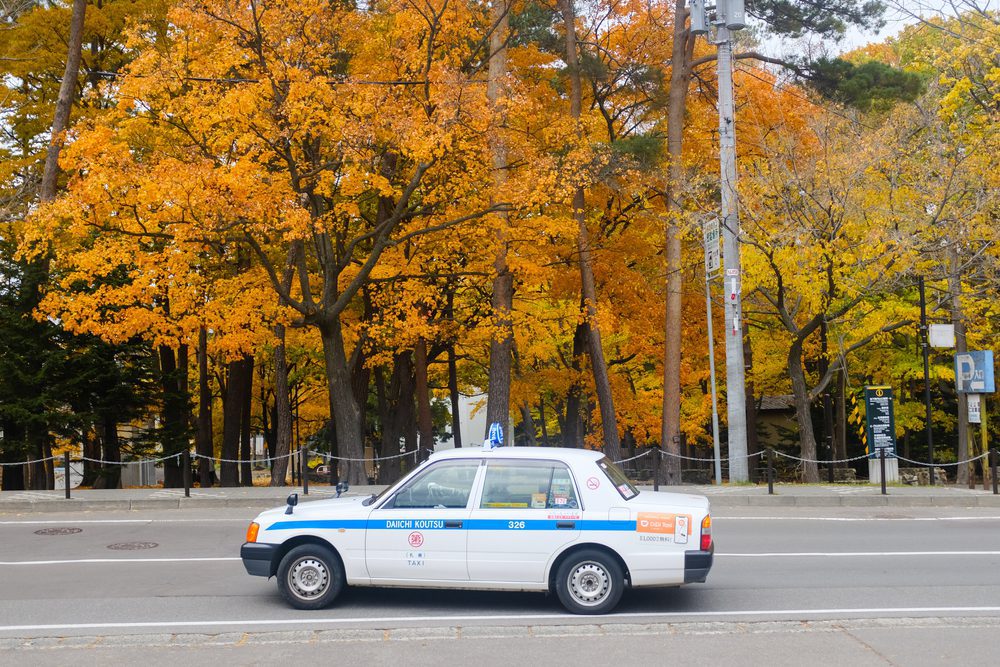 Taxi Fares in Sapporo
Taxi fares in Sapporo are calculated using a taximeter based on the time and distance travelled to your exact location, with late-night surcharges between 22:00 and 05:00.

The taxi rates in Sapporo are set by the government and are as follows:
Initial fare: €4.72 (JPY 670)
Price per km: €0.56 (JPY 80)
Waiting time per hour: €18 (JPY 2,571)
Nevertheless, if you prefer travelling at a set rate and with a local English-speaking driver, you can pre-book your private and personalised Sapporo taxi transfer with Welcome Pickups.
What our customers say about Welcome
How to Get a Taxi in Sapporo
Sapporo taxis are easy to find as many roam around the streets. You can hail a cab directly off the road or head to any taxi stand located all over central Sapporo. Alternatively, you can book your taxi ride online, or phone up your preferred local taxi company directly for a pickup:
Sapporo MK: +81 (11) 777 5058
SK Taxi: +81 (11) 761 6000
Sapporo Kojintaxi: +81 (11) 853 7722
Benefits of Booking a Private Transfer with Welcome
Making your way around a new city is exciting but stressful, especially when travelling with children and/or heavy luggage. Finding your way around Sapporo's public transportation or waiting in long Sapporo taxi rank queues can be daunting. For that reason, pre-booking your transfer service with Welcome Pickups is definitely the best way to explore the city.
Welcome ensures safe and on-time pickups, stellar customer service, a fast and easy booking process, personalised transfers, and friendly local English-speaking drivers, handpicked and trained by us.
Sapporo Taxi Tips
It is important to know that Sapporo is one of the few places in Japan where tipping is common; most travellers leave a 10% tip.
Please note that most Sapporo taxi drivers don't speak English; ensure to have your address handy.
A late-night surcharge applies from 22:00 to 05:00.
Most taxis in Sapporo accept credit/debit card payments.
Wheelchair Accessible Taxis in Sapporo
Regrettably, regular taxis in Sapporo cannot accommodate wheelchairs; you will need to pre-book your transfer with a wheelchair-accessible company instead; bookings are encouraged to ensure availability. Akatuki Taxi is the biggest Sapporo taxi company offering accessible vehicles, and you can call them at +81 (11) 771 6000.
Sapporo Taxi Safety and Complaints
Taxis in Sapporo are known to be safe and the drivers are polite and professional; however, if you encounter a bad experience, you can report the driver by filing a complaint with the taxi company you travelled with.
It is important to keep your receipt, as it holds essential information (date, price, taxi registration number, etc.).