Reliable Airport Taxis in Tashkent, Uzbekistan
Tashkent is the capital and largest city of Uzbekistan, located in the heart of Central Asia. It is situated in the eastern part of the country, near the border with Kazakhstan, and is known for its rich history, stunning architecture, and vibrant culture. When travelling with your family and looking for a fast and comfortable airport transfer option, your best choice is to secure a reliable airport taxi in Tashkent before landing.
From exploring the bustling Chorsu Bazaar and tasting delicious Uzbek cuisine to admiring the city's world-class museums and galleries, there is something for everyone in Tashkent, the "City of Stones". There are several means of transport to get to the city centre and other parts of the country from the airport. Nonetheless, the most convenient option is to pre-book a private airport taxi in Tashkent, as it ensures a hassle-free transfer with a professional driver waiting for you upon arrival.
During your airport transfer in Tashkent, your driver can provide you with local insights and tips to help you make the most of your time in the city. With Welcome Pickups and our reliable Tashkent airport taxi fleet taking care of your transportation needs, all that's left for you to do is sit back, relax, and enjoy the beautiful sights of this vibrant city.
TRAINED DRIVERS
Hand picked & english speaking drivers
LOW PRICES
Same price as a regular Taxi from the line
FLIGHT MONITORING
Drivers are always on time
QUALITY SUPPORT
24/7 Email & Phone support
How much does a taxi cost?
Night time


(00:00 - 05:00)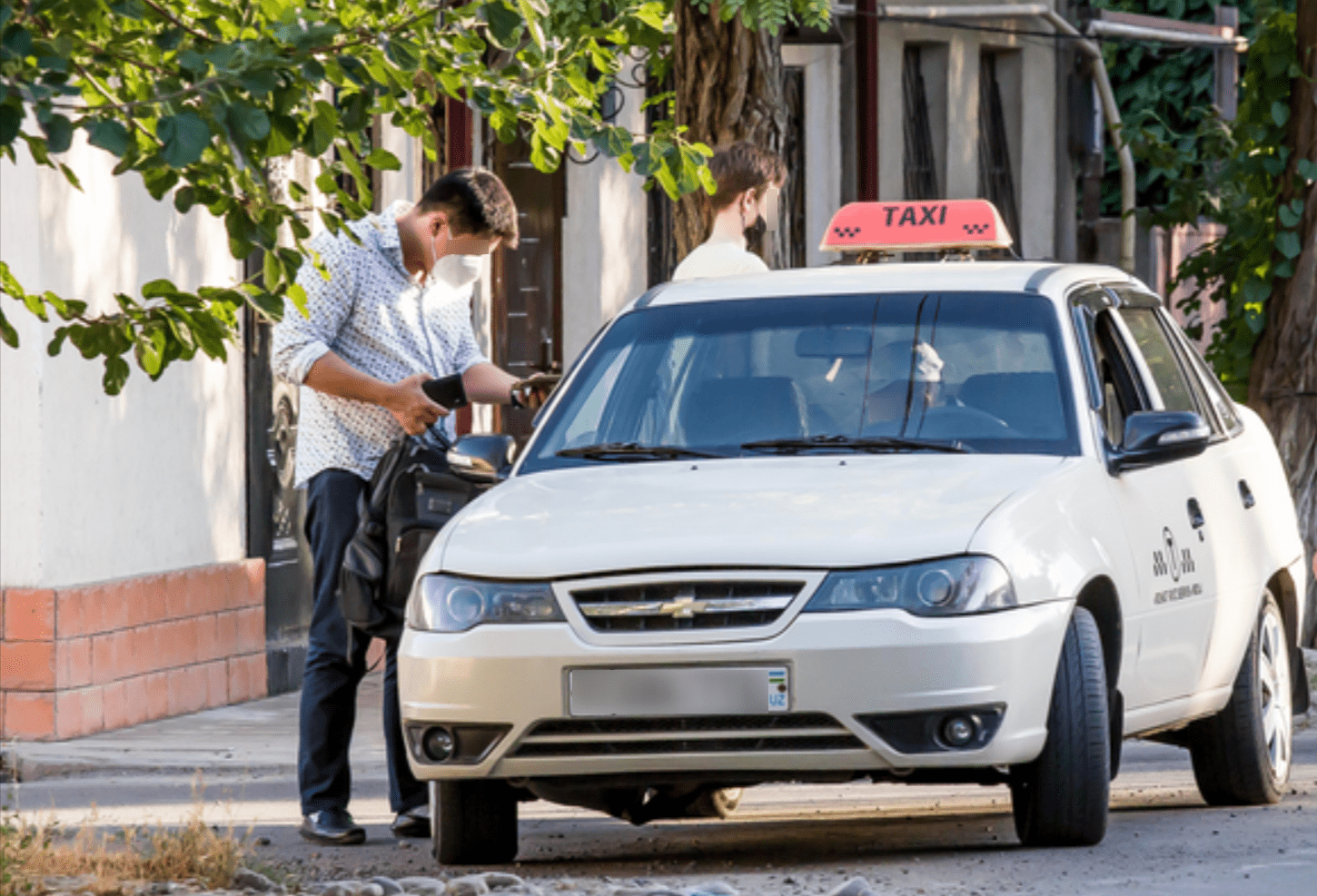 Welcome's Tashkent Airport Taxi Fleet
At Welcome Pickups, we understand the importance of spending quality time with your loved ones during the initial moments of your vacation. To make your airport transfer in Tashkent as comfortable and enjoyable as possible, we provide a diverse fleet of vehicles that can accommodate groups of different sizes. For standard groups of up to 4 individuals, we offer stylish sedans, while for larger groups of up to 8 people, we have spacious minivans that ensure everyone's comfort during the journey.
What our customers say about Welcome
Directions for your Airport Taxi in Tashkent, Uzbekistan
Tashkent International Airport is located in the capital city of Uzbekistan and serves as the main airport for the country. With a Tashkent Airport taxi, it will take you approximately 15 minutes to reach the city centre, depending on traffic conditions, as it is located around 6 km south of Tashkent International Airport (TAS).
To get to the city centre from Islam Karimov Tashkent International Airport, your airport taxi in Tashkent will head northeast towards Bobur Ko'chasi to Baynalmilal Ko'chasi, then turn left onto Baynalmilal Ko'chasi straight to your end destination, the city centre. The trip is only 15 minutes long, leaving you with plenty of time to explore!
Prices for an Airport Taxi in Tashkent, Uzbekistan
Airport taxis in Tashkent are very cheap and convenient. All local taxis calculate their fares using a taximeter based on the time and distance travelled. Although this may vary unless booked in advance, you can expect to pay around €2 (SOM 25,000) for your 15-minute trip.
The starting fee is fixed at €0.47 and it costs around €0,25 per Km on a normal tariff. The actual fare might differ slightly due to the time of the day, roadworks (available routes), and different taxi service providers. Even though the prices are relatively cheap, it is recommended to book your airport taxi in Tashkent in advance. That way, you get an on-time pickup guarantee, a door-to-door ride and assurance of the absence of hidden fees on your pre-paid fixed fare!
Booking your Airport Transfer in Taskent
Booking your airport taxi in Tashkent, Uzbekistan has never been easier or more convenient than with Welcome Pickups. We are committed to providing you with a smooth and comfortable airport transfer experience, which is why we offer a range of services to make your journey as stress-free as possible. Our top-rated ground transportation services include 24/7 customer support, exciting travel extras, personalised transfers, and unbeatable prices. Let us take care of your airport transfer in Tashkent, so you can relax and enjoy both the ride and your first moments in this incredible city.
If you need to arrange a trip and do not have the energy or time to navigate the local public transport network, having a pre-booked airport taxi from Tashkent, Uzbekistan waiting for you at a specific location and a fixed fare is always more convenient. This way, you will be sure to secure a safe ride with a handpicked, highly trained, local driver.