LaGuardia Airport Shuttles and Taxis
Arriving in the bustling and vibrant city of New York is so exciting. We know that all you want to do is get to your hotel as quickly as possible so you can start to explore. That's why we recommend taking a reliable, private LaGuardia Airport shuttle or taxi to your destination. 
From the moment your plane arrives at the airport, your trained driver will be waiting for you just outside of the arrivals hall. After a warm greeting, your driver will lend a hand with your luggage and lead you to your pre-selected LaGuardia Airport shuttle. All of our drivers receive updates on any changes to your flight's schedule, so there's no need to worry if you're delayed. While you enjoy your personalised LaGuardia Airport transfer, your local driver will answer any questions you have about New York and point out a few must-see spots around the city. Let Welcome Pickups take care of all your transfer needs so you can sit back, relax and enjoy your ride into Manhattan. 
You can also book a Welcome Pickups taxi within the city or hail a New York taxi from the street, through an app like Uber, or from one of the local taxi companies.
TRAINED DRIVERS
Hand picked & english speaking drivers
LOW PRICES
Same price as a regular Taxi from the line
FLIGHT MONITORING
Drivers are always on time
QUALITY SUPPORT
24/7 Email & Phone support
How much does a taxi cost?
Night time


(00:00 - 05:00)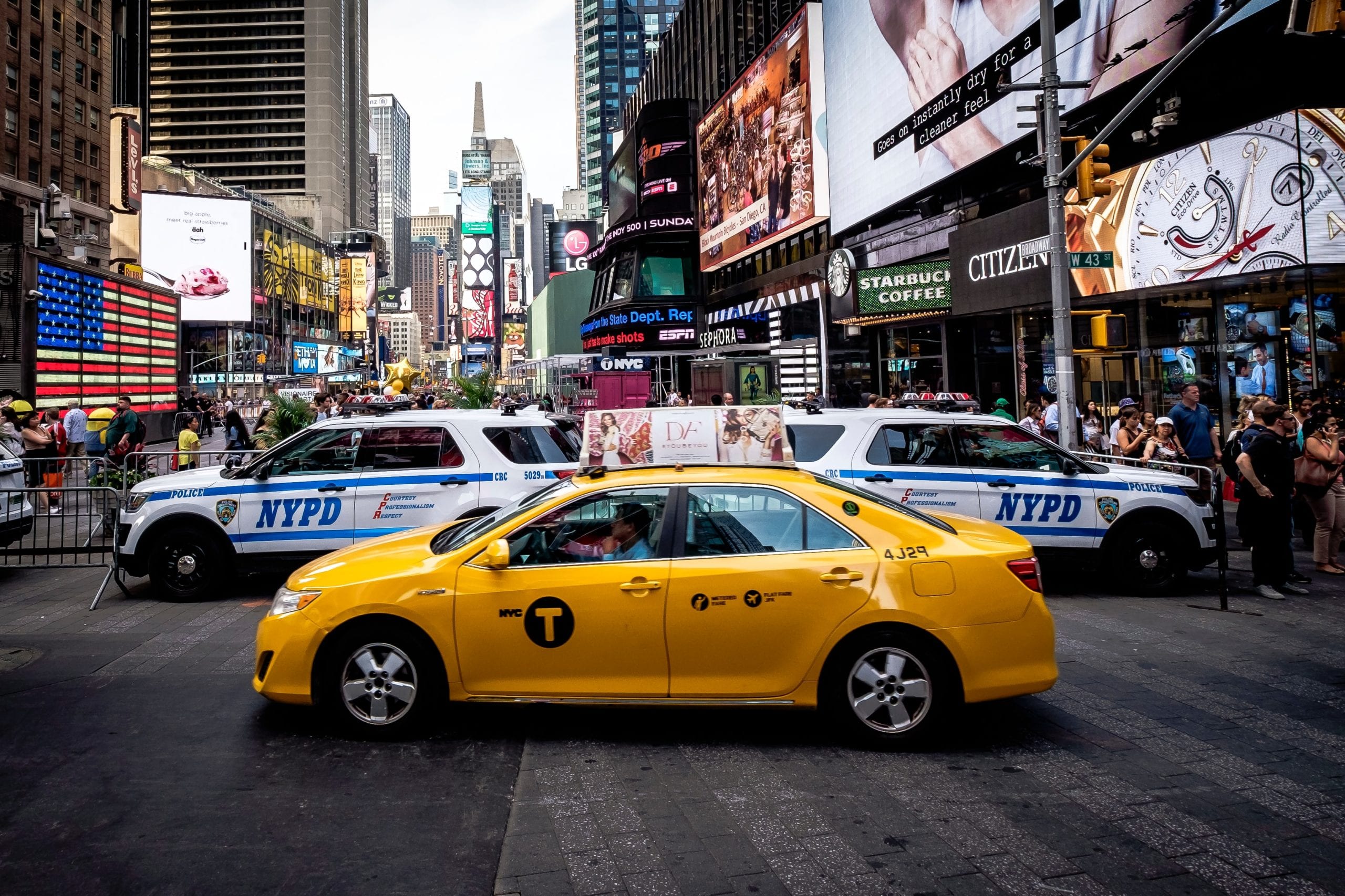 Our LaGuardia Airport private shuttle fleet
When travelling to a new city, keeping your loved ones close is important. That's why at Welcome Pickups, we offer different vehicle sizes for your LaGuardia Airport transfer. If your group is on the larger side (up to 5 people), we can transfer you all comfortably in one of our more spacious SUVs. On the other hand, if your group is up to 3 people, you can travel in one of our modern sedans in comfort and style.  All of our vehicles are air-conditioned and we provide plenty of extras for you to enjoy your personalised ride from A to B in the utmost comfort. 
What our customers say about Welcome
Directions for your LaGuardia Airport transfer
LaGuardia Airport may be the smallest in New York, but it's also very centrally located. Taking a taxi or airport shuttle from LaGuardia to Manhattan takes less than 30 minutes, as your driver can avoid the Lincoln Tunnel. After exiting LGA Airport, your driver will head along the Grand Central Parkway, cross the Robert F. Kennedy Bridge onto Randall's Island, and then the Harlem River Lift Span to Manhattan. From here, your driver will use the local streets to reach your hotel.
New York's traffic levels are infamous and we know you'll want to avoid getting caught in high congestion levels upon arrival. We researched the best times to travel from LaGuardia Airport to any destination within New York's city limits to make things smoother for you. The best times to travel on the roads are between 10:00 and 15:00 and after 20:00 on weekdays, and before 12:00 and after 20:00 on weekends or holidays.
LaGuardia Airport Info:
Address: Grand Central Pkwy, Flushing, NY 11371
Phone: +1 (718) 533 3400 | Official website
Cost of a taxi from LaGuardia Airport
Unlike JFK Airport, airport shuttles from LaGuardia don't operate with set-rate fares. Instead, you will be charged using a taximeter that will calculate your fare based on the distance you travel and the time of day. The average cost of a LaGuardia Airport shuttle ride to Manhattan is $40 (€37). Keep in mind that additional fees for luggage, traffic and tolls will be added to the final fare, as well as an airport access fee of $1.75 (€1.60) and a peak-time surcharge of $1 (€0.90) which does not apply on legal holidays. Remember to ensure the taximeter reads $3 (€2.70) at the start of the trip.
At Welcome Pickups, we believe in complete transparency when it comes to our pricing. The price you see when you book is the price you'll pay, regardless of changes in traffic or weather, or even tolls! So if you'd prefer to rely on a set-rate fee with no hidden extras, why not book your personalised LaGuardia Airport shuttle in advance with Welcome Pickups?
The benefits of booking a Welcome airport shuttle
Welcome has been raising the bar for in-destination travel all over the world. Not only do we offer competitive prices, but we also guarantee door-to-door pickups, knowledgeable local drivers, 24/7 customer support and even some helpful travel extras. Let us take care of all your travel needs from LaGuardia Airport and during your stay in New York, so you can make the most of your vacation.
LaGuardia Airport travel tips
Four passengers (five in SUVs) is the maximum limit for New York City cabs.
Taxis are regulated by the NYC Taxi and Limousine Commission. You can contact them with questions, complaints or about lost property on their official website - nyc.gov
There is a $1 (€0.90) peak-time surcharge for trips from 16:00 to 20:00 Monday to Friday.
Tipping is customary, 15%-20% of the bill is acceptable.