Taxis in New York
When arriving in the beautiful City of New York you will probably be overtaken by the hustle and bustle of its busy city life. Located at the mouth of the Hudson River, New York City is the largest and most influential American metropolis and the gateway to the North American continent. So it's no wonder you might feel overwhelmed when arriving at JFK, LGA or EWR Airport or wandering around.
The safest and most enjoyable way to travel around the city is in the comfort of a New York taxi. New York taxi services cover the whole city, including Manhattan, Brooklyn, and Queens, as well as to all three major airports. You can either directly hail one off the streets or simply book your taxi online, in advance and let your driver do the rest.
TRAINED DRIVERS
Hand picked & english speaking drivers
LOW PRICES
Same price as a regular Taxi from the line
FLIGHT MONITORING
Drivers are always on time
QUALITY SUPPORT
24/7 Email & Phone support
How much does a taxi cost?
Night time


(00:00 - 05:00)
Times Square - Central Park
Manhattan - Greenwich Village
Queens - Guggenheim Museum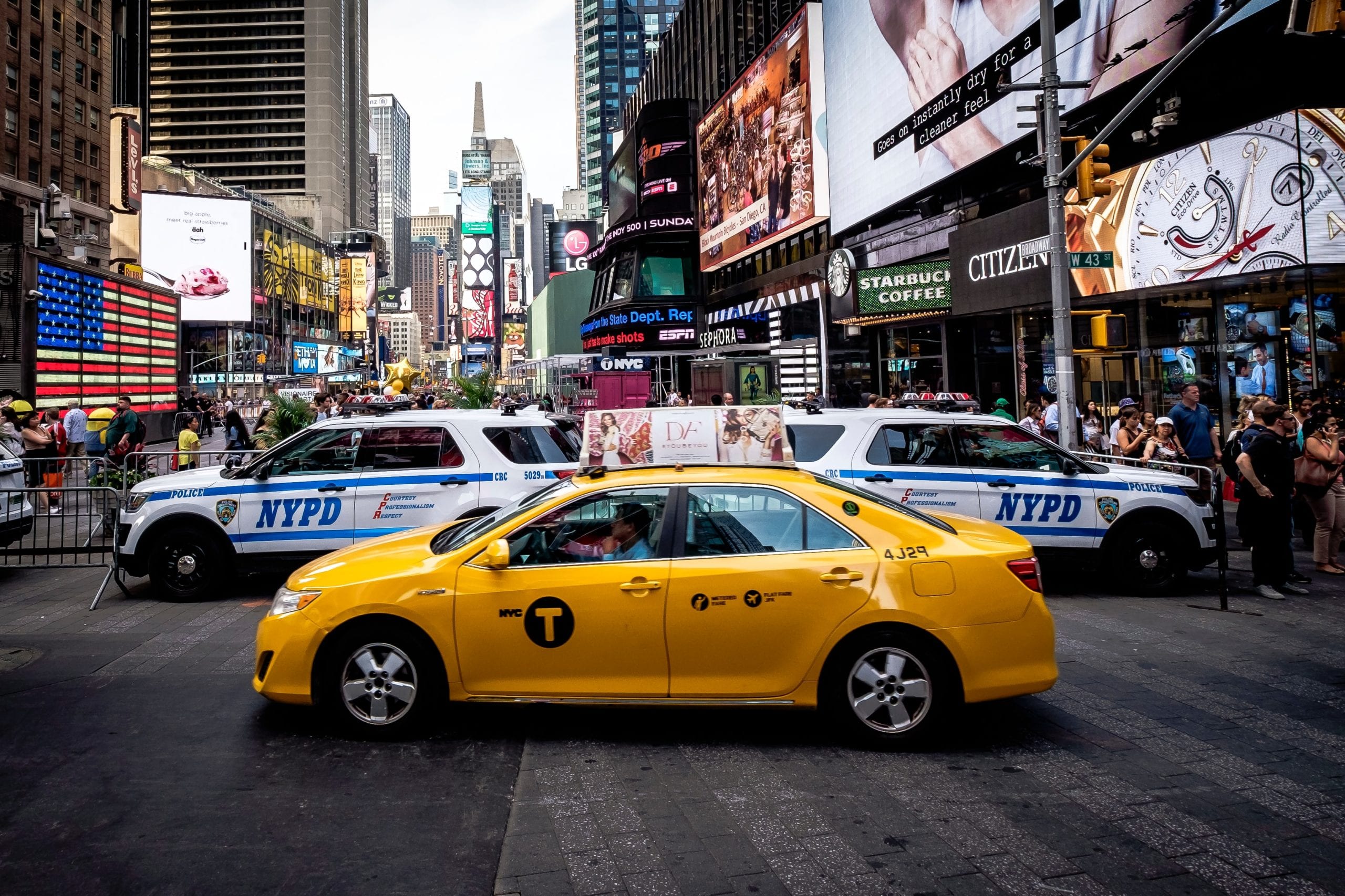 Cost of a yellow cab in New York
Getting a taxi in New York couldn't be easier, however, please note that NYC taxi fares are calculated using a taximeter, which is based on the time and distance travelled. The metered rate does not include extra charges applicable to the journey. It is highly recommended to make sure that the taximeter is reset before starting your journey, the on-screen rate message should read: "Rate #01 – Standard City Rate" when travelling within the city itself.
Initial charge: $3(€2.80)
Every 0.30 km: $0.70 (€0.65)
Overnight surcharge (20:00-06:00): $1 (€0.90)
Rush hour surcharge (16:00-20:00) on weekdays, excluding holidays: $2.50 (€2.30)
*These rates do not include any tips and toll fees. Moreover, for rides within the city, there is no charge for extra passengers, luggage, or credit card payments.
Local taxi drivers at JFK Airport usually offer a set-rate fee for the journey into the city centre. The average cost for a taxi from JFK to Manhattan is $70 (€64.80), however, additional fees may apply. Alternatively, trips to and from La Guardia Airport and Newark Airport are charged the standard metered fare. With an extra $20 (€18.60) surcharge for trips from EWR Airport and a $5 (€4.65) surcharge for rides from LGA Airport.
To give you an idea about prices, here are the estimated fares for the most popular routes:
Travelling from JFK Airport to Penn Station will cost you approximately $70 (€64.80).
What our customers say about Welcome
How to get a taxi in New York City
One of the most iconic features in New York is its famous yellow medallion New York cabs that stand out throughout the city; they are even more recognisable thanks to their rooftop "TAXI" sign and medallion license numbers on the roof and sides of the cab. They are the only vehicles licensed to pick up street hailing passengers and you can also book through a yellow taxi app.
Despite being the most famous, yellow cabs are not the only type of cabs in New York. Green cabs arrived in the city in 2013 and serve northern Manhattan and anywhere in the Bronx, Brooklyn, Staten Island and Queens (excluding airports). You can hail them from the street or pre-arrange a ride and they can be identified by their taxi "T" markings and license numbers on the roof and sides of the vehicle.
Visitors in NYC can also use for-hire vehicles such as liveries, black cars and luxury limousines. These types of transfer only provide pre-booked services booked by phone or via an app and the prices are set by the company. You can spot these vehicles by checking their number plates start with the letter "T" and end with the letter "C".
There are also commuter vans available. These vehicles are ideal for a more luxurious ride or if you are travelling in a larger group.
There are a few ways to catch a taxi in New York; you can either hail one directly from the street, go to one of the taxi ranks placed around the city or you can order a taxi either through the taxi company's website or using a mobile app.  If you wish to call a taxi from a local company, bear in mind that the waiting time is usually 5-10 minutes.
Major taxi companies are:
Dial 7: +1 212 777 7777
Brooklyn Taxi & Limo: +1 917 999 9396
Queens Medallion Leasing (NYC Taxi Yellow Cab Company): +1 718 784 9292
Benefits of booking a New York taxi in advance with Welcome
Knowing that your New York taxi will be there waiting for you whenever you need it is a great feeling, especially if you are new in town and haven't quite made your way around the bustling city just yet. Booking a private New York taxi service in advance will provide you with a set-rate fee, a guaranteed on-time pickup and a friendly driver ready to give you the best tips and recommendations along the way.
Booking your taxi in advance not only helps you to plan and budget your trip but it also ensures a hassle-free experience for everyone involved. To avoid any hidden fees, we suggest booking your private New York transfer with Welcome Pickups.
New York taxi tips
It is always better if you discuss the price before you start your journey in NYC and find out if you will need to pay any extra fees.
Most New York drivers do not usually take bills over $20. So, if your fare is $12, try not to give your driver a $100 bill.
Most taxis accept all types of credit cards and you can even add your tip directly on the machine.
If you want a receipt you must ask the driver for one.
Tipping New York taxi drivers is customary, 15%-20% is an acceptable amount..
Wheelchair accessible taxi service
Being the modern city that it is, NYC has plenty of wheelchair accessible vehicles, meaning you have a few options. The city manages the Citywide Accessible Dispatch Program which provides wheelchair accessible yellow and green New York taxi services all over the city with no extra cost to passengers. There are four ways to request an accessible vehicle from this programme: using the Accessible Dispatch NYC app, ordering one online, calling 311 or calling the dispatch centre at +1 646 599 9999.
You can also use one of the private companies by calling to book one of their vehicles:
NYC Wheelchair: +1 212 705 8773
NYC Wheelchair Accessible Transportation: +1 212 920 7287
Safety and Complaints for New York Taxis
Taxis in New York are known for their safety and reliability, although they can be slightly expensive if used regularly their driving can surprise some, as they drive the "New York way", meaning they zip in and out of traffic. There's no need to be too alarmed, this way of driving is normal for a taxi in New York.
If you forget something in the cab, not to worry, there are many stories of people leaving their belongings in yellow cabs and having them returned to them the very same day by their cab driver. Just make sure you request your receipt after every journey in case you leave something in the vehicle or had a bad experience.