Top-Rated Kauai Airport Shuttle Services
When arriving at Lihue Airport in Kauai, there's nothing better than a reliable and comfortable Kauai Airport shuttle to take you directly to your hotel. As a family or group, a private Kauai Airport taxi is a convenient option for a fast and comfortable transfer.
Kauai is a breathtaking island, known for its stunning beaches, lush landscapes, and laid-back vibe. Whether you're here to relax on the beach or explore the natural wonders of the island, a Kauai Airport shuttle or taxi can help you get started on your adventure.
At Welcome Pickups, we offer a personalised and top-notch service for your Kauai Airport shuttle or taxi needs. Our fleet of vehicles is diverse, and we work only with trusted, handpicked local drivers who will greet you with a name sign in the arrivals area and provide insider tips on the best places to visit during your stay. With guaranteed on-time pickups, you can sit back, relax, and enjoy the ride to your destination from Lihue Airport.
TRAINED DRIVERS
Hand picked & english speaking drivers
LOW PRICES
Same price as a regular Taxi from the line
FLIGHT MONITORING
Drivers are always on time
QUALITY SUPPORT
24/7 Email & Phone support
How much does a taxi cost?
Night time


(00:00 - 05:00)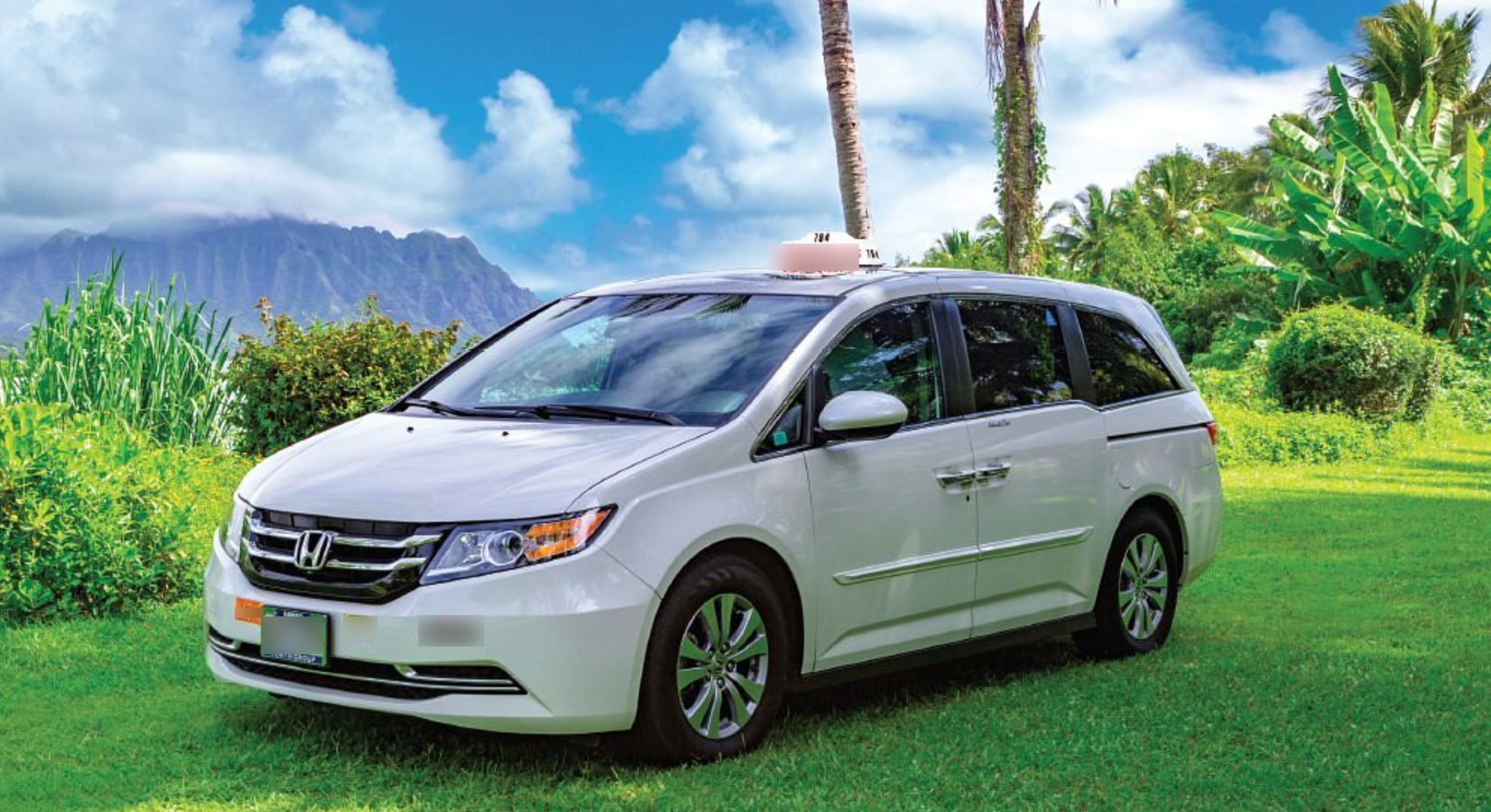 Welcome's Kauai Airport Shuttle Fleet
At Welcome, we understand that travelling to a new destination can be stressful, especially when you have children along, or heavy luggage to carry. That's why we offer a reliable and convenient Kauai Airport taxi service to accommodate your transportation needs.
Our trusted fleet of taxis from Lihue Airport can accommodate you and your loved ones with different-sized vehicles, depending on your needs. If you are travelling in a group of 4 people or fewer, one of our stylish sedans will do the trick. Alternatively, if you are travelling in a group of up to 8 people, we have spacious minivans that can transport you safely and efficiently.
We take pride in providing a personalised service that caters to your needs, with trusted, handpicked local drivers who know the ins and outs of Kauai and can provide insider tips on the best places to visit during your stay. Whether you're travelling for business or pleasure, our Kauai Airport taxi service is the perfect way to start your journey in style and comfort.
What our customers say about Welcome
Directions for your Taxi from Kauai Airport to Downtown
Lihue Airport (LIH) is the main airport serving Kauai and is located in Lihue, about 4 km east of the city centre. As the gateway to Kauai, it's a popular destination for tourists from around the world. Whether you're taking a Kauai Airport shuttle or taxi, it typically takes around 10 minutes to reach the city centre, depending on traffic conditions.
To get downtown, your driver will head southwest on Mokulele Loop toward Kupali St. They will then turn left onto Kapule Hwy, continue onto Kuhio Hwy, and finally turn left onto Rice St to reach the heart of Lihue. From there, the driver will take the small roads to get you directly to the door of your accommodation.
Why Book a Kauai Airport Shuttle with Welcome Pickups?
With Welcome Pickups, booking your Lihue Airport shuttle or taxi is easy and hassle-free. Our goal is to provide you with a smooth and comfortable airport transfer experience, so you can start your Kauai adventure on the right foot.
We offer a range of benefits, including guaranteed on-time pickups, 24/7 customer service, personalised door-to-door transfers, exciting travel extras, and unbeatable prices. Our handpicked local drivers know the island of Kauai well and can provide insider tips on the best places to visit during your stay.
Fares for your Taxi from Kauai Airport
All taxis from Lihue Airport calculate their fares using a taximeter based on the time and distance travelled. The initial fixed start fee is $3 (€2.80) for the first mile and there is a $3 (€2.80) charge for each additional mile. Although this may vary depending on your destination, you can expect to pay around $15 (€13.80) for a 10-minute trip. Keep in mind that a night fare is usually applied between 10:00 pm and 06:00 am on weekends and public holidays.
In any case, you can avoid any surprises or hidden fees by booking your Kauai Airport taxi in advance with Welcome Pickups. With competitive and transparent pricing, we offer a hassle-free way to get to your destination safely and comfortably.