Taxis in Almeria
Nestled on the southeast coast of Spain, Almeria is a lively and colourful city known for its rich culture and fascinating Muslim history. From historical attractions such as the Alcazaba and the Almeria Museum to vast beaches and protected areas along the coast, this Andalusian city is an absolute hidden gem and well worth a visit.
Taxis in Almeria are easily recognisable, they are white with a red stripe across the doors and you can spot them cruising throughout the city or parked at ranks. You can hail one in the street, find the nearest taxi rank, call a radio taxi company or book a private transfer in advance.
Whether you're planning a day trip or need a ride within the city, travelling by taxi in Almeria is simple and convenient. Taxis allow you to explore as much as you want without worrying about time, journey planning and public transport. Plus, is there anything better than hopping straight into your private vehicle and effortlessly arriving at your desired destination?
TRAINED DRIVERS
Hand picked & english speaking drivers
LOW PRICES
Same price as a regular Taxi from the line
FLIGHT MONITORING
Drivers are always on time
QUALITY SUPPORT
24/7 Email & Phone support
How much does a taxi cost?
Night time


(00:00 - 05:00)
ALMERIA CENTRE TO ALCAZABA
ALMERIA CENTRE TO CABO DE GATA
ALMERIA TO PLAYA DE LOS GENOVESES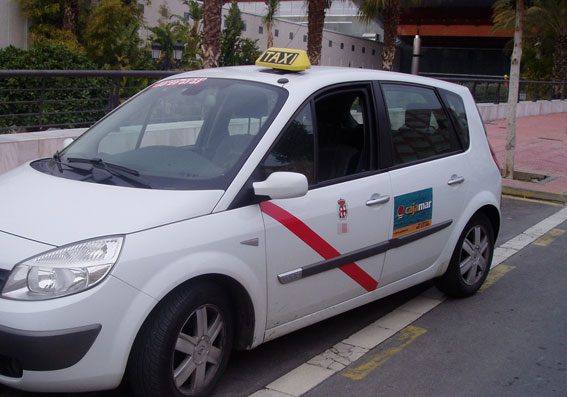 Almeria taxi fares
Taxis in Almeria follow a taximeter system, which means your fare will depend on the length of the journey, the time of day and the day of the week. The fares are regulated by officials and are calculated as follows:
Fare 1 (Monday-Friday 06:00-22:00):
Base Fare – €1.59
Rate/km – €0.88
Waiting charge per hour – €20.94
Minimum fare – €4.16
Minimum airport fare – €14.22
Fare 2 (Monday-Friday 22:00-06:00, Saturdays/Sundays/Bank holidays from 00:00-12:00):
Base fare – €1.94
Price/km – €1.08
Waiting time – €26.82
Minimum fare – €5.13
Minimum airport fare – €16.80
*Surcharges for things like extra luggage (€0.66) and holidays (€2.18) may apply. There's also a surcharge of €5.09 for a one-way airport-city fare.
For a guaranteed set fare with no hidden fees, you can pre-book a private transfer with a trusted company.
What our customers say about Welcome
How to get a taxi in Almeria
Taxis in Almeria are white with a red stripe across the doors and you can easily spot them cruising throughout the city. You can hail one in the street, find the nearest taxi rank, or call to arrange a pickup.
If you want a more personalised service, you can book your private Almeria taxi service in advance or call one of these recommended companies for a radio taxi in Almeria:
Radio Taxi – +95 222 222/+95 226 161
Tele Taxi – +95 251 111
Book in advance: How to book an Almeria taxi in advance with Welcome
Hailing a taxi in the street or calling and waiting for a radio taxi to arrive can be time-consuming and you may be subject to surcharges and extra costs. 
With Welcome Pickups, you can pre-book your private Almeria taxi within 60 seconds and ensure that a trained English-speaking driver will be waiting for you at Arrivals. With our competitive prices, 24/7 customer service, convenient mobile app and fully personalised service, you'll be getting the best of the best.
Welcome's services go beyond just simple pickups and drop-offs, we offer an array of exciting travel extras for you to enjoy and support our customers throughout their entire stay. From skip-the-line tickets to private sightseeing tours – book with Welcome and benefit from an experience uniquely tailored to you.
Almeria taxi tips
It is recommended to discuss the taxi fare with the driver before starting your trip, you can show them the address and ask how much the ride will cost.
Always ensure that the taximeter is turned on and working before you get going.
Tipping in Spain is not expected but it is common practice to round up the fare to the nearest EUR.
Most taxis take card payments, however, it's a good idea to ask before getting in the vehicle.
Wheelchair-accessible taxis in Almeria
Local taxis in Almeria generally use standard vehicles that aren't wheelchair compatible. If you need an accessible vehicle with a ramp, there aren't many companies providing such services. We recommend contacting the Barrier Free Assistance Service at Almeria Airport to enquire about accessible transfers (+34 91 321 1000) or you can hire a wheelchair-accessible vehicle with Alicante Region Transfers.
Almeria taxi safety and complaints
Taxis in Almeria are known to be safe and reliable. However, as in most cities, some drivers may try and take you on a longer route so that they can overcharge you. To avoid this, you can ask how long the journey will take before getting in the taxi and check Maps to be sure. If you experience any issues such as this during your ride, simply ask for the receipt and report any issues or complaints to the taxi company you travelled with or the local police.