San Juan Taxi Service
From picturesque beaches to charming cobbled stone streets filled with history, San Juan has so much to offer its visitors. That's why taking a quick and convenient San Juan taxi is the easiest way to get around the city and see everything. Taxis in San Juan, Puerto Rico are available 24/7 and can be hailed in the street, picked up from taxi ranks or called and booked in advance. 
TRAINED DRIVERS
Hand picked & english speaking drivers
LOW PRICES
Same price as a regular Taxi from the line
FLIGHT MONITORING
Drivers are always on time
QUALITY SUPPORT
24/7 Email & Phone support
How much does a taxi cost?
Night time


(00:00 - 05:00)
OLD SAN JUAN TO ISLA VERDE
SAN JUAN AIRPORT TO CITY CENTER
ISLA GRANDE AIRPORT TO OLD SAN JUAN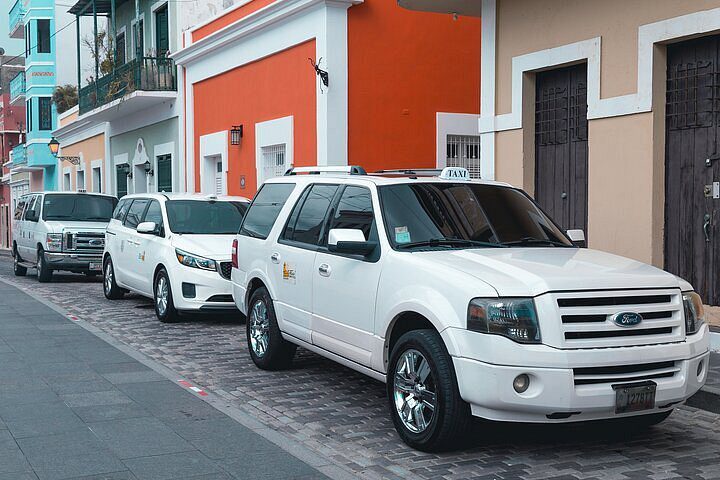 Cost of a taxi in San Juan, Puerto Rico
The cost of a San Juan taxi is set by zones. The zone you're travelling from and to will determine your fare. For example, a ride from Old San Juan (Zone 4) to Isla Verde (Zone 2) costs $21 (€18.50) and from the Hotels in the Miramar area (Zone 3) to Old San Juan costs $12 (€10.50).
The zones are as follows:
Zone 1 – Luis Munoz Marin (SJU) Airport.
Zone 2 – Hotels in the Isla Verde Area
Zone 3 – Hotels in the Condado and Miramar Areas
Zone 4 – Hotels & Piers in Old San Juan, Puera de Tierra
Zone 5 – Convention Center, Isla Grande Airport
If you're travelling outside of the tourist zones, your driver will use a taximeter to calculate your fare instead. The base fare is $1.75 (€1.50) and the price per mile is $1.90 (€1.70).
There are also additional fees for things such as luggage ($1 (€0.90) per piece), each passenger over 5 people ($2 (€1.80)), travelling at night (21:00 to 06:00) ($1 (€0.90)) and an airport surcharge ($3 ($2.65)).
What our customers say about Welcome
How to get a taxi in San Juan
Getting a taxi in San Juan couldn't be easier. You can hail one in the street if you're in the city centre, walk to one of the many taxi ranks or call one of the local companies to come and pick you up. The designated taxi ranks are marked by a sign saying "Taxi Turisticos" and can be found outside of the cruise ship piers, major hotels, popular attractions, airports and on the main streets in the city.
If you'd prefer a more personalised service or if you're located outside of the main tourist zones, you can ask your hotel concierge to call a taxi for you, or you can call one of the many taxi companies in the city. Some of the top San Juan taxi companies to call are:
Metro Taxi: +1 787-945-5555
Al Taxi Carolina: +1 857-234-8514
Wilbert Taxi Service: +1 787-479-9767
CityCab Puerto Rico: +1 787-633-3327
Why book a San Juan taxi with Welcome?
There's nothing worse than your transport being delayed when you're excited to get out and explore a new city. If you want to avoid waiting in the hot sun for an empty taxi to pass by or long wait times on the phone for dispatch taxis, you can book your transfers in advance with Welcome Pickups. We offer unbeatable prices, 24/7 customer service, English speaking drivers and guaranteed on-time pickups to all of our valued customers.
San Juan taxi tips
San Juan taxis will take up to 5 passengers for the set price.
If you're travelling outside of the tourist zones, your driver will use a taximeter to calculate your fare.
Tipping your driver 10-15% is customary in Puerto Rico.
If you're travelling at night (21:00 to 06:00) you will be charged $1 (€0.90) extra for your journey.
Wheelchair accessible taxis in San Juan
Unfortunately, the standard San Juan taxis don't offer wheelchair accessible vehicles. If you need an assisted vehicle, you can contact a specialist company such as Puerto Rico Shuttle on +1 787-400-2100 to book your transfer. They are a family-owned and trusted company that offer both 6 and 21 passenger buses that are fully wheelchair accessible.
San Juan taxi safety and complaints
Generally speaking, taxis in San Juan, Puerto Rico are very safe and convenient. However, if you do experience any problems during your journey, such as being overcharged, having a rude driver or feeling unsafe, you can make a complaint to the local authorities by calling +1 787-480-2520 or +1 787-480-2657. Just be sure to have details such as the driver's ID number, the taxi number or the licence plate number to hand when you're ready to make your complaint.