Taxi Service in Montpellier
Modern and historical, cultural, lively and attractive, Montpellier is a hub in Southern France for people who want to explore its unique monuments, laid-back atmosphere, warm Mediterranean climate and beautiful surroundings. With many of the city's population being university students and large numbers of visitors in the summer, it remains in a constant youthful motion.
A cab is one of the most convenient ways to get around the city. The taxi service in Montpellier is easily reachable 24/7 and dependable. You can just flag down a taxi on the street, walk to one of the many taxi ranks in front of hotels and popular attractions, make an online reservation or give a call to one of the urban area's taxi companies and request a pickup. You can also pre-book your ride for minimum waiting times and a professional driver who will provide an impeccable door-to-door transfer.
TRAINED DRIVERS
Hand picked & english speaking drivers
LOW PRICES
Same price as a regular Taxi from the line
FLIGHT MONITORING
Drivers are always on time
QUALITY SUPPORT
24/7 Email & Phone support
How much does a taxi cost?
Night time


(00:00 - 05:00)
MONTPELLIER-MÉDITERRANÉE AIRPORT (MPL) ➙ MONTPELLIER CITY CENTRE
MONTPELLIER-MÉDITERRANÉE AIRPORT (MPL) ➙ SÈTE
MONTPELLIER-MÉDITERRANÉE AIRPORT (MPL) ➙ CAP D'AGDE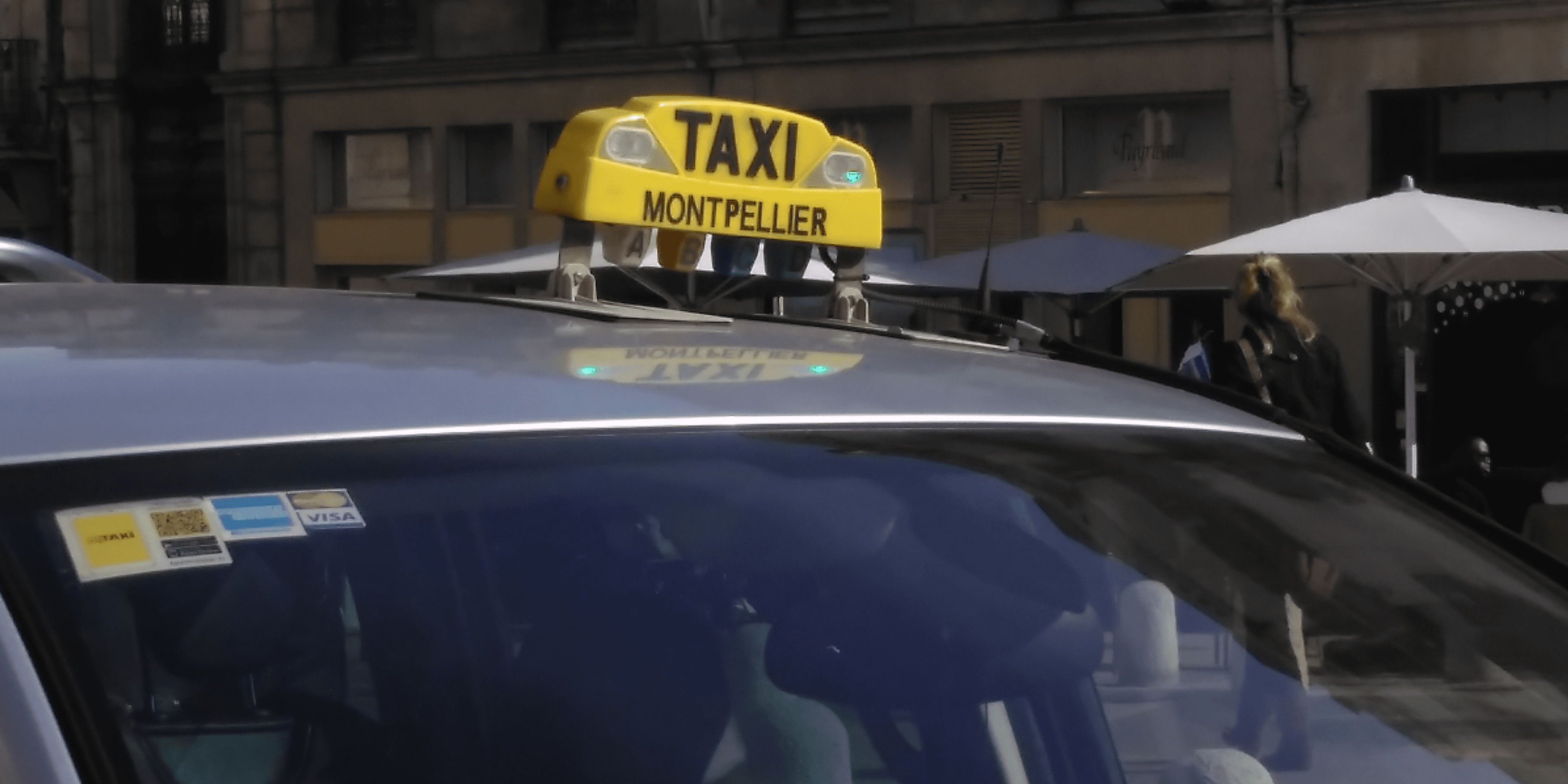 Montpellier Taxi Prices
In Montpellier, taxi fares are set and regulated by a prefectural decree of the department of Hérault. These rates are to be applied across the board, and taxis should have a taximeter installed, to calculate fares based on the time and distance travelled.
Base Fare: €2
Rate per km:
€0.91 for round trips Monday-Saturday between 07:00 and 19:00,
€1.35 for round trips Monday-Saturday between 19:00 and 07:00 (night fare), or on Sundays and public holidays,
€1.82 for one-way trips Monday-Saturday between 07:00 and 19:00,
€2.70 for one-way trips Monday-Saturday between 19:00 and 07:00 (night fare), or on Sundays and public holidays.
There can be extra charges, such as €26.80/hour for waiting and supplements for a 4th person boarding the vehicle (€2.30), carried animals (€1), and luggage that does not fit in the trunk (€1.10).
What our customers say about Welcome
How to Get a Taxi in Montpellier
It is effortless to recognise Montpellier taxis – they all bear a "TAXI Montpellier" inscription on the rooftop. To get one, you can hail it on the street, go to one of the taxi ranks at the city's busiest points, reserve online or contact one of the taxi companies operating in the urban area. Some of the most popular ones are the following:
Allô Taxi Montpellier: +33 764 329 268
Taxi Bleu du Midi: +33 467 032 000
Taxi Giraud: +33 786 562 526
Booking a Montpellier Taxi in Advance with Welcome
There aren't any availability shortages of Montpellier cabs all year long; taxis are available 24/7. Yet, in times of big crowds, such as July and August, you might encounter long waiting times or endless queues at ranks. If you have just arrived at the airport and want to travel to the city centre, 30 or 40 people waiting to board before you could be an arduous ordeal.
You could avoid all this and make hidden costs stay out of the way by pre-booking a private transfer with Welcome. A professional, knowledgeable and friendly local English-speaking driver will wait for you at the gates, ready to pick you up regardless of the arrival time and provide world-class, personalised service.
Montpellier Taxi Tips
All taxis in France are obliged to accept payments by major cards (Visa and Mastercard).
Tipping taxi drivers in Montpellier is not mandatory. However, a 5% or 10% roundup will always be appreciated if you've received satisfactory service.
Round trips have cheaper rates per kilometre. So, if you need a transfer back to your pickup point shortly after your drop-off, using the same cab will be more cost-effective.
Wheelchair Accessible Taxis in Montpellier
Most taxis in Montpellier can easily accommodate a foldable wheelchair in the trunk. However, if this isn't enough for you and you need a fully wheelchair-accessible vehicle with a lift or a ramp, you will have to hire the services of a dedicated company. A specialised service located in the Montpellier area is TPMR34 (+33 981 494 635). Ensure you contact them in advance for your booking, providing all the relevant details.
Montpellier Taxi Safety and Complaints
Cabs in Montpellier are generally very reliable and safe. Drivers are professional and abide by the rules of conduct, so unpleasant incidents are rare. Nevertheless, if anything out of the ordinary happens to you, or you feel unsafe at any point of your journey, keep your payment slip and contact the taxi company directly to document your complaint.