Taking a Strasbourg taxi to move around
Strasbourg, located literally in the heart of Europe, is a city for which "bustling" would be an understatement. Besides being the headquarters of several European institutions, attracting people from all over the continent, it is also a very vibrant university city with more than 20,000 students and a location full of history, with landmarks and attractions that will leave you in awe.
If your time in the city is limited or you prefer to get around in style and comfort without queuing up for public transportation, a Strasbourg taxi is an excellent option for sightseeing or getting from point A to point B with ease. The prefecture of the Bas-Rhin region regulates taxi prices, which are pretty affordable compared to other European cities. You can pre-book your transfers with a reputable company such as Welcome Pickups for even greater convenience.
TRAINED DRIVERS
Hand picked & english speaking drivers
LOW PRICES
Same price as a regular Taxi from the line
FLIGHT MONITORING
Drivers are always on time
QUALITY SUPPORT
24/7 Email & Phone support
How much does a taxi cost?
Night time


(00:00 - 05:00)
CITY CENTRE TO EUROPEAN PARLIAMENT
RAILWAY STATION TO PETITE FRANCE
CITY CENTRE TO ORANGERIE PARK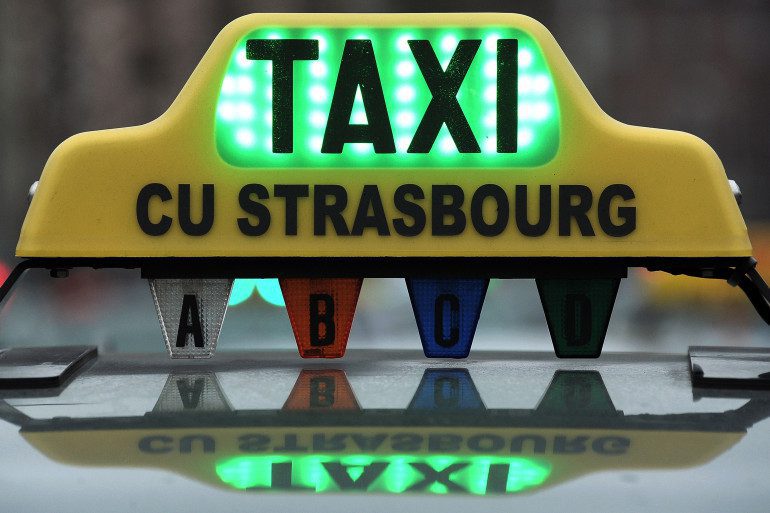 Prices of taxis in Strasbourg
Taxis in Strasbourg are metered and apply rates approved and regulated by the prefect of Bas-Rhin. These rates are:
Base fee: €3
Rate per km (daytime, 07:00-19:00): €1.86
Minimum charge (regardless of distance): €7.30
Charge per hour for waiting: €33.30
At night (19:00-07:00), on Sundays and bank holidays, the cost per km increases to €2.64.
If more than five people board the vehicle, there is an extra charge of €3. Regarding baggage, for any item that doesn't fit in the trunk, or for more than three pieces of baggage per passenger, there is a €2 surcharge.
What our customers say about Welcome
How to get a taxi in Strasbourg
There are several ways you can get a taxi in Strasbourg. If you want to hail one on the street, all you have to do is raise your hand, and the driver will stop if they're available; keep in mind that they won't stop if you're less than 50m away from a taxi rank. You'll find ranks scattered across the city centre, such as at the Strasbourg-Ville Railway Station and near the main tourist attractions.
If a spontaneous flag-down is not your thing and you would like to make a reservation for a taxi in Strasbourg: you can opt for our user-friendly Welcome Pickups app and pre-book a driver to pick you up, or call one of the official taxi companies operating in the city and arrange a phone dispatch cab. Some of the local taxi companies you can call are:
Mondial Taxi: +33 (388) 221 111
Taxi 13: +33 (388) 361 313
Alsace Taxi: +33 (388) 221 919
Strasbourg Taxi: +33 (388) 122 122
Booking a Strasbourg taxi in advance with Welcome
A pre-booked city ride with Welcome Pickups guarantees total peace of mind and reliability when it comes to Strasbourg taxis, especially during the busy periods of plenary sessions at the European Parliament, when people from all over the continent flock to the city. In less than 60 seconds, you can secure an on-time pickup by a hand-picked, English-speaking professional who will provide impeccable 5-star service and a personalised door-to-door transfer. Plus, you take advantage of our flexible cancellation policy if needed, and a fixed-rate fare that gets hidden costs out of the picture.
Strasbourg taxi tips
You can pay by card in all taxis.
Gratuities are not expected. However, it will be appreciated if you received good service and feel like rounding up your total.
If your taxi ride is a round trip, the cost per km is lower.
Wheelchair-accessible taxis in Strasbourg
Most Strasbourg taxis can fit a foldable wheelchair in the trunk. However, if your mobility needs call for a vehicle with a ramp or a lift, you will have to use the services of a specialised company. One such company in Strasbourg is Clic-VTC (+33 (698) 194 770), which provides on-demand transfers. You can call them in advance to describe your needs and your exact route and get a price estimate beforehand.
Safety and complaints for Strasbourg taxis
Overall, the taxi network in Strasbourg is characterised by a high level of safety. Most drivers are highly professional and respectful towards clients. In most cases, the worst thing that could happen is overcharging in some way.
All taxis have a printing device onboard to provide receipts detailing the driver's details and the company's information, so ensure you grab your receipt, should you need to follow up with the company about any issues you faced. If you feel unsafe at any point during your ride, call the taxi company directly to escalate the issue and report your experience.