Taxis in Athens
With over 13,000 taxis in Athens, it's extremely quick and easy to find one. Although there is a large number of different taxi companies throughout the city, they are all fully regulated and have set pricing. If you're looking to explore the city in comfort or you don't have much time to spare, choosing an Athens taxi would be a fantastic option for you. You can easily hail a taxi from the street, call one of the many radiotaxi companies or walk to a designated taxi rank, that are located throughout the city and at the most popular tourist spots. 
Base Fare – €1.29
Minimum Charge – €3.47
TRAINED DRIVERS
Hand picked & english speaking drivers
LOW PRICES
Same price as a regular Taxi from the line
FLIGHT MONITORING
Drivers are always on time
QUALITY SUPPORT
24/7 Email & Phone support
How much does a taxi cost?
Night time


(00:00 - 05:00)
ATHENS CITY CENTRE TO PIRAEUS PORT
ATHENS CITY CENTRE TO AIRPORT
ATHENS CITY CENTRE TO SOUNION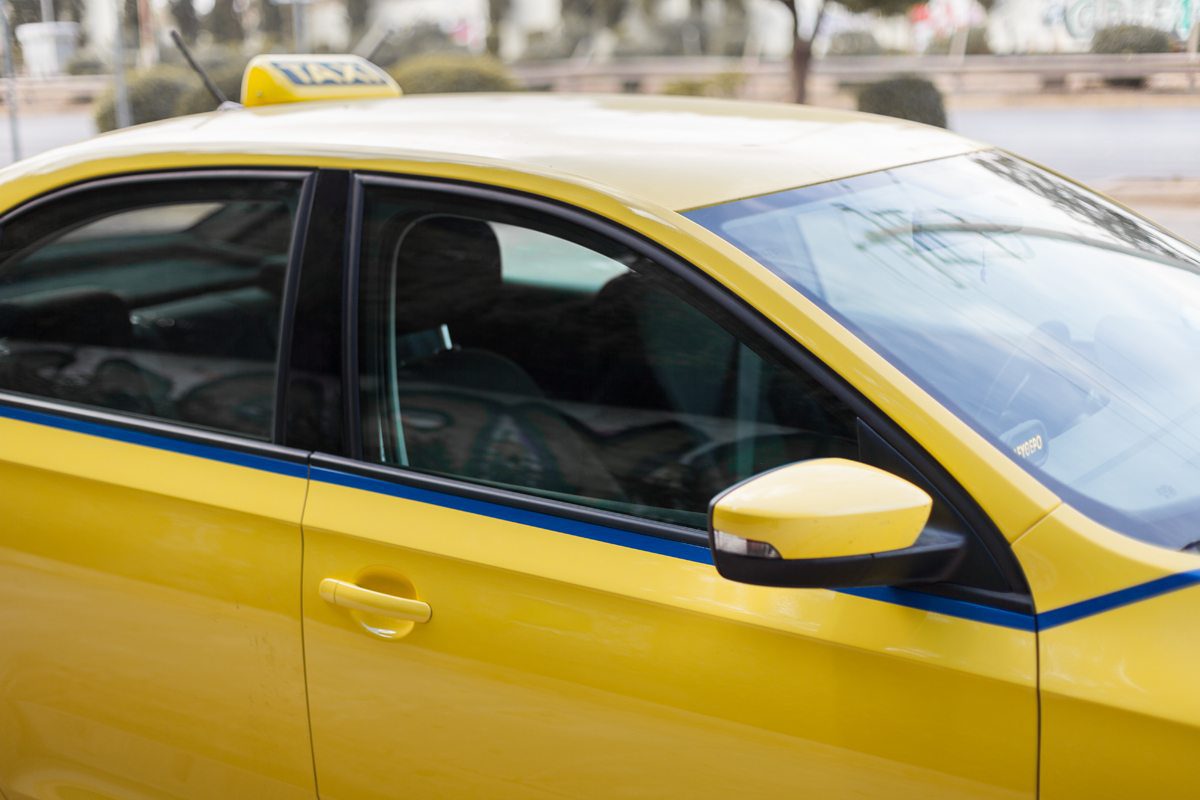 Cost of an Athens Taxi
Although there are many different Athens taxi companies, they all work under a regulated pricing system. All taxis in the city operate using a taximeter that will calculate your fare based on the distance you travel. It's worth noting that there are two different tariffs that will show during the daytime (tariff 1 – 05:00 to 24:00) and at night (tariff – 24:00 to 05:00), this will always be indicated on the taximeter at the front of the cab. 
Base Fare – €1.29
Rate/km daytime (05:00 to 24:00) – €0.74
Rate/km nighttime (24:00 to 05:00)- €1.29
Taxis in Athens also have extra charges for each piece of luggage over 10kg (€0.43), airport pickup (€4.72), 1-hour waiting time (€11.81), travelling during special holidays (€1-2) and a surcharge for pickup at the train station, bus station or port (€1.18).
What our customers say about Welcome
Where to get a Taxi in Athens
Athens is a big and busy city, but when you choose an Athens taxi for your transfer, getting from point A to point B couldn't be easier. You can choose to simply hail a taxi from the street, walk to the nearest taxi rank, call one of the many local radio companies or use a taxi app. 
Taxi ranks can be found near all the major tourist spots throughout the city, outside Athens railway station, Kifissos bus station and the main squares, like Syntagma square. It's easy to spot a rank as you will see the bright yellow cars with the signature 'TAXI' light on top, lining up at the side of the road. All you have to do is walk to the front of the line and enter the first free taxi. Having said this, by far the easiest way to take an Athens taxi is to hail one from the street. To do this, all you need to do is stop and wave your arm when you see an empty yellow taxi approaching you in the street. Once inside, make sure the taximeter is set to the base far and then tell your driver where you need to go.
During bad weather or late at night, we suggest booking your Athens taxi by calling one of the local radiotaxi companies or using one of the taxi apps available in Greece. This way, you can stay indoors where it's safe and warm until your driver lets you know he's outside. Although this is a very convenient option, there will be additional charges for this service. 
Benefits of Booking an Athens Transfer in advance
Knowing that your Athens taxi will be there waiting when you need it and will have a set-rate fee with no hidden extras is something everyone wants when visiting a new and exciting city. Booking your Athens taxi transfer in advance not only allows you to plan and budget your trip with ease it also gives you the peace of mind that you won't need to haggle with local drivers or get lost trying to find the local taxi ranks. However, booking your Athens taxi in advance can come with high fees. To avoid this, and guarantee an English-speaking driver, we suggest booking your transfers in Athens with Welcome Pickups.
Athens Taxi Tips
Not many Athens taxi drivers speak English, so be sure to clearly write down the directions of the place you want to visit in Greek.
Before beginning your journey, make sure your taxi driver sets the meter to the base fare of €1.29.
If you are travelling during the day, be sure the taximeter is working on tariff 1.
It helps to learn the names of the main roads throughout the city so you can know if your driver is going the right way.
If you feel your driver is taking a long route, you can check the directions on GoogleMaps.
Taxis in Athens don't usually carry change for large notes, so be sure to keep coins and small bills in Euros with you.
Athens taxis don't carry baby seats, but you can bring and fit your own.
Wheelchair Accessible Taxis in Athens
Athens as a whole is a very wheelchair accessible city. However, the regular taxis you will find driving on the streets don't have any special ramps or seating for wheelchair users. If you're comfortable folding up your wheelchair, there's plenty of space to store it in the regular taxis. If you need a fully accessible vehicle, you can contact www.specialtaxi.com, the first wheelchair-accessible specialist taxis in Athens. 
Safety and Complaints for Athens Taxis
It's quite common for taxi drivers in Athens to try and take more money from their customers by taking longer routes, using tariff 2 during the day or increasing the base fare. If you believe this has happened to you, you should write down the taxi number and driver's unique ID number (this should always be on display in the taxi) and ask for your receipt. You can then call the company that you travelled with or head to the Athens Tourist Police and make a report.