Taxis in San Francisco
Getting a taxi is always the most enjoyable option, a great way to see the city and getting a San Francisco cab is very easy; you can hail one off the street or you can book a taxi in advance, and have them pick you up when you are ready. There are many different San Francisco taxi companies, with the two largest companies being Yellow Cab SF and Luxor Cab. Moreover, although it's still common to hail a San Francisco taxi from the street, you can also simplify the process by using one of the taxi apps for an easy pick up. So, if you only have a short amount of time in this beautiful city, or if you prefer to get from A to B in the comfort of a private vehicle, taking a SF taxi is a great option for you.
TRAINED DRIVERS
Hand picked & english speaking drivers
LOW PRICES
Same price as a regular Taxi from the line
FLIGHT MONITORING
Drivers are always on time
QUALITY SUPPORT
24/7 Email & Phone support
How much does a taxi cost?
Night time


(00:00 - 05:00)
FROM SFO AIRPORT TO UNION SQUARE
FROM UNION SQUARE TO FISHERMAN'S WHARF
FROM SFO AIRPORT TO PIER 39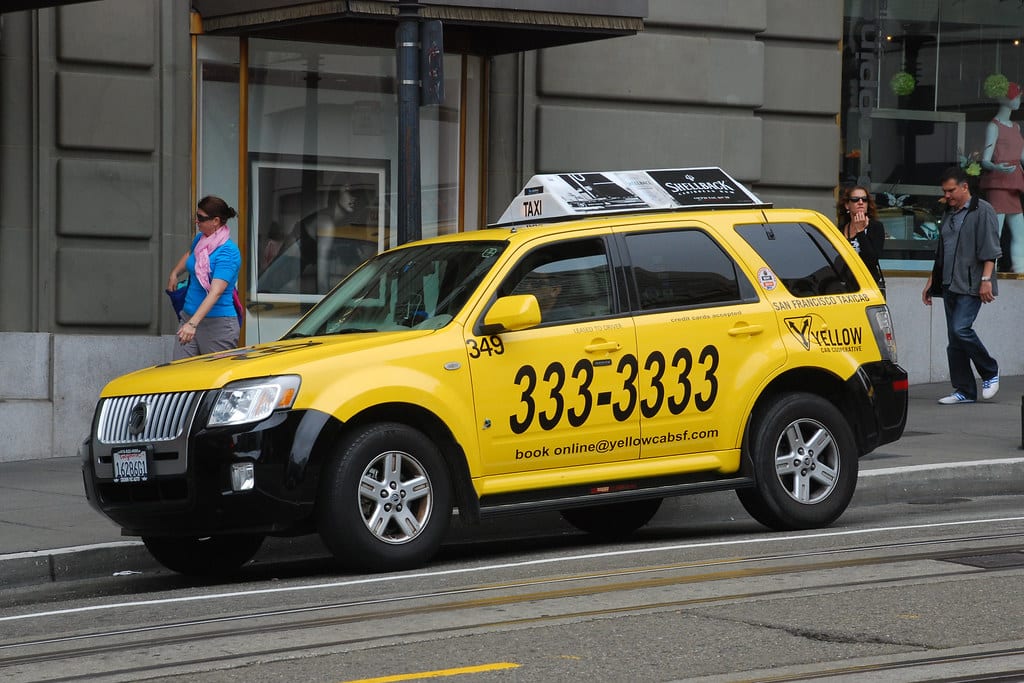 San Francisco Taxi Prices
Although there are many different taxi services in San Francisco, they all work under a regulated pricing system defined by the state, which includes a starting fee, airport charge (if travelling from the airport), and a per-km rate. All taxis calculate their prices using a taximeter, so by the distance travelled, and surcharges may apply during peak hours, waiting fees, and trips to and from SFO airport.
Taxi Fares
First 1/5th of a mile: $3.50 (€2.90)

Each additional 1/5th of a mile thereof: $0.55 (€0.45)

Each minute of waiting or traffic delay: $0.55 (€0.45)

Airport surcharge: $2.00 (€1.65)

Passengers pay for bridge tolls.
What our customers say about Welcome
Where to get a Taxi in San Francisco
Trying to find a taxi in bustling San Francisco can seem quite daunting, especially when you are new to the city. Nevertheless, with the right information, it couldn't be easier to get around this wonderful city in the comfort of your own private SF taxi.
Taxis around the city are easy to find. If you wish to hail a taxi directly off the street, make sure to be at an area where they can see you. Please note, that if a taxi doesn't stop, even though the vehicle is empty, it is probably because they answered a call to pick someone up or they are heading back to return their car. It's easiest to head to a busy intersection which is where more taxis go to look for customers. You can also stop by a hotel, if you can't find a taxi on your own, and they will help get one for you. However, if you prefer to call a taxi company or book a San Francisco taxi online or via an app in advance, you will be given a well defined pickup point where you can meet your driver.
The Benefits of Booking a San Francisco Transfer in Advance
It is always a nice feeling to know that you don't have to run around town, trying to find an empty taxi, especially late at night or carrying around luggage. Knowing that your reliable taxi driver is waiting for you exactly where you asked them to be gives you great peace of mind. Booking your transfer in advance, not only gives you that reassurance, it also allows you to pay a fixed price and not watch the meter get higher as you go.
San Francisco Taxi Tips
Not all of the SF taxis have credit card machines, so it's best to have cash available to pay for your ride. If you don't have cash and need to use a credit card, confirm with the driver beforehand.
Similarly to restaurants, it is customary to leave a tip for the taxi driver. Usually, this should be between 10% and 20%.
Taking a cab is very safe when travelling around San Francisco, as it is mandatory for taxis to have security cameras inside the vehicle and the taxi driver must have their driver's license in a visible place.
Travelling with Children in San Francisco Taxis
By law, when travelling with children or babies in a SF cab, they need to travel in a car seat. However, most taxi companies don't offer this option. Many cabs in SF will pick you up and let you ride with children, but this is illegal and not safe. Your other option is to book a taxi in advance, with a company that specialises in offering this service.