Tips for taking a taxi in Cali
Cali is one of Colombia's hidden gems. Dubbed "the Salsa capital of the world", it's a vibrant and fascinating city where the lively nightlife meets culture and colonial history. And if you happen to visit during the Carnaval, you're up for an experience that will make you delve into Colombian life and the locals' ways.
Finding your way around a new city can sometimes become frustrating or even intimidating, especially if you don't speak the local language. All concerns can be taken out of the equation by simply taking a taxi for all your transport needs. Taxis are the most convenient way to get around Cali or visit nearby locations without worrying about timetables, long journeys and last-route hours. You can simply flag a cab down on the street, go to a nearby rank (usually found in tourist zones and outside shopping centres, nightclubs etc.), arrange a pickup with a radio taxi of Cali, or use one of the local ride-hailing apps like Easy Taxi. You can also pre-book a private transfer for even greater convenience!
TRAINED DRIVERS
Hand picked & english speaking drivers
LOW PRICES
Same price as a regular Taxi from the line
FLIGHT MONITORING
Drivers are always on time
QUALITY SUPPORT
24/7 Email & Phone support
How much does a taxi cost?
Night time


(00:00 - 05:00)
PLAZA DE CAICEDO TO CRISTO REY
BAIRRO GRANADA TO SAN ANTONIO HILL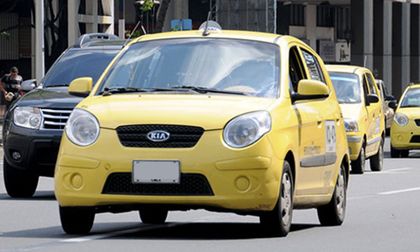 Cali cab fares
Taxis in Cali are affordable and metered. The driver turns on the taximeter whenever a customer gets on board, and the final fare is calculated by combining elements like the time and the distance travelled. The following rates are applicable:
Initial fare: €1 (COP 4,900)
Price per km: €1.10 (COP 5,000)
Waiting (per hour): €6.50 (COP 30,000)
On Sundays and after 20:00 daily, there is a 10% surcharge. Extra charges for luggage not fitting in the boot of the vehicle, tolls etc. may also be applicable.
What our customers say about Welcome
How to get a taxi in Cali
Taxis in Cali are yellow. When they are able to pick up passengers, a sign reading "Libre" or "Disponible" is lit. Besides hailing a cab on the street, you may also look for the nearest taxi rank, as there are usually cab lines outside malls, stations, and popular attractions in Cali.
If you prefer to use your phone to order a cab, the EasyTaxi app is popular in Colombia and contains affiliated licensed taxi providers. For a more personalised service, you can pre-book your ride with a reliable company such as Welcome Pickups, taking advantage of door-to-door transfers, competitive flat fares and excellent 24/7 customer care.
Lastly, there is the option of a radio taxi in Cali, which will be readily available for pickup service if you call one of the local companies listed below:
Taxi Premium: +57 301 458 7676
TaxExpress Cali: +57 2 555 5555
Taxis Climatizados Cali: +57 313 556 5144
The perks of booking your Cali taxi in advance with Welcome
Welcome is internationally renowned for offering impeccable service at competitive prices, making your travel experience comfortable and stress-free. Book your transfer in advance on the user-friendly app in less than 60 seconds, and you'll ensure a courteous, hand-picked, English-speaking local driver that will take good care of you and your travel group. What is more, cancellation is flexible and early or late pickups are never an issue, as our team (both the drivers and our customer support!) is available 24/7.
Taxis in Cali: tips and advice
Hailing a taxi on the streets of Cali could be a risk sometimes. It is best to call a taxi company, book your cab online, or ask your hotel to call you one for your safety.
Most taximeters in Cali don't display the local currency but units (each amounting to COP 84). Keep track to avoid being overcharged.
Always ask the driver to turn the meter on before the ride starts.
The language barrier is more noticeable in Cali compared to other Colombian destinations. It will help a lot if you speak or understand some basic Spanish.
Wheelchair-accessible taxis in Cali
Colombia is generally not fully accessible to people with disabilities or reduced mobility. However, significant efforts have been made to turn the situation around in recent years. In Cali, most taxis can fit a folded wheelchair in their trunk. If you need a vehicle with a ramp or a hydraulic lift, you can contact one of the companies specialising in providing such transfers, such as EMERDOM Ltda (+57 032 372 6564).
Safety and complaints for Cali cabs
Most taxi drivers in Cali are honest, hard-working people who go above and beyond to provide excellent service. Yet, there have been incidents of people being scammed or robbed – though they're quite rare.
As always, common sense will keep you safe. At night, avoid boarding a taxi alone, even if it's for a couple of blocks. Instead of hailing a taxi on the street, book in advance online or call a top-rated taxi company. Their affiliated drivers will be registered, so they'll have their license plates on record and can identify a driver at any given moment. If you feel you have been overcharged or otherwise mistreated, keep your receipt and call the taxi company you used to file a complaint.