Osaka Taxi Service
Osaka is Japan's third most populous city and is regarded as one of the most multicultural and cosmopolitan cities in Japan. Renowned for its culinary excellence (some of the best food in the whole of Japan is served in Osaka), the city resonates with both an old-school charm and modern fidelity, making it an undeniable travel destination when visiting Japan.
The city of Osaka is a large city and in close proximity to other famous Japanese destinations like Kobe, Kyoto and Nara. An Osaka taxi is therefore an ideal transport option, allowing you to travel comfortably and swiftly around the city, visiting the many attractions, entertainment spots and food options that make up the remarkable city of Osaka.
TRAINED DRIVERS
Hand picked & english speaking drivers
LOW PRICES
Same price as a regular Taxi from the line
FLIGHT MONITORING
Drivers are always on time
QUALITY SUPPORT
24/7 Email & Phone support
How much does a taxi cost?
Night time


(00:00 - 05:00)
OSAKA CITY CENTRE TO OSAKA CASTLE
OSAKA CITY CENTRE TO SHITENNŌ-JI TEMPLE
OSAKA CITY CENTRE TO UNIVERSAL STUDIOS, OSAKA
OSAKA CITY CENTRE TO OSAKA AQUARIUM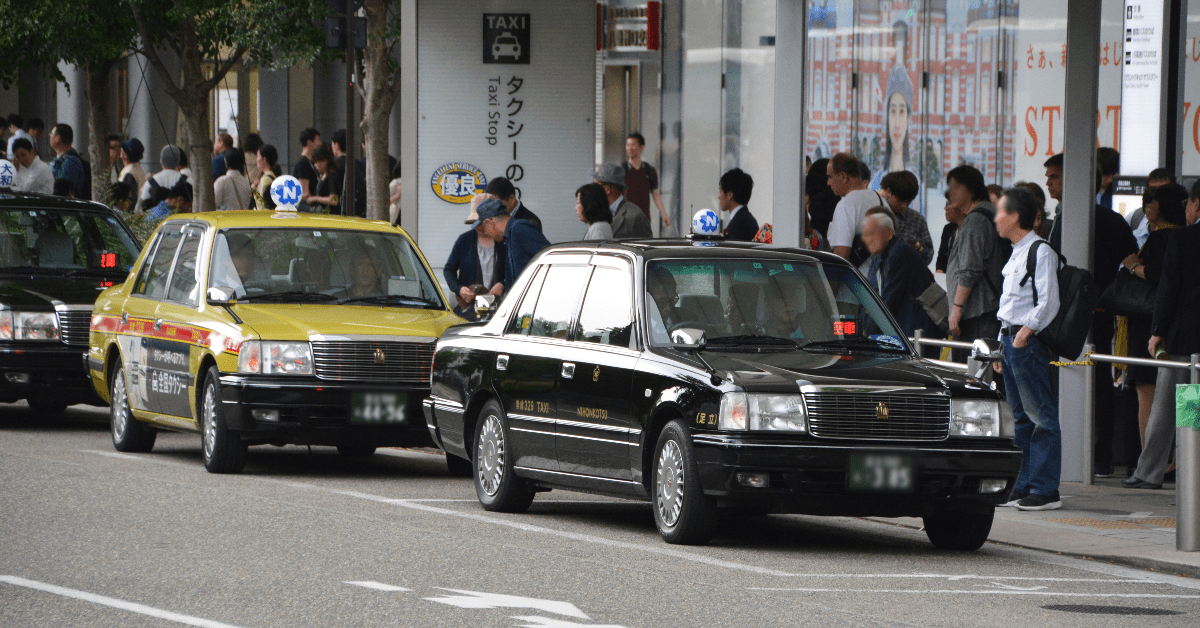 Osaka Taxi Prices
Osaka taxi prices are calculated using a taximeter and involve an initial base fee, a per km charge and a waiting time fee per hour, when applicable. Most taxi companies offer fixed rate fares to popular destinations but those need to be arranged in advance. 
Initial base fee: €4.99 (JPY 680) 
Per km cost: €2.95 (JPY 400) 
Waiting time charge per hour: €25 (JPY 3450)
Late-night taxi charges in Osaka increase by 20% between 22:00 and 5:00. Any charges from tolls (expressways, bridges, etc.) will be added to the final taximeter cost.
What our customers say about Welcome
How to get a taxi in Osaka
Taxis in Osaka are available in abundance, so finding a taxi when you need one will be an easy process. If staying in a hotel the easiest way to get a taxi is to request one via the hotel reception. Alternatively, taxis are readily available on the street which you can hail by raising your arm to an oncoming taxi, or directly from a taxi rank which you will find outside the airport, most train stations, bus terminals and major public facilities. Some of the most popular Osaka taxi companies include:
Osaka MK Taxi: +81 6 6452 4441
Ken's Osaka Taxi: +81 90 5672 3547
Kokusai Kogyo (KKG): +81 570 03 5931
Booking your Osaka taxi in advance
When travelling to a new destination it's always handy to have made arrangements for your airport transfer in advance. That way, you minimise any issues that you may encounter and get yourself to your hotel, swiftly, comfortably and safely, especially after a long flight. When booking your Osaka airport taxi with Welcome Pickups you are guaranteed a professional service of the highest calibre, fixed-rate fares with no hidden costs and the peace of mind that you will arrive at your destination safe and sound.
Osaka taxi tips
Tipping your driver at the end of your transfer is uncommon in Japan and it may even confuse your driver. You should simply pay for the fare that is shown on the taximeter.
The rear doors on all taxis open and close automatically by the driver, so you don't have to do this yourself.
Any tolls associated with the use of expressways (motorways) or bridges during your taxi ride, will be added to your final taxi fare.
Many Osaka taxi drivers may not speak any English, it is therefore recommended that you have the name of your destination written down in Japanese, which you may show the driver at the start of your transfer.
Wheelchair accessible taxis in Osaka
Not all taxis in Osaka are equipped adequately for wheelchair users. It is therefore highly recommended that any transfers that require wheelchair access are requested as such to ensure the appropriate vehicle is arranged during the booking process. MK taxi Osaka is a trusted company that offers wheelchair-accessible vehicles on demand.
Osaka taxi safety and complaints
Taxis in Osaka, and Japan in general, are well known for their cleanliness and the very high standards of service and the immaculate condition of their vehicles. Furthermore, Japanese taxi drivers are polite, respectful and trustworthy making Japan one of the safest places to use a taxi. In the unlikely event that you wish to make a complaint regarding a taxi transfer, you should contact the associated taxi company directly stating what happened along with the transfer details, the driver's name and the taxi registration number.