Taxis in Munich
Imagine cosy Bavarian gardens, friendly locals dancing and sipping beer out of tall tankards and couples walking under the Rathaus-Glockenspiel at dusk and you will start to get a grip of what a vacation in Munich feels like. Oktoberfest is when Munich truly shines and if you are here for some tasty half-litre goodness, don't waste any precious time trying to figure out complicated underground lines. Instead, hop in a Munich taxi and explore all the famous breweries with a local driver.
TRAINED DRIVERS
Hand picked & english speaking drivers
LOW PRICES
Same price as a regular Taxi from the line
FLIGHT MONITORING
Drivers are always on time
QUALITY SUPPORT
24/7 Email & Phone support
How much does a taxi cost?
Night time


(00:00 - 05:00)
MAIN STATION TO ENGLISH GARDENS
MARIENPLAZ TO NYMPHENBURG PALACE
ZONE CENTRAL STATION TO MUNICH TRADE FAIR CENTER ICM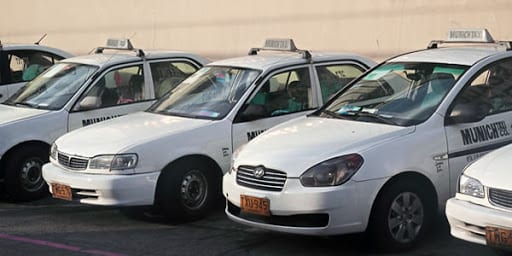 Cost of a Munich taxi
All taxis in the Munich operate with a taximeter that will calculate your fare based on the distance you travel. The price per kilometre is set by the prefecture and is shown based on €0.20 rate increments. There are fixed rates for certain routes, for example, a ride from Munich Airport to Zone Messe (central Munich) will cost you €85.
Base Fare – €5.50
Rate/km – €2.30
Waiting charge per hour – €36
Passengers should also bear in mind that there are additional surcharges for carrying animals and extra luggage, namely:
Order fee – €1.20
Charge per piece of baggage – €0.60
Pets – €0.60
*The above prices are binding for all Munich taxi companies.
What our customers say about Welcome
How to get a taxi in Munich
With more than 1.500 different taxi companies and 4.000 drivers hovering around the city, Munich has the highest density of taxis per inhabitant in Germany, so finding a local taxi couldn't be easier. All taxi cars in Germany have the same colour scheme (cream white) and specific yellow/black signs on the roof.
You can hail a taxi from the street and if it is free, the driver will stop for you. At night, free taxis have an illuminated yellow taxi sign on the roof. Taxis without an illuminated sign will not stop for you, as they already have passengers on board.
There are also numerous taxi stands near tourist spots or famous monuments, namely Marienplatz, Asamkirche and the New Town Hall. If you'd rather book with a private taxi company, Taxi-München (+49 89 19410) and IsarFunk (+49 89 450540) are the main taxi providers for the city of Munich.
Benefits of booking a Munich transfer in advance
Munich is truly a magical place. The food and history, architecture, museums – and yes, even the lederhosen – make it a one-of-a-kind experience. If you're a beer lover with limited time to visit the city or if you're travelling with young children, booking a private taxi in advance with Welcome will save you time and make your trip more memorable and convenient.
There's nothing like having a reliable, English-speaking driver waiting at the airport and access to 24/7 customer support. So book with us and we guarantee you a hassle-free experience in the most beautiful city in Bavaria.
Munich taxi tips
When you don't see any taxis in the street, try walking to a taxi stand. It is also possible to call a rank, as they have a special telephone booth for the taxi drivers who will hop out of their car and answer the call.
A tip isn't expected, but you can round up to the nearest euro or give a 10% tip for exceptional service.
Some taxi drivers have advertisements on their vehicles. There is no difference between taxis with or without advertisements, so you don't need to worry about that.
Wheelchair-accessible taxis in Munich
Germans are known for their organisation and the city of Munich is no exception. Wheelchair accessibility is excellent in all areas. There are many taxi companies that offer services for people with mobility difficulties but the below are the most prominent. Call them to book a wheelchair-friendly vehicle:
SFD Spezialfahrdienst Hadizamani GmbH – +49 (172) 892 5522
Bavarian Red Cross BRKMobil – +49 8151 2602
Safety and complaints for Munich taxis
Taxi services in Munich tend to be very reliable, as they are regulated and supervised by the City of Munich. However, if you suspect that you have been scammed or taken advantage of by a driver, you can ask for a receipt, note down the license plate and call the local police at +49 892 9100.