Taxis in Mallorca
Choosing to take a taxi when arriving in any new city is always the most convenient way to travel – and in Palma, it is sometimes the only way to travel. There are over 1,200 taxi licenses in the city, so finding a Mallorca taxi won't be too difficult. Going further, taxi vehicles are easy to recognise as they are white with a red and yellow stripe across the middle and have a classic taxi rooftop sign. Moreover, all taxis are air-conditioned making it the most comfortable way to travel around the city.
However, if you prefer avoiding the hassle of finding a taxi on a hot summer's day or struggling to speak to your Spanish driver, you can always pre-book a private transfer company, with an English-speaking driver online at a fixed price.
TRAINED DRIVERS
Hand picked & english speaking drivers
LOW PRICES
Same price as a regular Taxi from the line
FLIGHT MONITORING
Drivers are always on time
QUALITY SUPPORT
24/7 Email & Phone support
How much does a taxi cost?
Night time


(00:00 - 05:00)
FROM CITY CENTRE TO CALA D'OR
FROM CITY CENTRE TO ALCUDIA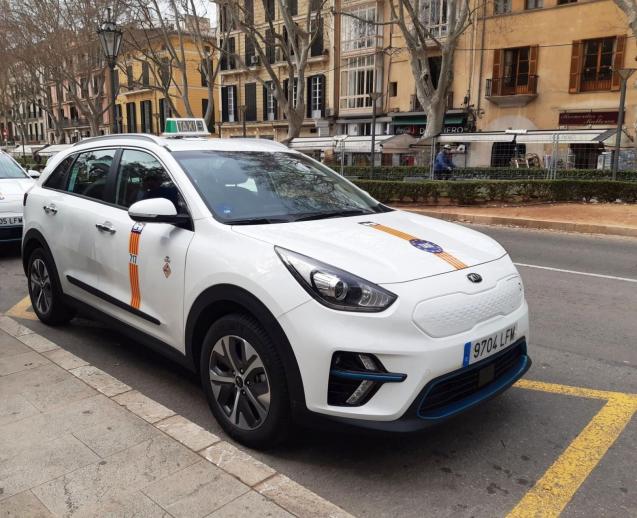 Mallorca Taxi Prices
Taxis fares in Mallorca are controlled by the state and are very reasonably priced. All taxis are obliged to use a taximeter in order to calculate their fares and all prices are set by the local government. Taximeters need to be turned on and working before heading off to your destination.
Furthermore, Mallorca taxi prices differ depending on the day or time you are travelling on, and quite a few surcharges apply.
Taxi Fares:
FARE 1 – Every day between 21:00 and 07:00:
Minimum fare: €4
Every km: €1.02
Every hour of wait: €18.40
FARE 2 – From Mondays to Fridays between 07:00 to 21:00:
Minimum fare: €3
Every km: €0.80
Every hour of wait: €16.40
Moreover, many surcharges apply for taxi trips in Mallorca, such as:
Radio call: €0.95
Every piece of luggage: €0.60
To and from the airport: €2.70
From Palma harbour: €2.70
To Bellver Castle: €0.60
To Na Burguesa: €2.70
If you prefer to travel around Palma de Mallorca at a fixed competitive price, with an English-speaking driver, you can book your taxi or private transfer company online in advance.
What our customers say about Welcome
How to get a Taxi in Mallorca
As there are many taxis around Mallorca, they are very easy to find. You can either flag one down in the street, go to an official taxi rank placed around the city or call a taxi yourself. Furthermore, if you are in a bar, restaurant, or a hotel, you can always ask an employee to call a taxi for you. It is easy to see if a Mallorca taxi is free as the vehicle will show the word 'libre' (free in Spanish) and a green light.
Please note that taxis will not carry more than 4 passengers, so if you are travelling with a bigger group, you will either need to get more than one taxi or a larger vehicle.
The Benefits of Booking a Mallorca Transfer in Advance
Knowing that you have a Mallorca taxi waiting for you at your location at a set time, and at a set price is a great feeling, especially if you do not know the city. Moreover, if you want to plan your budget in advance, then knowing the exact price of your Mallorca transfer is perfect.
Please note that many private booking companies charge higher fees and have hidden charges, so it is highly recommended to book your Mallorca transfer with Welcome Pickups.
Mallorca Taxi Tips
Most drivers prefer payment in cash, so it is always recommended to carry cash (in euros) on you if you are planning on taking a taxi in Mallorca.
It is best to travel with smaller bills as most taxi drivers don't carry enough change.
Most taxi drivers will automatically reset their taximeter to the base fare and turn the meter on. However, it is always good to double-check before you begin your journey.
If you call a taxi in Mallorca, a surcharge of €0.95 will be added to your fare for the 'Radio call'.
Giving a tip to your taxi driver in Mallorca isn't expected, but is always appreciated. A good rule of thumb is to round up to the nearest euro or up to 10% of the final fare for good service.
You can always ask for a receipt when your trip is completed, in case you leave anything behind in the taxi.
Wheelchair Accessible Mallorca Taxis
Not all taxis in Mallorca are wheelchair accessible, however, they are wheelchair friendly, meaning that your driver can fold up the wheelchair and store it (at no extra charge) in the boot of the vehicle. If you wish to travel in a wheelchair-accessible taxi with special support for disabled passengers, you can order one in advance.