Taxis in Kuala Lumpur
Kuala Lumpur, the capital of Malaysia and home to many different cultures, is known as the melting pot of Southeast Asia. Here, you can explore beautiful temples and mosques, marvel at modern architectural wonders, indulge in tasty street food, and meander around local markets and shopping centres.
There are over 67,000 taxis in Malaysia, with several taxi companies offering transfer services in Kuala Lumpur. You can readily catch a ride by flagging down a cab from the street, calling to request a ride, or you can find a cab at taxi ranks near hotels, public transit stations, or main tourist destinations. The taxi fares are officially set by the government, and the cost is based on a calibrated taximeter, or you can pay a flat rate by booking your transfer in advance.
TRAINED DRIVERS
Hand picked & english speaking drivers
LOW PRICES
Same price as a regular Taxi from the line
FLIGHT MONITORING
Drivers are always on time
QUALITY SUPPORT
24/7 Email & Phone support
How much does a taxi cost?
Night time


(00:00 - 05:00)
KUALA LUMPUR TO BATU CAVES
KUALA LUMPUR TO PUTRAJAYA
KUALA LUMPUR TO PORT KLANG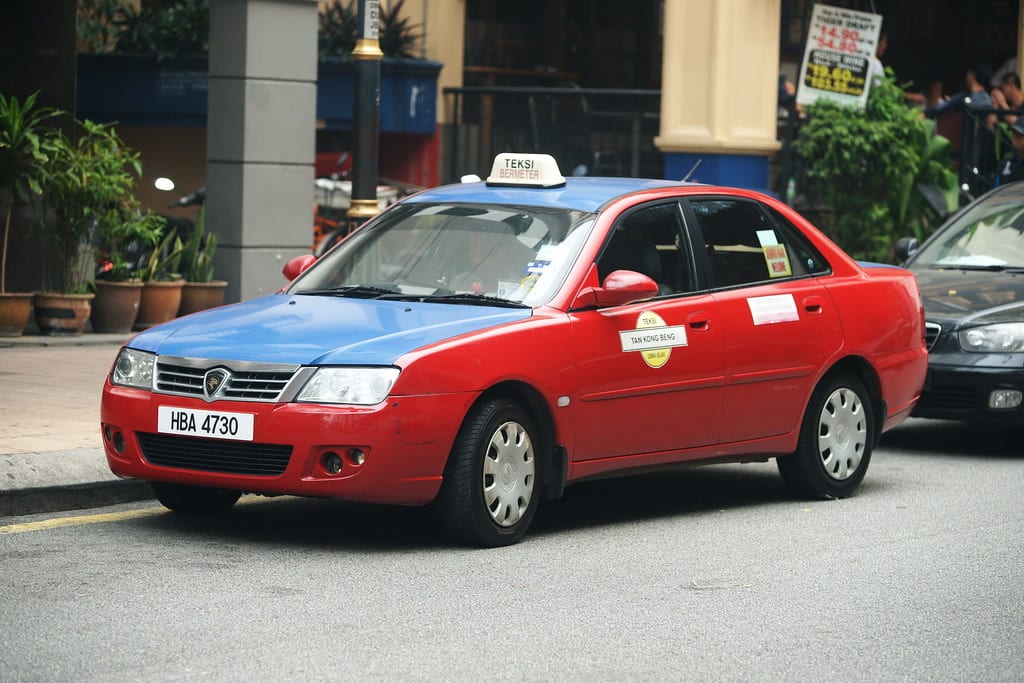 Kuala Lumpur Taxi Prices
Taxis in Kuala Lumpur are metered, with the rates set and regulated by the city's official tariff ordinance. There are three types of taxi services in Kuala Lumpur: budget taxis (the cheapest option), premier taxis, and executive taxis (the most expensive option). For budget taxis, the fare is determined by a base rate and the number of kilometres travelled. There are surcharges for extra luggage, ordering your ride by phone, travelling between 00:00 and 6:00, and travelling to the airport.
The cost of a ride in a budget Kuala Lumpur taxi can be calculated based on the following:
Base fare: €0.65 (MYR 3.00)
Price per kilometre: €0.27 (MYR 1.25)
Surcharge for travel between 00:00 and 6:00: 50% increase
Surcharge for ordering a ride by phone: €0.44 (MYR 2.00)
Surcharge for use of luggage compartment: €0.22 (MYR 1.00)
Surcharge for travel to the airport: €2.61 (MYR 12.00)
At the airport, you can also purchase a coupon at one of the taxi counters for a taxi transfer at a flat rate.
What our customers say about Welcome
How to get a Taxi in Kuala Lumpur
It is recommended that you either hail a taxi from the street or call a reputable taxi company in Kuala Lumpur to request a ride. You can also find taxis at taxi stands at hotels, public transport stations, and popular tourist destinations. A few popular Kuala Lumpur taxi companies you can call are:
Sunlight: +60 1300 800 222
Public Cab: +60 3 6259 2020
Comfort Taxi: +60 3 8024 2727
Alternatively, you can pre-book your transfer online with a top-rated provider like Welcome Pickups.
Book your Kuala Lumpur Taxi Transfer in Advance
Booking your Kuala Lumpur Taxi in advance can save you some stress and time during your stay. Rather than worrying about finding a taxi to flag down or wondering about what the meter will add up to, you can sit back, relax and let your driver come to you at a fixed price. To ensure you have a comfortable transfer with a professional English-speaking driver at a competitive set-rate fare, consider pre-booking your ride with Welcome Pickups.
Tips for your taxi in Kuala Lumpur
Make sure your driver turns the meter on and resets it to the base fare before starting your journey.
In budget taxis, there is limited space for luggage. If you have a lot of items with you, you may be limited to two people in the taxi, or you may need to request a larger vehicle.
You do not have to tip your Kuala Lumpur taxi driver, however, gratuity is always appreciated, especially if your driver has gone above and beyond.
Most drivers only accept cash, so be sure you have enough change with you to cover your taxi fare.
Wheelchair Accessible Taxis in Kuala Lumpur
Kuala Lumpur's public transportation system is almost entirely accessible, but if you are looking to get somewhere a little quicker and with more comfort, you can also request a transfer with Ace Altair Travels' Travel Assist service for travellers with special needs. They offer advice on accommodation, restaurants, and attractions, and they provide transfers and tours with vehicles equipped with wheelchair lifts and tie-downs. You can find more information here.
Kuala Lumpur Taxi Safety and Complaints
Kuala Lumpur taxi drivers are friendly and professional in their majority, however, the quality of service you receive depends massively on the company and the individual you come across. If an issue arises with your taxi ride, be sure to record the taxi number and the time the incident occurred as well as where you boarded and exited that taxi. You can make your complaint by emailing or calling the taxi company you used, or for more serious matters, you can file a complaint with Kuala Lumpur's Ministry of Transport.