Taxis in Stuttgart
Stuttgart, situated in Baden-Württemberg, is a city of splendid architecture, cultural wonders and traditional festivals that delight visitors. Thanks to the numerous parks, woods and historic buildings, some people see Stuttgart as a "paradise of Swabia". If you would like to take full advantage of this wonderful city and don't have time to spare, choosing a Stuttgart taxi would be a great option for you. There are so many ways to find a taxi in Stuttgart; you can hail one on the street, call a local company or download an app. So don't waste any time and pick a Stuttgart taxi for your transportation. There is no better way to travel!
TRAINED DRIVERS
Hand picked & english speaking drivers
LOW PRICES
Same price as a regular Taxi from the line
FLIGHT MONITORING
Drivers are always on time
QUALITY SUPPORT
24/7 Email & Phone support
How much does a taxi cost?
Night time


(00:00 - 05:00)
STUTTGART AIRPORT TO THE CITY CENTRE
STUTTGART RAILWAY STATION TO STUTTGART AIRPORT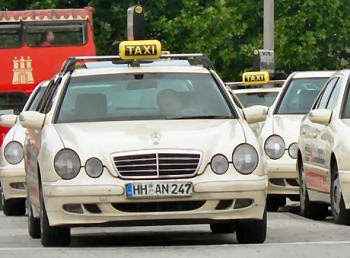 Cost of a Stuttgart Taxi
Fortunately, taxi prices in Stuttgart are heavily regulated by the government. They were last set in January 2019 and published in the official tariff ordinance. They are binding for all taxis and taxi companies within the urban driving area and may not be exceeded or undercut. This is ensured by officially calibrated taximeters installed in the taxis.
Prices for taxi service in Stuttgart are described below:
Base fee: €3.50
Kilometre price: €2.50
Waiting time per hour: €33.00
It is worth noting here that this taxi tariff does not have a separate night fare. The above price components are always valid. This means that the taxi costs do not differ according to the time of day and night.
What our customers say about Welcome
How to get a Taxi in Stuttgart
Taxi drivers in Germany are instantly-recognizable by their cream-coloured cars topped with yellow taxi signs. The company name can be spotted on the side of the cars while the official municipal permit is displayed on the windscreen. All drivers carry IDs and are equipped with taximeters.
Travellers can hail a Stuttgart taxi on the street, go to the nearest taxi rank, or phone a local taxi company. Nowadays, it would be also a good idea to download an app and order a taxi on the spot or pre-book your ride in advance.
There are numerous taxi ranks in the city centre, scattered around the main tourist attractions and outside hotels and central squares. You can also find taxi ranks just outside the four passenger terminals at the airport.
Benefits of Booking a Stuttgart Taxi in Advance
Booking a taxi in Stuttgart with Welcome will allow you to explore the city at your own pace, without worrying about compromising your budget. Our courteous German drivers will tour the city with you, share tips that may come in handy later and take you from point A to B in comfort and style. After all, there is nothing like relaxing in a well-air-conditioned and cosy vehicle after a long flight. That is why you will find us waiting for you outside the airport terminal so you can start making memories even before even checking in at your hotel.
Stuttgart Taxi Tips
Tipping is not required, however, it is common to round up to the nearest euro. For a good taxi service in Stuttgart (speaking English, child seat, loading luggage) you can leave a tip of up to 10%.
Drivers speak some English in most German cities, however, knowing a few phrases in German is a always a great practice.
For a hassle-free experience, make sure you note down your destination on a piece of paper and hand it to the driver.
Wheelchair Accessible Taxis in Stuttgart
Stuttgart-Vaihingen is accessible by a very sophisticated public transportation system. However, common Stuttgart taxis you will find driving around the streets are not equipped for wheelchair users. For a great experience, visit Auto Zentrale taxi services and book a car with them today.
Safety and Complaints for Taxis in Stuttgart
Stuttgart taxi drivers, as well as throughout the rest of Germany are relatively polite, and trustworthy and want to ensure that you will have a comfortable and safe experience. However, if notice that someone tries to overcharge you by doubling the fare, or choosing the longest route, feel free to note down their license plate and go to the nearest police station.