Taxis in Tbilisi
Tbilisi, the capital of Georgia, is a beautiful destination with diverse architecture and many exciting activities for all tastes. The best way to explore the city and nearby destinations is by taking a Tbilisi taxi or pre-booking a personalised transfer. You'll find taxis available around the city all day long and you can hail one from the street or a taxi rank nearby; they're usually positioned outside popular or busy locations like the airport, train stations, and tourist attractions. You can also order a Tbilisi taxi online by using one of the available applications or over the phone by calling one of the many operators.
TRAINED DRIVERS
Hand picked & english speaking drivers
LOW PRICES
Same price as a regular Taxi from the line
FLIGHT MONITORING
Drivers are always on time
QUALITY SUPPORT
24/7 Email & Phone support
How much does a taxi cost?
Night time


(00:00 - 05:00)
TBILISI CITY CENTRE TO NARIKALA FORTRESS
TBILISI CITY CENTRE TO CENTRAL RAILWAY STATION
TBILISI CITY CENTRE TO MTATSMINDA PARK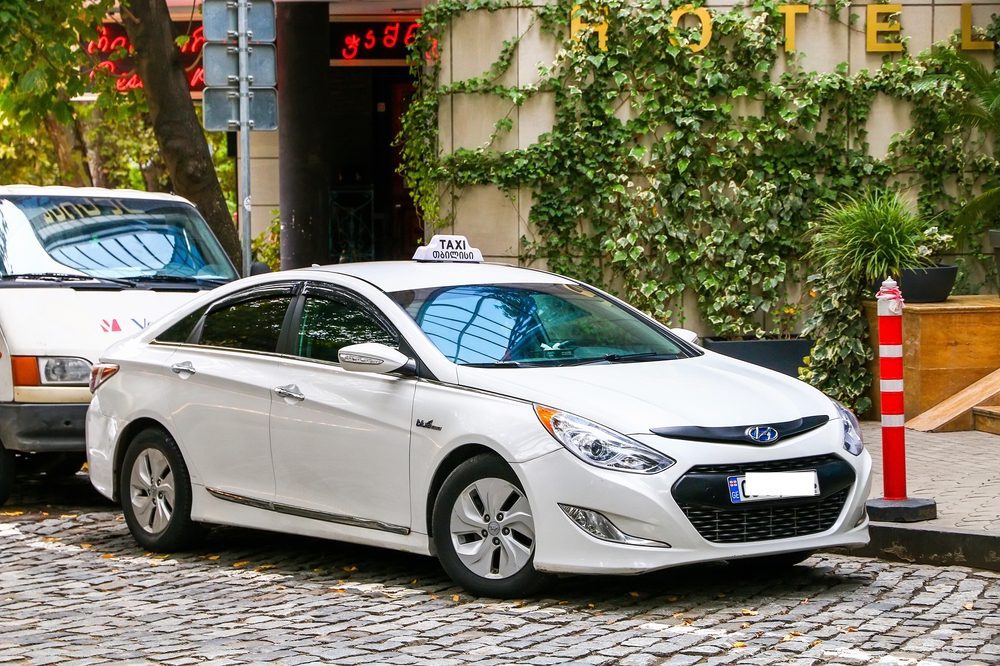 Tbilisi Taxi Fares
Taxis in Tbilisi are safe to use and are regulated by the state but they aren't metered. You might come across taxis with a taximeter on the dashboard but rarely in use. Whether you're using a Tbilisi taxi for a short or a longer trip, always make sure to ask how much the fare will be before you get in. As a general rule of thumb, there is a base fare of €1 (GEL 3) and then a rate of €0.40 (GEL 1) per kilometre. This can help you calculate a rough estimate based on the distance you wish to cover so that you're not overcharged. Some operators might charge additional fees for transfers to and from the airport, baggage items or for trips during nighttime; agreeing on the fare in advance can help you avoid unpleasant surprises once you reach your destination.
What our customers say about Welcome
How to Get a Taxi in Tbilisi
Tbilisi taxis are a popular means of transport both for locals and tourists who wish to get around quickly. The vehicle type and colour might differ among operators but most official taxis in Tbilisi have the typical taxi sign on the roof; if it's green it means the taxi is available, if it's red it's taken. If you see a taxi with a green sign on the street, you can simply wave over for the driver to stop. You can also look for the nearest taxi rank; they're usually located near busy locations and transportation hubs like the airport, train stations or popular tourist attractions. Alternatively, you can order a taxi online using one of the available taxi apps or order one over the phone through the following providers:
Popular Taxi: +995 59 541 5167
Taxi 24: +995 32 242 0000
My Taxi: +995 32 211 4114
Pre-book your Taxi in Tbilisi
Local taxis in Tbilisi are a great option to get around quickly and comfortably, but the language barrier and the currency can cause unnecessary stress to tourists. By pre-booking your Tbilisi taxi transfer with Welcome Pickups, you ensure a smooth, hassle-free door-to-door transfer and an on-time pickup, no matter what. Welcome's flexible cancellation policy allows you to arrange all your transfers as early as you like and make any changes necessary if your plans get cancelled. Whether it's a short in-city trip or a longer journey to a nearby city, an English-speaking professional driver will be waiting to pick you up and take you directly to your destination. You'll enjoy a ride in a modern, comfortable vehicle, and your transfer will be pre-paid, ensuring a competitive, fixed rate that you'll know in advance.
Tbilisi Taxi Tips
Not all taxi drivers in Tbilisi speak English; make sure to have your address written down on a piece of paper or on your mobile device.
Taxis in Tbilisi aren't metered; make sure to agree on the fare with the driver before you get in the vehicle.
Tipping your taxi driver isn't expected in Tbilisi but you can round up the final fare if you want to.
Smoking in the taxi is common in Tbilisi, so you can politely ask the driver to refrain from smoking if it bothers you.
Wheelchair-accessible Taxis in Tbilisi
Tbilisi over the years has become a wheelchair-friendly destination, allowing everyone to explore all it has to offer regardless of mobility limitations. Regular taxis in Tbilisi can hold a foldable wheelchair in the trunk but they're not fully accessible to wheelchair users. To move around the city comfortably, it's best to plan your transfers in advance by calling a fully accessible company like VMA Assistance at +995 060 50 9900.
Tbilisi Taxi Safety and Complaints
Taxis in Tbilisi are generally safe to use, especially if you have an idea about what a reasonable fare is and you're prepared to negotiate about it. If you think you've been overcharged or you need to report inappropriate or unprofessional behaviour, you can address the operator directly. If you do take those steps to complain about your experience and the issue isn't resolved, you can reach out to the police at +995 12 722 41 9191; if possible ask for a receipt and make sure to write down the driver's name, registration number, and license plate.