Da Nang Taxi
Da Nang, located on the central coast,  is one of Vietnam's most important port cities. It is an exciting travel destination, known as the city of bridges, due to the unique bridges that cross the Han River. Visitors can relax at the many beach resorts or stroll on the stunning beaches, whilst inland, pagodas, cathedrals and delicious food, await the city traveller.
Taxis in Da Nang are a great way to move around the city and make the most of your time here. Da Nang taxis are affordable, easy to find and will quickly transport you to your local destination. Furthermore, when you arrange a transfer with a reliable company like Welcome Pickups, you can be assured a safe, comfortable and stress-free experience, allowing you to concentrate and enjoy every minute of your travels.
TRAINED DRIVERS
Hand picked & english speaking drivers
LOW PRICES
Same price as a regular Taxi from the line
FLIGHT MONITORING
Drivers are always on time
QUALITY SUPPORT
24/7 Email & Phone support
How much does a taxi cost?
Night time


(00:00 - 05:00)
Da Nang City Centre to My Khe Beach
Da Nang City Centre to the Marble Mountains
Da Nang City Centre to Linh Ung Pagoda Son Tra
Da Nang City Centre to Cham Sculpture Museum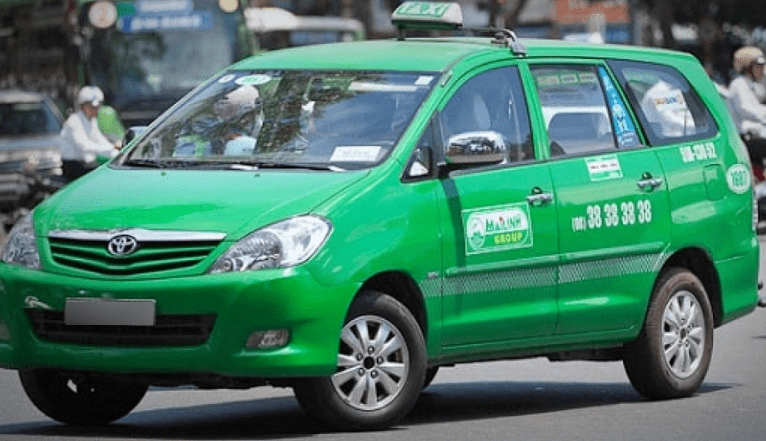 Da Nang taxi prices
The cost of a taxi in Da Nang is quite reasonable and the taxi rates are set by the cities or districts. The Da Nang taxi rates were last set in January 2017 and are enforced via the use of calibrated taximeters. Passengers should therefore ensure that the taximeter in the vehicle is turned on at the start of the transfer, to avoid any disputes regarding the fare. The current Da Nang taxi rates are as follows:
Initial base fee: €0.35 (VND 8,500) 
Per km cost: €0.40 (VND 10,000) 
Waiting time – charge per hour: from €1 (VND 25,000)
Night rates are the same as day rates, so transfers should not cost more when using taxis in the after-hours. Fixed-rate fares are also an option but must be negotiated when booking in advance – either via your hotel or directly with a taxi representative because most drivers do not speak English.
What our customers say about Welcome
How to get a taxi in Da Nang
Finding a taxi in Da Nang is easy, as they are readily available. If you are arranging a transfer in advance the easiest way to get a taxi is by requesting it through your hotel reception. The hotel could also negotiate a set-rate fare on your behalf, especially for longer distances. If you are on the street, you can simply hail a cab directly by raising your hand in the direction of a taxi, or find one at a taxi stand. Local taxi ranks will be located outside main bus and train stations, as well as large shopping complexes. It is recommended to use reputable taxi companies exclusively, as scams can be quite common – with visitors often charged excessive prices or taken on longer journeys than necessary.
If you wish to phone up a local provider for pickup service, some of the most established and well-known Da Nang taxi companies you can call for on-demand assistance are:
Mai Linh: +84 (236) 356 5656
VinaSun Green Taxi: +84 (236) 368 6868
Danang Cheap Taxi: +84 (236) 379 7979
Booking your Da Nang taxi in advance
Booking your Da Nang taxi in advance is a smart move. After a long flight, your taxi will take you to your hotel hassle-free, avoiding any queues and without having to negotiate the cost of your transfer. When booking with a prestigious company like Welcome Pickups you will also get a guaranteed fixed-rate fare with no hidden costs and a fair cancellation option. Booking is simple; you can confirm your reservation in under 60 seconds online or via Welcome's user-friendly app, and once booked you can relax and look forward to your trip.
Da Nang taxi tips
Always use a credible company when using a taxi in Da Nang, as scams are quite common. Welcome Pickups is a reliable company that you can trust both for your airport transfers and for getting around the city.
One of the best ways to avoid a scam when taking a taxi, is to make sure that the taximeter is turned on at the start of your transfer.
Most Da Nang taxi drivers do not speak English; having the destination you're travelling to written down in Vietnamese can be extremely helpful.
Wheelchair-accessible taxis in Da Nang
Most taxi companies in Da Nang do not have wheelchair-accessible vehicles. However, some of the more prominent and well-known taxi companies can accommodate such requests as long as they're made in advance of the transfer. Mai Linh can provide fully wheelchair-accessible vehicles and can be contacted at +84 (236) 356 5656.
Da Nang taxi safety and complaints
Da Nang is a safe city to travel in and taxis are a great medium of transportation. Taxi users should be aware that scams where passengers can be taken advantage of, with regard to the cost of the ride, do occasionally happen; so travellers should use reliable companies only, like Welcome Pickups, or book their transfers in advance. In any case, if using a taxi with a taximeter make sure the meter has been turned on at the start of the journey.
If you do have a negative experience make a note of the vehicle and driver registration and all details of the transfer and contact the taxi company you used, ideally via your hotel – who can help with any language barriers. For more serious issues or for further escalation, you may wish to contact the local police department directly.