Taxis in Mexico City
Mexico City is a huge and exciting place, but it can also be very difficult to navigate. With many roads sounding the same and different boroughs having areas with the same name, the best way to get around easily and quickly is by taking a Mexico City taxi.
There are four different types of taxi in Mexico City; Authorised, which can pick up people from set transportation hubs like the airport and bus station. Sitio, which wait at official taxi ranks and belong to a set company or syndicate. Libre, which are taxis that drive on the street and are individually owned and operated. Finally, Radio, which you can call and have them pick you up at any location within the city. 
TRAINED DRIVERS
Hand picked & english speaking drivers
LOW PRICES
Same price as a regular Taxi from the line
FLIGHT MONITORING
Drivers are always on time
QUALITY SUPPORT
24/7 Email & Phone support
How much does a taxi cost?
Night time


(00:00 - 05:00)
MEXICO CITY AIRPORT TO CITY CENTRE
CITY CENTRE TO FRIDA KAHLO MUSEUM
CITY CENTRE TO LAKE TEXCOCO ECOLOGICAL PARK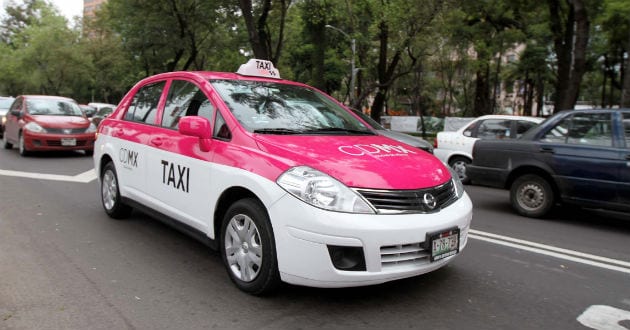 Mexico City taxi prices
Each different type of Mexico City taxi has its own way of charging. Libre taxis only use a taximeter and Authorised taxis only charge a set-rate fee, paid in advance. However, Radio and Sitio taxis offer a taximeter or a set-rate put in place by the government. All prices increase by 20% during the nighttime hours of 23:00 to 06:00.
TAXI LIBRE
Base price: €0.36 (MXN 6.70)
Price per km: €0.20 (MXN 3.70)
TAXI SITIO
Base price: €0.55 (MXN 10.20)
Price per km: €0.22 (MXN 4.10)
RADIO TAXI
Base price: €1.13 (MXN 21)
Price per km: €0.30 (MXN 5.60)
What our customers say about Welcome
How to get a taxi in Mexico City
There are over 14,000 taxis in Mexico City, making it one of the largest fleets in the world. This makes getting one extremely easy. You can choose to hail one from the street, walk to a taxi rank or call a radio taxi company. Just be sure to look for for the official white and pink taxis, with the taxi number clearly printed on the side doors and the bonnet. 
Taxis that you hail in the street are the least trustworthy of all CDMX taxis as they often give the worst prices based on a taximeter. However, if you're on a busy street and need to get somewhere fast, they are a good option.
The taxis located at taxi ranks known as 'sitios' can be found all over Mexico City, at shopping malls, on bar streets, outside the main squares and parks. All you need to do is walk to the front of the queue and ask the first driver or the person operating the 'booth'. Most sitios also offer a radio taxi service where you can call from anywhere in the city and they will dispatch one of their waiting taxis to you. However, it's worth noting that there will be an extra charge for using this service. There are hundreds of radio taxi companies in Mexico City, but three of the top ones are:
Sitio Rojas: +52 55 5251 9285
Sitio San Cosme: +52 55 5592 8768
Servitaxis 152: +52 55 5516 6020
Book your CDMX taxi service in advance
Although there are thousands of taxis in Mexico City, during rush hour or high season, it can be extremely hard to find a free one. To ensure your plans run smoothly and you're not left waiting outside for a CDMX taxi, or for a timely transfer to Mexico City Airport, you can book your Mexico City taxi service in advance.
To enjoy the peace of mind of set-rate fees, English-speaking drivers and on-time pickups, we suggest booking your transfers in advance with Welcome Pickups.
Mexico City taxi tips
A lot of destinations in Mexico City sound the same, if you can mention a landmark to your driver it will help them find the correct location.
Be sure to carry small bills to avoid scams or lack of change from the driver.
If you have any expensive equipment with you, be sure to go to a sitio or call a ratio taxi, don't hail one from the street.
It's customary to tip a Mexico City taxi driver if they are using a taximeter, but not if they are giving a flat-rate fee.
Wheelchair-accessible taxis in Mexico City
Unfortunately, the standard taxis in Mexico City aren't wheelchair accessible. Although there aren't many independent companies offering wheelchair-accessible vehicles, you can always request one at a Mexico City taxi sitio.
This service may take a little while, but they will call their fleet and arrange for a ramped vehicle to come and pick you up from the sitio. Once you have this taxi number, you can then take down the sitio radio taxi phone number and call to request that specific taxi while you're are out in the city.
Mexico City taxi safety and complaints
Generally speaking, taking a taxi in Mexico City is safe. The most common problem is overcharging or taxis taking you to the wrong location. The best way to ensure this doesn't happen is to only enter an official Mexico City taxi. Check for the white and pink colour, the taxi number printed on the bonnet and the side, and that your driver's photo ID is clearly showing and matches the person driving the cab.
If a problem does occur, be sure to note these details down and report them to Agencia del Ministerio Público by calling +52 55 5345 5382. The police in Mexico City have English-speaking staff.