Puerto Vallarta Taxi Service
Puerto Vallarta is one of the most popular beach destinations in Mexico for both national and international tourists. The warm climate, beautiful beaches, amazing surf and wonderful Mexican culture make this the perfect place to kick back and enjoy a relaxing vacation. When it comes to travelling around this beautiful city, the most relaxing and comfortable way to do it is with a Puerto Vallarta taxi service. Taxis can easily be hailed in the street, found at one of the many taxi ranks or called and booked in advance. 
TRAINED DRIVERS
Hand picked & english speaking drivers
LOW PRICES
Same price as a regular Taxi from the line
FLIGHT MONITORING
Drivers are always on time
QUALITY SUPPORT
24/7 Email & Phone support
How much does a taxi cost?
Night time


(00:00 - 05:00)
FROM PVR AIRPORT TO THE HOTEL ZONE
FROM HOTEL ZONE TO ROMANTIC ZONE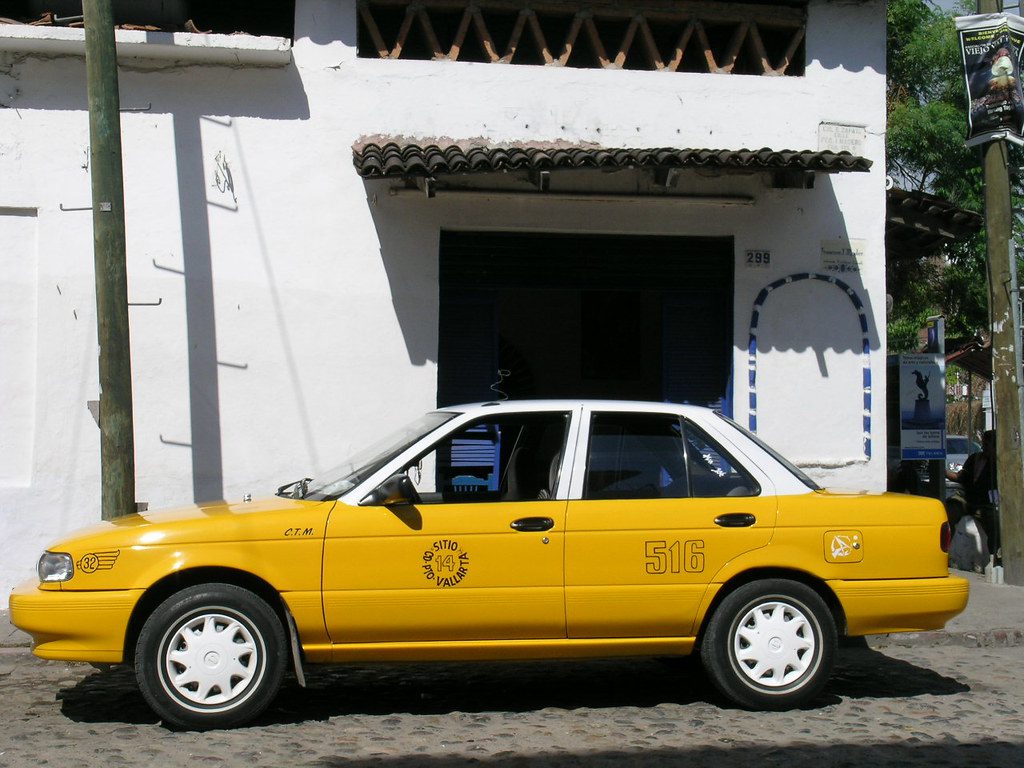 Puerto Vallarta taxi rates
Unlike many other cities in Mexico, Puerto Vallarta taxi drivers don't use a taximeter to calculate their fares. Instead, Puerto Vallarta taxi rates are set and based on a 'zone' system. Puerto Vallarta is split into 3 distinct zones radiating out from the centre, then a 4th zone located around Punta Mita. The regular yellow taxis will charge around €2 ($50 MXN) to travel within a zone and an extra €0.50 ($10 MXN) every time you cross a border into a new zone. However, it's very common for the local taxi drivers to make up a fare or haggle with you on the price. The cost of a journey into Zone 4 may also be priced differently.
What our customers say about Welcome
How to get a taxi in Puerto Vallarta
There are three different types of taxis available in Puerto Vallarta; regular, large and federal. The Regular taxis are yellow with a white roof, can take up to 3 passengers and offer curb-side service throughout the city. The second type of Puerto Vallarta taxi is an SUV, which can hold up to 5 people and come in many different colours. The third Federal taxis are fully white and are the only taxis allowed to pick up or drop off at the airport. 
The easiest way to get a taxi in Puerto Vallarta is to hail one from the street or head to one of the many taxi ranks (known as "Sitios") throughout the city. You can find the official taxi ranks outside of all the major tourist spots, shopping centres, the airport, bus station and plazas in Puerto Vallarta. 
Although it's rare to do so, you can also call one of the many taxi companies in Puerto Vallarta and request a taxi. However, it's worth noting that their fares may be more expensive for the use of this service. You can always book your Puerto Vallarta taxi service in advance with Welcome Pickups, especially if you're looking for a transfer from Puerto Vallarta airport.
Pre-book your Puerto Vallarta taxi service
When booking a beach vacation, the main thing you want to do is relax. Having to navigate public transportation, wait in the hot sun for an empty taxi to pass or hang on the phone for a taxi company to answer can get in the way of that. That's why we recommend booking your Puerto Vallarta taxi in advance with Welcome Pickups. We offer guaranteed on-time pickups, English-speaking drivers, unbeatable prices and 24/7 customer support. Let us take the stress out of your Puerto Vallarta transport so you can enjoy every second of your beach vacation. 
Puerto Vallarta taxi tips
Make sure you agree on a price before getting into the taxi by making the driver aware that you know the zone pricing.
Taxis in Puerto Vallarta don't have the machines to accept credit card payments, so be sure to carry change in Mexican Pesos with you.
You can pay for your ride in USD, but this usually results in overcharging as they choose the exchange rate they wish to use.
Tipping your driver in Mexico isn't expected, but if the service was excellent it will be appreciated.
Taxis in Puerto Vallarta don't have a baby seat as standard but you're welcome to bring and fit your own for free.
Wheelchair accessible taxi in Puerto Vallarta
Unfortunately, taxis in Puerto Vallarta aren't wheelchair accessible. If you need a special mobility vehicle, you will need to book with a private company. One of the most trusted wheelchair accessible taxi companies in Puerto Vallarta is Superior Tours Vallarta. They offer fully accessible vans, complete with hydraulic lifts, and have the permits to be able to pick up and drop off at the airport, cruise terminal and any major hotel.
Puerto Vallarta taxi safety and complaints
Taking a taxi in Puerto Vallarta is usually very safe. However, in the unfortunate event that you experience a rude driver, have been overcharged or feel unsafe at any point during your journey, you can make a report to the traffic police (Policia Transito), by calling +52 322 290 0507 or +52 322 290 0512. Be sure to note your driver's name, ID number or taxi number before making your call.