Manila taxi
The city of Manila covers an impressive 1,475 sq km, making it the second-largest city in the Philippines. When visiting this bustling city, you have to check out the amazing historical centre and the walled city of Old Manila, the fantastic Spanish colonial architecture, and the hip business district. With so much to see over a large area, the easiest way to get around is to take a Manila taxi. Taxis in Manila can be hailed in the street, picked up at a taxi rank, booked in advance or called on the phone for instant dispatch. 
TRAINED DRIVERS
Hand picked & english speaking drivers
LOW PRICES
Same price as a regular Taxi from the line
FLIGHT MONITORING
Drivers are always on time
QUALITY SUPPORT
24/7 Email & Phone support
How much does a taxi cost?
Night time


(00:00 - 05:00)
FROM OLD MANILA TO THE AIRPORT
FROM NAIA AIRPORT TO MAKATI
FROM NAIA AIRPORT TO CITY CENTRE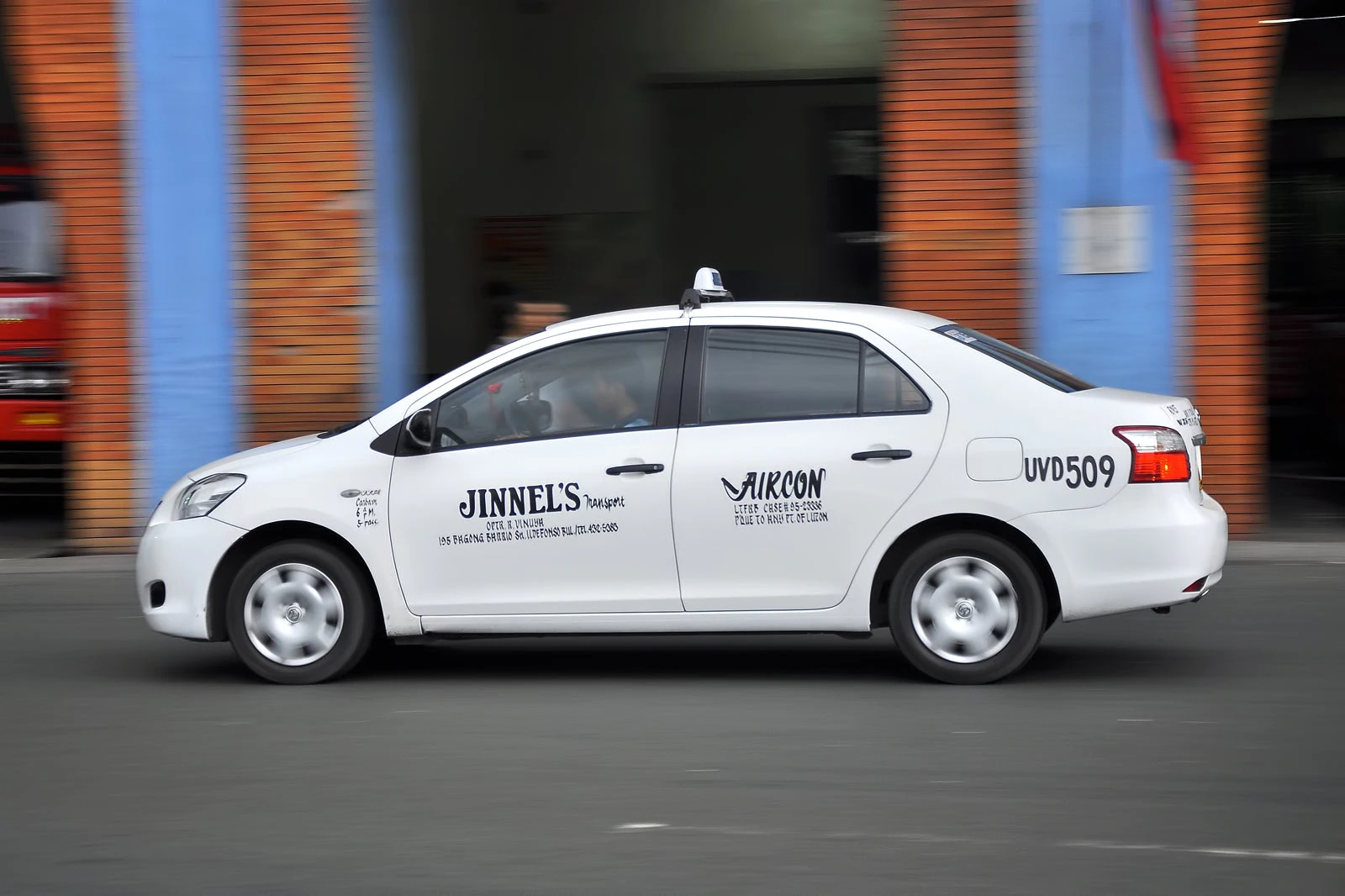 Cost of a taxi in Manila
In 2018, the Land Transportation Franchising and Regulatory Board (LTFRB) introduced a new set of rates and officially calibrated taximeters. The new system includes a charge for both the distance travelled and time taken, for situations where there's a lot of traffic. All Manila taxi drivers must use a taximeter and adhere to the following fares:
Base Fare: €0.70 (PHP 40)
Price per km: €0.24 (PHP 13.50)
Per-minute travelled: €0.03 (PHP 2)
All prices should be clearly shown within the taxi and a receipt can be given upon request, with a full breakdown of the costs. 
What our customers say about Welcome
How to get a taxi service in Manila
There are many different Manila taxi companies that operate throughout the city. Each company has vehicles of different colours, but their name and phone number are usually printed on the side door. You can easily hail an empty taxi in the street by sticking out your arm or walking to one of the taxi ranks located outside major hotels, shopping centres and tourist attractions. 
However, during bad weather or payday weekends, trying to get a taxi in Manila can be very difficult. During this time, we recommend calling one of the many phone dispatch taxi services in Manila and requesting a taxi come to you. Some of the more trusted Manila taxi companies are:
24/7 Taxi: +63 (2) 8641 8206
LBR Taxi: +63 (2) 8887 7527
EMP Taxi: +63 (2) 8293 5930
Dollar Taxi: +63 (2) 8921 2383
Why book your Manila taxi with Welcome
Although there are many taxis in Manila available 24/7, the local drivers are notorious for trying to overcharge their passengers. If you'd like to be able to travel around Manila without having to worry about being scammed or overcharged, we recommend booking your taxi service in Manila with a trustworthy company like Welcome Pickups. We offer friendly English-speaking drivers, guaranteed on-time airport pickups and 24/7 customer service to all our customers. 
Manila taxi tips
Ensure your driver starts the taximeter at the beginning of your journey to avoid overcharging.
The white and green 'MGE' Manila taxis are considered the most trustworthy.
There's no extra charge to bring large items that fit in the trunk.
Tipping your Manila taxi driver is expected. You can add around 10% to your final fare as a tip.
Wheelchair-accessible taxi service in Manila
Unfortunately, there aren't many options when it comes to wheelchair-accessible taxis in Manila. The standard taxis don't have ramps or space for a wheelchair, but you can fold and stop one in the trunk for free. If you're looking for a fully wheelchair-accessible Manila taxi, you will need to book through Wheelmobile. They offer large vehicles with fully wheelchair-accessible ramps and charge per hour. You can call to book at +63 (2) 833 6453 or contact them via email.
Manila taxi safety and complaints
Unfortunately, many taxis in Manila have a bad reputation for being untrustworthy. It's common for drivers to not start the taximeter when you get in the car so they can overcharge their passengers, or not have the correct change. To avoid these issues, we recommend carrying small bills in change and reminding your driver to switch on the taximeter when you begin your journey. If you do want to make a complaint against a Manila taxi driver, you can do so by calling the Land Transportation Franchising and Regulatory Board (LTFRB) on +63 (2) 8426 2515 or by emailing them. Just be sure to have the company name and the plate number before making your complaint.