Fast and Easy Colombo Taxi Services
Colombo is the proud and bustling capital of Sri Lanka. It's the perfect blend of a metropolitan city and stunning white sand beaches, making it the perfect spot for both a relaxing tropical getaway and a city break. To get around this large city and explore both of its unique sides, the best way to travel is by taking a Colombo taxi. There are two types of taxis in Colombo; Tuk Tuks and regular taxis. You can easily hail both on the street, call for a regular taxi using one of the many phone dispatch companies, or book your Colombo taxi in advance.
TRAINED DRIVERS
Hand picked & english speaking drivers
LOW PRICES
Same price as a regular Taxi from the line
FLIGHT MONITORING
Drivers are always on time
QUALITY SUPPORT
24/7 Email & Phone support
How much does a taxi cost?
Night time


(00:00 - 05:00)
FROM BEACH TO COLOMBO FORT RAILWAY STATION
FROM HOTELS TO THE LAGOON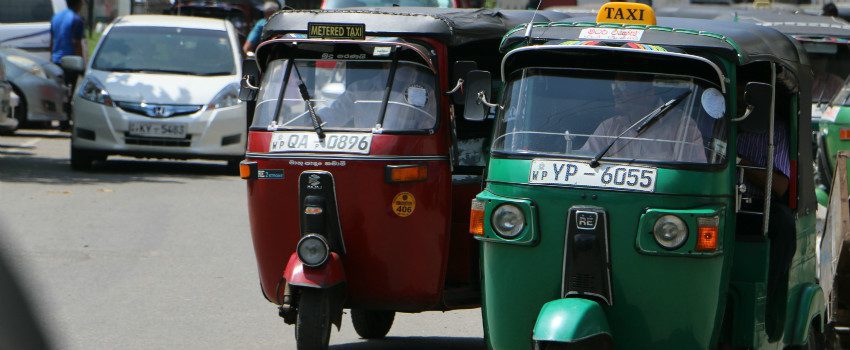 What are the Colombo Taxi Rates?
As there are two types of taxis in Colombo, Tuk Tuks and regular, there are two different ways to calculate the Colombo taxi rates. Tuk Tuk drivers are much less formal and will give you a fixed rate based on how far your destination is, while regular taxis usually use a taximeter. Having said this, although most regular taxis in Colombo are fitted with a taximeter, they don't all use the same tariffs. Each company will calibrate their own taximeter and some may even charge set rate fares for their journeys around the city. As a loose guide, you can calculate the Colombo taxi rates as follows;
Base fare: €1.14 (RS 100)
Price per mile: €1.82 (RS 160)
Price per 1 hour waiting: €2.05 (RS 180)
What our customers say about Welcome
How to Get a Taxi in Colombo
The easiest way to get a Colombo taxi or Tuk Tuk is to hail one in the street. Both regular taxis and Tuk Tuks can be found all around the downtown area, at the major hotels, large shopping centres and tourist attractions, so finding one in the city centre couldn't be easier.
If you're travelling late at night or are trying to get a taxi outside of the city centre, it's advisable to either book your ride in advance or call one of the Colombo taxi phone dispatch companies. Some of the top-rated local taxi companies you can phone are;
Taxi Sri Lanka: +94 71 6299 969
TaxiGo Cab Service: +94 77 083 3772
Senu Cab Service: +94 77 378 8646
Top-Rated Colombo Taxi Rides with Welcome
When taking a local taxi in Colombo, you may face challenges, such as miscommunication and ever-changing taxi rates. This can be difficult to navigate, especially for a first-time visitor. However, if you book your Colombo taxi rides with Welcome Pickups in advance, you'll never have to experience such issues. We offer guaranteed on-time pickups, fluent English-speaking drivers, competitive fixed-rate fares you can always rely on, and 24/7 customer support.
Colombo Taxi Tips
If you're taking a Tuk Tuk taxi in Colombo, be sure to agree on a price before getting in the vehicle.
The Colombo taxi rates for taking a regular taxi are for up to 4 passengers.
Tipping your driver isn't expected but is appreciated if you enjoyed the service.
When travelling larger distances, taking a regular Colombo taxi is much more comfortable than a Tuk Tuk.
Wheelchair-Accessible Taxi in Colombo
Unfortunately, the local Colombo taxis aren't wheelchair compatible. If you take a regular taxi, you can easily fold the wheelchair and store it in the trunk of the vehicle, but if you're looking to take a Tuk Tuk, you won't be able to travel as a wheelchair user. If you need a fully wheelchair-accessible taxi in Colombo, you will need to book with a specialist provider in advance.
Colombo Taxi Safety and Complaints
As there are many different Colombo taxi companies operating throughout the city, there can be varied levels of service and safety. On the whole, taking a taxi in Colombo is safe, but if you do experience any issues, you should call the company you travelled with directly to make a complaint. Be sure to note down your driver's name, the taxi number and any other details of your trip before calling.