Getting the most out of your Sharjah Taxi
Sharjah is the third-largest city in the United Arab Emirates, known for its amazing cultural and modern tourist attractions, there's so much to see in this sprawling city. With impressive mosques, museums, amazing green spaces, family-friendly attractions and world-class shopping, you'll need a quick and easy way to get around, so that you have plenty of time to see all the sites. That's why we recommend taking a fast and comfortable Sharjah taxi. There are over 5,000 taxis in the city, so you can easily call the official Sharjah taxi number, hail a taxi by using one of the gadgets located around the city, or book your Sharjah taxi in advance.
TRAINED DRIVERS
Hand picked & english speaking drivers
LOW PRICES
Same price as a regular Taxi from the line
FLIGHT MONITORING
Drivers are always on time
QUALITY SUPPORT
24/7 Email & Phone support
How much does a taxi cost?
Night time


(00:00 - 05:00)
FROM SHJ AIRPORT TO THE CITY
FROM THE CITY CENTRE TO THE AIRPORT
FROM SHJ AIRPORT TO ABU DHABI
FROM SHJ AIRPORT TO DUBAI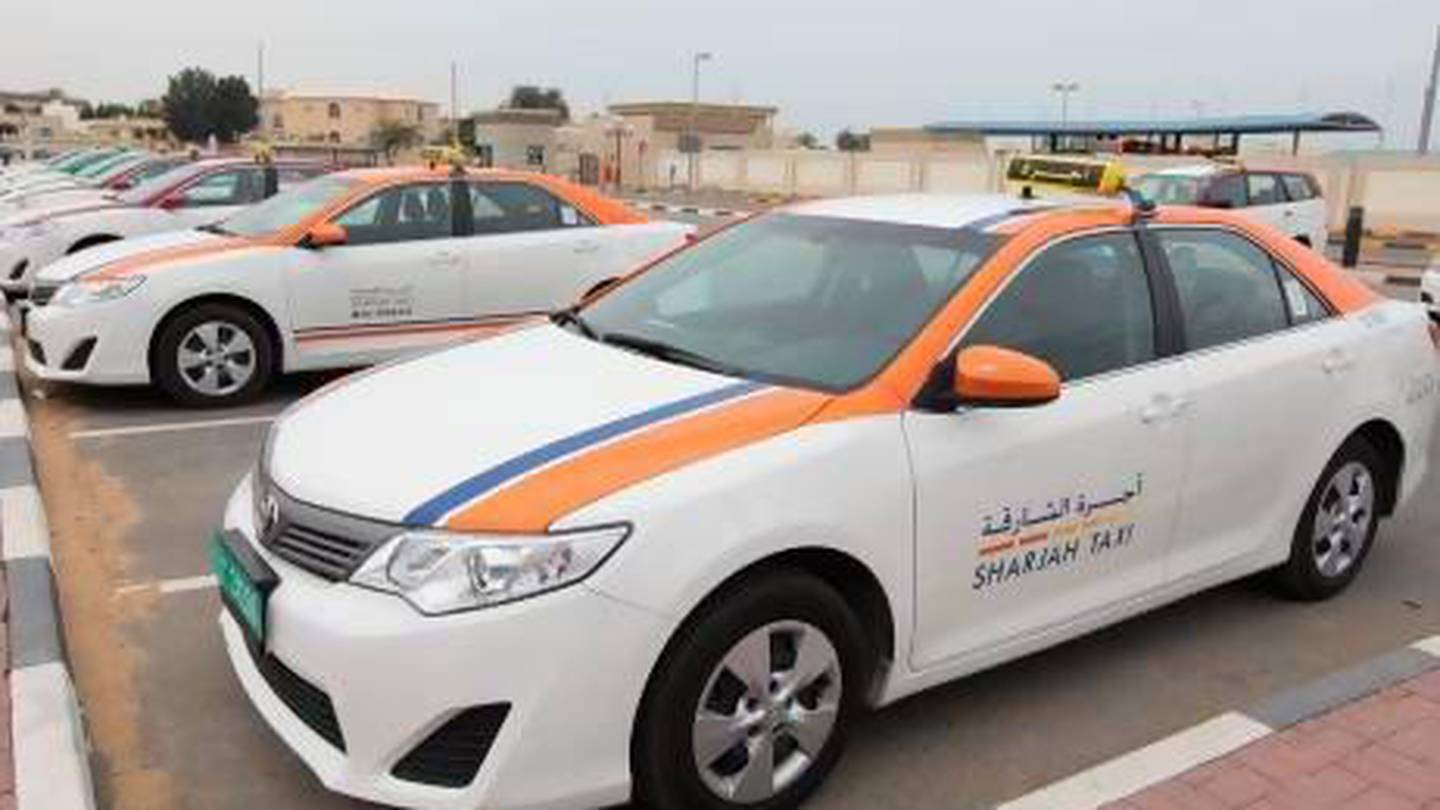 Cost of a Taxi in Sharjah
Every taxi in Sharjah must adhere to the official taxi tariffs put in place by the Sharjah Roads and Transport Authority (RTA). These include surcharges and a base fare whilst being influenced by both distance and time elements, calculated by a taximeter. The fares are set as follows:
Base fare – day (06:00 to 23:59): €0.80 (AED 3)
Base fare – night (24:00 to 05:59): €1.10 (AED 4)
Price per every 155 m: €0.07 (AED 0.25)
Price per minute waiting: €0.15 (AED 0.50)
It's worth noting that there are additional charges such as an airport surcharge (€5.50 (AED 20)) and a meter charge (€0.40 (AED 1.50)).
What our customers say about Welcome
How to get a Taxi in Sharjah
Although different private Sharjah taxi companies run throughout the city, the Sharjah Roads and Transport Authority (RTA) monitors all of their operations. The easiest way to get a cab is to call the dedicated Sharjah taxi number on +971 600 52 52 52. The RTA will process your request and let the local companies know, so the first available taxi can come and pick you up.
Unlike many other major cities, you can't simply hail a taxi in the street in Sharjah, you will need to use one of the special gadgets placed around the city. These gadgets have a button and a small screen and will alert a nearby taxi to come and pick you up. To request a taxi, you simply push the button and then the number of the closest taxi and their arrival time will appear on the screen. These gadgets can be found outside shopping malls, tourist attractions, transport hubs and police stations.
If you're a woman and wish to request a ladies-only taxi in Sharjah, you can call the women's Sharjah taxi number on +971 600 52 52 52 for this service.
Why make your Sharjah Taxi Booking with Welcome?
Although there are over 5,000 taxis in Sharjah, during peak travel times, festivals or bad weather, it can be very difficult to find an empty cab. This is why it's recommended to make your Sharjah taxi booking in advance with a trusted company such as Welcome Pickups. We offer guaranteed on-time pickups, English-speaking drivers, personalised transfers, and 24/7 customer service, all at unbeatable prices. Let Welcome take care of all your Sharjah taxi needs from the moment you land to the moment you leave, so you can make the most out of your time in this exciting city.
Wheelchair Accessible Taxi in Sharjah
The RTA has a fleet of specialised Sharjah taxis that are fitted with chairlifts that allow wheelchair users to enter and exit the taxi without leaving their chairs. These wheelchair-accessible taxis are available upon request by calling the Sharjah taxi hotline on +971 600 52 52 52.
Ensure your driver resets the taximeter to the base fare before beginning your journey.
Travelling at night will be more expensive than during the day.
Toll charges that may occur during your journey will be added to your final fare.
Sharjah Taxi Safety and Complaints
All Sharjah taxi bookings are monitored and registered by the Sharjah Roads and Transport Authority (RTA). This means that taking a taxi in Sharjah is usually very safe and comfortable. However, if you do experience any issues during your journey, be sure to note down your Sharjah taxi number and your driver's ID number, then report it directly to the RTA by calling +971 600 52 52 52.