Taxis in Olbia
Olbia is a picturesque city in the northeastern region of Sardinia, there are plenty of historical sites to visit and charming colourful streets to stroll down. It doesn't end there though, this region has so much to offer. 
Whether you're planning on venturing further out towards the 10 km stretch of paradise that is Costa Smeralda or need a quick ride within the city, taking an Olbia taxi is a great choice. Taxis give you the freedom to explore locations that you won't always be able to access via bus and come with the bonus of being able to arrange things in advance, ensuring a hassle-free experience.
TRAINED DRIVERS
Hand picked & english speaking drivers
LOW PRICES
Same price as a regular Taxi from the line
FLIGHT MONITORING
Drivers are always on time
QUALITY SUPPORT
24/7 Email & Phone support
How much does a taxi cost?
Night time


(00:00 - 05:00)
CITY CENTRE TO PORTO CERVO
CITY CENTRE TO SAN TEODORO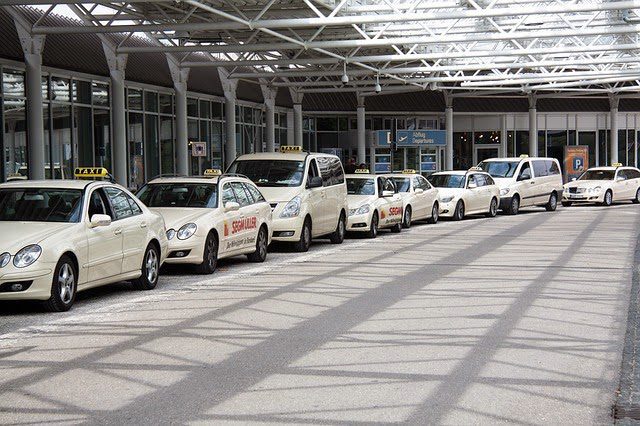 Olbia Taxi Prices
Taxis in Olbia follow a taximeter system and must adhere to regional regulations. Olbia taxis calculate fares based on the length of the journey, the time of day and the day of the week. Despite this system, it's worth trying to negotiate a price beforehand as you might find that some drivers are open to that. The fares are calculated as follows:
Base Fare: €3.50
Rate/km for first 5 km: €2.60
Rate/km after 5 km: €1.90
Rate/km after 35 km: €1
Keep in mind that prices rise by 25% on weekends, holidays and every night between 22:00 and 06:00 and there might be extra charges for pieces of luggage or extra passengers (€0.50–€1).
What our customers say about Welcome
How to Get a Taxi in Olbia, Sardinia
Taxis in Olbia are plentiful and available 24/7. You can hail one in the street or hunt down the nearest taxi rank. You'll find taxis idling on Olbia's main street, Corso Umberto I, and around Piazza Regina Margherita. You'll also see taxi ranks outside of Olbia Airport, the Port, the Olbia Train station and other popular locations in the city.
If you want a more personalised service, you can book your Olbia taxi service in advance, or for a pickup service you can request via phone, you call one of these recommended local taxi companies:
Taxi Olbia Costa Smeralda – Christian Pasquetto: +39 348 073 7769
Sergnesi Antonello Servizio Taxi Olbia: +39 335 438 236
Sardinia4Services: +39 327 909 5900
How to Book an Olbia Taxi in advance with Welcome
Getting around a destination during busy periods can be overwhelming, especially if you haven't booked anything in advance. Hailing a taxi on the street or calling and waiting for a radio taxi to arrive is often time-consuming and comes with the risk of hidden fees. With Welcome Pickups, you can pre-book your Olbia taxi within 60 seconds and ensure that a trusted driver will be waiting for you on the other side. We offer trained English-speaking drivers, unbeatable prices and a 5-star service you can rely on.
Olbia Taxi Tips
Always ensure that the taximeter is turned on and working before you get going.
It is recommended to discuss the taxi fare with the driver before starting your trip.
It might be difficult to find available taxis during busy periods. If that's the case, you can ask your hotel staff for a reputable taxi company's number or to book a taxi on your behalf.
If you enjoyed your taxi driver's service, you can always ask for their number and reuse them throughout your stay.
Wheelchair Accessible Taxis in Olbia
Local taxis in Olbia generally use standard vehicles that aren't wheelchair compatible. If you're in need of an accessible vehicle with a lift or ramp, you can book your transfer with a trusted wheelchair-accessible company like Accessible Italian Holiday. They also provide information about wheelchair user services at Olbia Airport on their site. Likewise, if you're arriving in Olbia via the port, you can also check out the Porto di Olbia website for information regarding their assistance services for passengers with reduced mobility.
Olbia Taxi Safety and Complaints
Taxis in Olbia are generally safe and reliable, as long as you use a licensed taxi. Occasionally, taxi drivers might try to take you on a longer route or avoid turning the taximeter on. If you experience any issues of overcharging or a different matter during your ride, be sure to obtain your receipt which contains the taxi licence number, date and time of travel, route taken and amount paid. With this, you can report any issues or complaints directly to the taxi company you travelled with or the local police.