Reliable Taxi Service in Jakarta
Jakarta is a huge city located on the island of Java. From stunning cultural sites to bustling city attractions, there's no end of things to see and do in this exciting city. However, Jakarta is extremely large and the road networks are usually very busy and complicated. That's why we recommend taking a fast and reliable Jakarta taxi to get around the city. You can easily hail a taxi in the street, walk to one of the many 'taxi queues', use a phone dispatch taxi service in Jakarta for a personal pick up, or book your rides in advance.
TRAINED DRIVERS
Hand picked & english speaking drivers
LOW PRICES
Same price as a regular Taxi from the line
FLIGHT MONITORING
Drivers are always on time
QUALITY SUPPORT
24/7 Email & Phone support
How much does a taxi cost?
Night time


(00:00 - 05:00)
FROM BANDUNG TO JAKARTA AIRPORT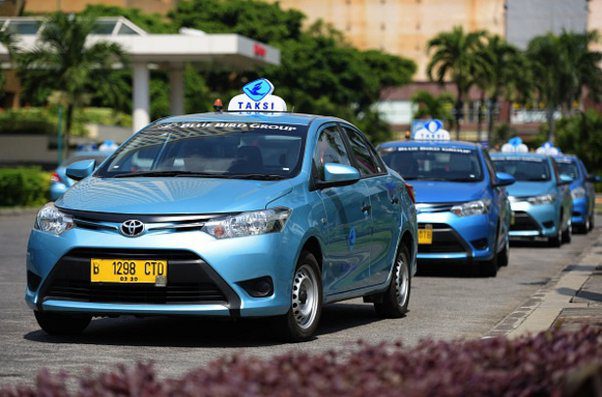 Jakarta Taxi Prices
Although there are many different Jakarta taxi companies that operate in the city, all of them must adhere to the official taxi tariffs. The current tariff was set by the city council in August 2017 and consists of a base fare, a price per km and time-related charges. The fares are all calculated using an officially calibrated taximeter as follows:
Base fare: €0.45 (IDR 7,000)
Price per km: €0.25 (IDR 4, 000)
There will also be additional charges for any toll road fees used during your journey and for keeping your driver waiting for an hour (€2.70 (IDR 42,000)).
What our customers say about Welcome
How to get a Taxi in Jakarta
There are plenty of taxis available throughout the city of Jakarta. The most popular way to get a taxi in Jakarta is by walking to a taxi rank, known to the locals as a Pangkalan. These can be found outside of all public areas such as shopping malls, main streets, hotels and tourist spots. However, if you're located downtown by one of the main roads, you can also hail a taxi by sticking out your hand. If the taxi is full, they will flash their lights and keep driving, if they are empty, they will stop at the side of the road for you.
If you're having trouble locating a taxi in the street or if you're staying outside of the downtown area, you can also call one of the many Jakarta taxi companies directly. The following are some of the more trusted taxi services in Jakarta:
Blue Bird: +62 21 7917 1234
Silver Bird: +62 21 798 9000
Trans Cab: +62 21 5835 5500
Gamya: +62 21 840 3838
Why book your Jakarta Taxi with Welcome Pickups
One of the main issues with the local taxis in Jakarta is the varying levels of service. Some companies have modern cars with English speaking drivers, while others have extremely old vehicles with drivers that speak Indonesian. However, at Welcome Pickups, we pride ourselves on a 5-star service every time. We offer English-speaking drivers, guaranteed on-time pickups, 24/7 customer service and unbeatable rates. Let us take the stress out of your Jakarta taxi rides so you can concentrate on making the most of this exciting city.
Jakarta Taxi Tips
If you need a taxi driver that can speak English, Silver Bird taxi drivers can usually do so.
To avoid any miscommunication, be sure to write down your destination or show it on a GPS application.
Blue Bird and Silver Bird are the two most trusted taxi services in Jakarta.
Ensure your driver resets the taximeter to the correct base fare before you begin your journey to avoid any surprises..
Wheelchair Accessible Taxi Service in Jakarta
On the whole, Jakarta isn't the most accessible city. So, it's no surprise that the standard taxis aren't wheelchair accessible. If you're looking for a vehicle with a hydraulic lift or ramp, you will need to book through a specialist Jakarta taxi company such as Accessible Indonesia. They have fully wheelchair accessible vehicles and minivans and offer services all over Jakarta and the surrounding areas. To book, you can visit their website or call them on +62 813 4279 5076.
Jakarta Taxi Safety and Complaints
Taking a Jakarta taxi is usually safe, so long as you use a reputable taxi company. However, some of the most common issues you may run into are drivers taking a longer route, drivers not using a taximeter, miscommunication with drivers that don't speak English and fast, reckless driving. If any of this occurs during your ride, you should report it directly to the taxi company you've travelled with. The phone number can usually be found in the car and painted on the side of the taxi. Be sure to note down your driver's ID number, the taxi number or license plate before making a complaint.