Taxis in Bali
Finding a Bali taxi (especially in the southern region) isn't challenging; you'll find taxis roaming around the streets and waiting for travellers. Taxi drivers in Bali will be trying to get your attention, so you won't need to worry about locating a vehicle. Plus, thanks to the exchange rate, Bali taxi prices are very low when it comes to international standards, making taxi services even more accessible.
If you want to explore exotic Bali without the fear of getting lost, using a Bali taxi service is your safest and most comfortable transfer option to get around. For a better experience, look for "Blue Bird Taxi Bali", this provider has earned a good reputation for treating tourists honestly and decently.
TRAINED DRIVERS
Hand picked & english speaking drivers
LOW PRICES
Same price as a regular Taxi from the line
FLIGHT MONITORING
Drivers are always on time
QUALITY SUPPORT
24/7 Email & Phone support
How much does a taxi cost?
Night time


(00:00 - 05:00)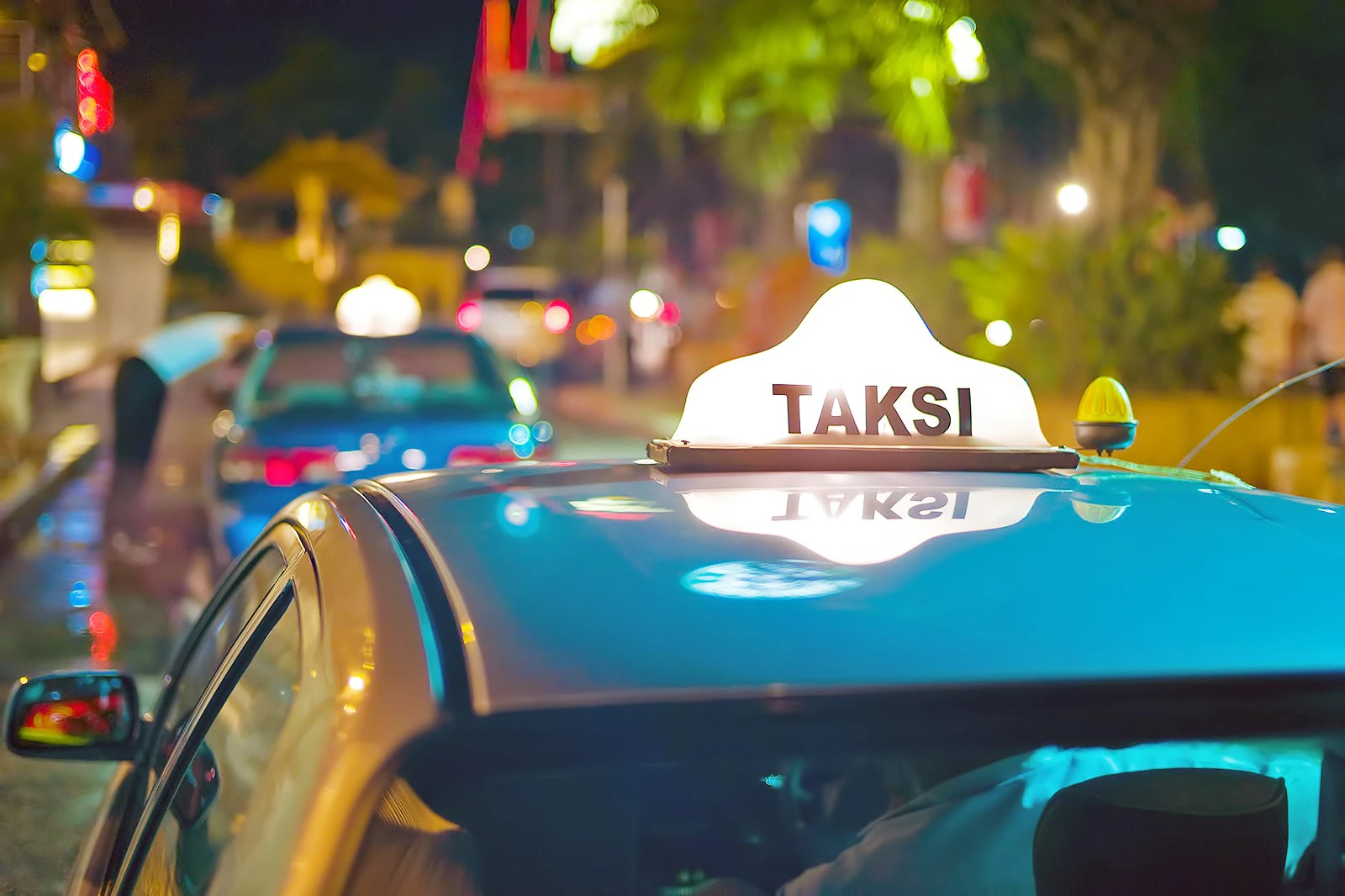 Bali taxi prices
Taxi prices in Bali are very low thanks to the exchange rate, whilst the fares are regulated throughout the province. There are two types of taxi pricing on the island: taximeter and fixed fare:
For most short rides (less than 5 km), drivers will use a taximeter, where the actual cost of your ride will be calculated based on the distance travelled. If they try to negotiate a fixed price, it's better to request the taximeter for short distances as the fare will be cheaper.
For longer distances, trips to tourist attractions, rides at night and trips during rush hour (15:30-19:00), expect higher prices. Most drivers will operate these routes using fixed fares, so just make sure to negotiate a price before you set off to avoid any unwanted surprises.
Bali cabs using a taximeter calculate their fares as follows:
Base Fare – €0.44 (IDR 7,000)
Additional price/km – €0.40 (IDR 6,600)
Waiting time per hour – €2.66 (IDR 42,500)
*It's also important to note that Bali Airport taxis mostly operate using fixed fares, however, you can still request the use of a taximeter. There are also taxi booking kiosks at the airport that offer pre-paid services, but these don't have the best reputation and only work half the time. We recommend booking a private transfer or calling a reliable Bali taxi company such as BlueBird when planning your Bali Airport transfer.
What our customers say about Welcome
How to get a taxi in Bali
Locating your Bali taxi couldn't be easier due to their wide availability, especially in the southern area. You can hail a taxi from the street, call one from your hotel or information counters at major tourist spots, or use an app. There are various Bali taxi apps you can use to book your ride, however, they aren't the most reliable. Further, you can find a taxi at the available taxi ranks in Bali such as Balira Transport, Alor and Yudi Collection.
Whether you're calling or catching a Bali taxi off the street, you won't have to wait long for your ride to arrive. Plenty of taxis are roaming around the province; all you need to do is look for the blue taxis with their roof light on; just hold your hand out and wait for the driver to pull over to the side of the road to let you in. Keep in mind that Bali taxis often make their availability clear by slowing down/stopping next to you and asking if you need a ride.
If it's getting dark and you are at a local restaurant or another establishment, you can call a taxi to come and pick you up in less than 10 minutes. Although different companies offer this style of pickup, the most well-known one is Bluebird Taxi Bali which can be reached on +62 361 701 111.
Book your Bali taxi transfer in advance with Welcome
Even though inexpensive, the actual cost of your ride will depend on many factors like the actual distance to your destination, the traffic, and the number of passengers. Also, many taxi companies have hidden fees and Bali drivers try to make the most out of tourists by charging them extra, taking advantage of the currency difference.
If you want to plan your journey's expenses without worrying about unexpected fees or being overcharged, then pre-booking your Bali taxi service will take a lot of weight off your shoulders. For a regulated price with no hidden fees, stellar personalised service and local English-speaking drivers, book your taxi with Welcome Pickups.
Bali taxi tips
It may take much longer to go from point A to B within Bali during peak hours, so patience and planning your trip with plenty of time to spare are recommended. Plus, expect the fare to be higher during this period.
Avoid larger notes when paying your fare as your taxi driver may not have enough change to give you the difference.
As not all Bali taxi drivers speak English, communication might be challenging. You can put your destination on Google Maps or have it written down to ensure things go smoothly.
Be mindful when entering and exiting a taxi or private vehicle in Bali and check that the road is clear; traffic congestion is common and so are rash drivers.
As tourists are often unaware of the local taxi prices, Bali taxi drivers might state a higher price than the journey is worth. Ensure you agree on a fare before entering your ride and for your peace of mind, ask around for the trip's cost and/or negotiate with different drivers.
If you haven't agreed on a price beforehand, check that your driver has set up the taximeter when entering your taxi.
Wheelchair-accessible Bali taxis
Unfortunately, most taxis in Bali are not yet wheelchair accessible. However, there are vehicle companies that provide minivans with portable ramps and hydraulic lifts making wheelchair transport easy. If you wish to book an accessible minivan with spacious seating, you can contact Bali Access Travel.
Bali taxi safety and complaints
Bali taxi customer services may vary depending on the company and the driver. If you find your driver rude, if they take a longer route to build up the fare, or if you feel unsafe during your journey, you must note the driver's ID number which is visible on their dashboard, to later make a complaint by calling their company.
In general, you may want to avoid independent drivers as they're less regulated and therefore less safe in comparison with the regulated local taxis.