Malta Taxi
How you travel around a new place can make or break your trip. Getting from A to B by taxi is definitely the easiest and most comfortable way to see all Malta has to offer. Official white Malta taxis are available to hail from the street, at taxi ranks, from prepaid taxi booths or to call 24/7. For a little something extra, you can also opt for a private transfer service to secure competitive prices, stellar service and much more.
TRAINED DRIVERS
Hand picked & english speaking drivers
LOW PRICES
Same price as a regular Taxi from the line
FLIGHT MONITORING
Drivers are always on time
QUALITY SUPPORT
24/7 Email & Phone support
How much does a taxi cost?
Night time


(00:00 - 05:00)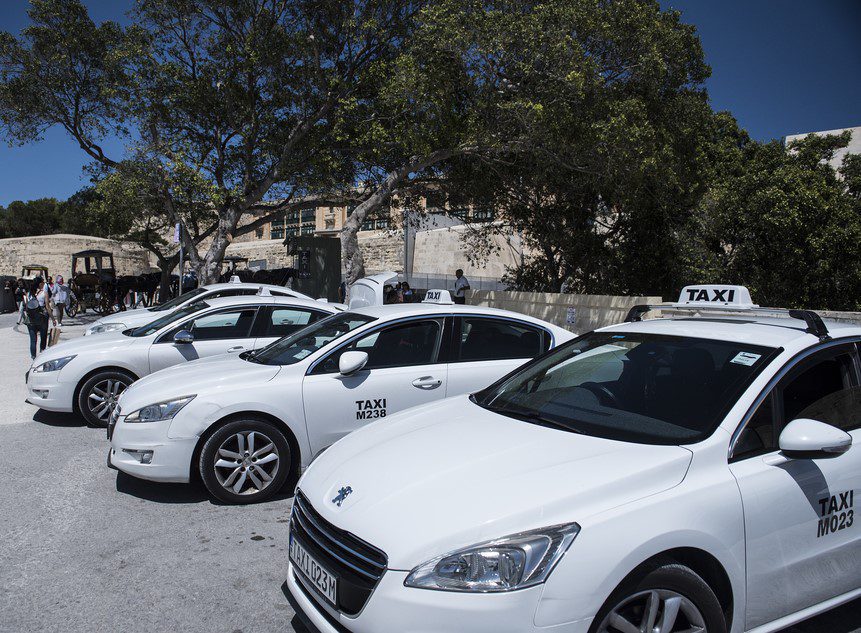 Malta taxi prices
Malta taxi prices are usually calculated using a taximeter based on distance, unless you prepay at a taxi booth. Authorised taxi booths offer fixed rates and can be found at the airport, and port, in Saint Julian's (Paceville) and central Valletta. Unsigned black taxis may offer a lower rate than the official white Malta taxis, but they are privately owned and unregulated.
When opting for a metered taxi, your final fare will be calculated using government-regulated rates:
Malta taximeter prices:
Initial Fare – €3.50
For the first kilometre – €2.50/km
Over 1 km up to 5 km – €1.60/km
Over 5 km up to 10 km – €1.40/km
Over 10 km up to 15 km – €1.30/km
Over 15 km up to 20 km – €1/km
Over 20 km – €0.85/km
Waiting charge per hour – €25
*Keep in mind that there may also be extra charges for larger luggage, travelling during major holidays and travelling at night.
Malta's authorised taxi booths offer fixed fares to popular destinations around Malta, set by the government. All you have to do is prepay for your ride at the booth and then hand the receipt to your driver.
Maximum fixed fares:
Airport to Sliema – €20
Airport to Valletta – €17
Airport to St. Julian's – €21
Valletta to St. Julians – €17
St. Julians to Sliema – €12
Sliema to Valletta – €15
What our customers say about Welcome
How to get a taxi in Malta
Taxis in Malta are white with the tell-tale "TAXI" sign on top and black registration marks printed on the front doors. There are plenty of ways to find a taxi; you can choose to hail a taxi from the street, head to the nearest designated taxi rank, prepay at a taxi booth, use a ride-hailing app, call a Malta taxi company or pre-book a private transfer.
Taxi ranks can be found at all the major hotels, at the bus stations in each town, at the airport, and outside all the main tourist attractions such as the City Gate and the Grand Master's Palace in Valletta. These rides will be metered.
Alternatively, authorised taxi booths are located at the airport, port and in the centre of most Maltese towns. You can negotiate a fixed rate and prepay for your ride at the booth, before handing the receipt to your taxi driver.
If the weather is bad, you're at a far-out location or you're travelling late at night, there are a number of other options. Using ride-hailing apps like Bolt for taxis in Malta is a popular choice, or you can even call a local radio taxi service and arrange a pickup. Here are two top-rated companies by travellers:
Hello Cabs Malta – +35 699 034 133
Cab and Co. Malta – +35 699 859 888
For a fully personalised experience and seamless service, we recommend booking a private transfer in advance.
Why you should book your Malta taxi in advance
Can you think of anything better than all of your transport needs being booked and taken care of before you even touch down in Malta? Eliminate the need to navigate the public bus network or stand in the hot sun waiting for a local taxi by booking a private Malta taxi in advance.
With Welcome Pickups, you can book in under 60 seconds and manage your booking using our convenient mobile app. We also guarantee unbeatable prices, 24/7 customer service, friendly English-speaking drivers and plenty of travel extras.
Malta taxi tips
Official Malta taxis are white with black writing. The taxis with red writing are for Gozo.
Make sure your driver resets the taximeter before you begin your ride.
If you're prepaying for a taxi at the booths, it's always good to negotiate the fare.
For authorised booth taxis, your driver must turn on the taximeter and switch it to show its a prepaid ride.
To make sure your driver takes the fastest route, you can check your destination on GoogleMaps.
Maltese drivers don't always speak English, so be sure to write down your destination to minimise any communication errors.
There's a nighttime surcharge of €2 for travelling from 22:00 to 06:00.
Wheelchair-accessible taxis in Malta
If you or someone you're travelling with needs a wheelchair-accessible vehicle, you won't be able to ride in a regular Malta taxi. However, some companies do provide specially-equipped vehicles. These vehicles are required by law to have clear signs indicating wheelchair accessibility.
Salina Cab offers 7 and 9 seater vehicles that are fully wheelchair accessible. These taxis need to be booked in advance and you can do so by calling +35 679 112 233 or emailing them at [email protected]. Malta Taxi also recently added vehicles to their fleet that accommodate wheelchairs.
Malta taxi complaints and safety
Taxis in Malta are generally safe. Nevertheless, taking an official white taxi or booking with a reputable private company are your best bets. White taxis are regulated and must comply with strict government licensing and safety regulations.
If you do experience bad service, scams or overcharging, be sure to note down the taxi ID number and ask for your receipt, then report it to the taxi company or the Malta Police Union by calling +35 621 232 892.