Taxis in Abu Dhabi
Taxis in Abu Dhabi are by far the most convenient and popular transport option. Getting around the city is easy; you'll find plenty of taxis roaming around the streets and looking for their next ride outside major touristic spots. Taxis in Abu Dhabi are reasonably priced and thanks to the exchange rate, fares are very low compared to international standards making Abu Dhabi taxi booking even more accessible.
For your convenience, Abu Dhabi taxis are organised to offer extensive services according to your needs. There are various types of taxis; regular taxis, Pink taxis – driven only by women, airport taxis that offer specific routes from the airport to the city centre and family taxis that can accommodate up to six passengers. In general, all taxi services in Abu Dhabi have a good reputation for treating tourists honestly by offering a great experience. On top of that, over 85% of taxis are hybrids or run natural gas to support the efforts for a more sustainable future.
TRAINED DRIVERS
Hand picked & english speaking drivers
LOW PRICES
Same price as a regular Taxi from the line
FLIGHT MONITORING
Drivers are always on time
QUALITY SUPPORT
24/7 Email & Phone support
How much does a taxi cost?
Night time


(00:00 - 05:00)
FROM AUH - TO CITY CENTRE
FROM AUH - TO SHEIKH ZAYED GRAND MOSQUE
FROM AUH - TO YAS MARINA CIRCUIT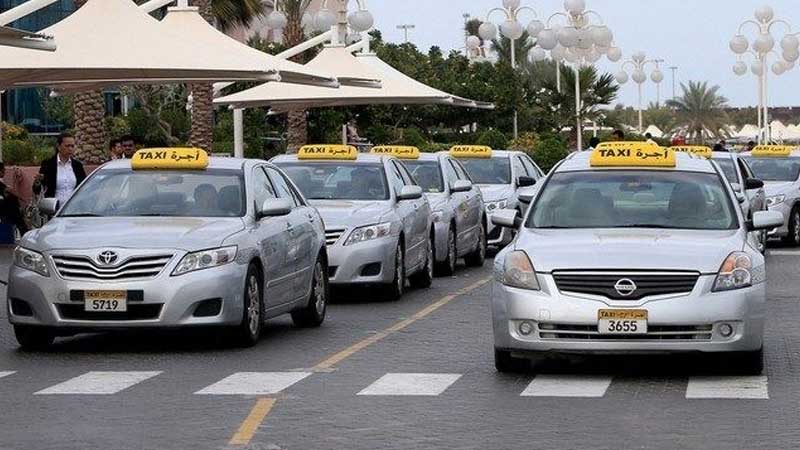 Abu Dhabi Taxi Prices
Taxi prices in Abu Dhabi are very low thanks to the exchange rate, whilst the fares are regulated throughout the city. Fares are calculated based on the distance travelled, so the further you travel around the city, the more expensive your ride will be. Generally, you can expect to pay around €3 (AED 12.00) for any trip within Abu Dhabi during the day. Additionally, between 22:00 and 06:00, you should expect to pay the same amount for a shorter distance travelled.
Abu Dhabi taxis calculate their fares as follows:
Base Fare (incl. 3.80 km) – €3 (AED 12.00)
Additional price/km – €0.45 (AED 1.82)
Waiting time per hour – €7.40 (AED 30.00)
Prices don't change during the night, but the base fare of €3 (AED 12.00) occurs for 3.50km.
What our customers say about Welcome
How to get a taxi in Abu Dhabi
Finding an Abu Dhabi taxi isn't challenging since there are more than 6,000 taxis available in the city. You can find the available taxi ranks outside shopping centres, hotels, and bus stations. Also, you can hail a taxi from any area at any time and yet, if you prefer to have a taxi booking in Abu Dhabi, you can either call one from the various taxi companies or book through their apps.
Whether you are calling up or catching a taxi off the street, you won't have to wait long for your ride to arrive. There are plenty of taxis driving around the city, and all you need to do is look for the silver taxis with their yellow roof light on. Just hold your hand out and wait for the driver to pull over to the side of the road to let you in.
If you find yourself on a hot summer day planning to go shopping, you can call a taxi to come and pick you up and start your day in an air-conditioned Abu Dhabi taxi. Although different companies offer this style of pickup, a popular one is National Taxi LLC which can be reached on +971 2 554 2231.
Book your Abu Dhabi Transfer in advance with Welcome
Even though inexpensive, Abu Dhabi taxi services calculate their fares using a taximeter based on the time and distance travelled as well as the amount of traffic during peak hours. That means that unexpected charges may occur.
If you want to plan your journey's expenses without worrying about unexpected fees, then pre-booking your airport taxi in Abu Dhabi will take a lot of weight off your shoulders. For a fixed price and no hidden fees, stellar personalised service and local English-speaking drivers, it's recommended to pre-book your Abu Dhabi taxi with Welcome Pickups.
Abu Dhabi Taxi Tips
For your safety, taxis in Abu Dhabi require wearing a seatbelt at all times.
Taxis in Abu Dhabi accept both card and cash payments. However, the vehicles don't have POS machines. If you prefer to use card payment, you can download the Abu Dhabi taxi app and pay by scanning the QR code shown on the taximeter after completing your trip.
Due to high temperatures in Abu Dhabi, taxi drivers are required to have air-conditioning on. Feel free to ask your driver to switch it on if it's not already.
Abu Dhabi taxi drivers are familiar with all major destination points within the city. However, you can put your destination on Google Maps or have it written down to ensure things go smoothly.
Tipping your driver isn't required in Abu Dhabi. However, if you receive exceptional service you can round up your fare. For longer routes, it's common to tip your driver 10% of your ride's cost.
Abu Dhabi is a popular and busy destination, so it might take longer to get from point A to B during peak hours. It's recommended to plan ahead and, when possible, choose to travel during less busy hours.
Abu Dhabi taxis are equipped with CCTV cameras to ensure a safe and excellent service for the passengers.
Wheelchair Accesible Taxis in Abu Dhabi
Abu Dhabi is one of the most organised cities when it comes to wheelchair accessible taxis. Many companies provide minivans and spacious taxis for electric wheelchairs or mobility scooters, offering a 50% discount on the standard taxi fare. If you wish to book a fully accessible taxi with spacious seating, large walkways and access ramps, you can contact the Abu Dhabi taxi call centre at +971 600 535353.
Abu Dhabi Taxi Safety and Complaints
Even though it's very unlikely to receive bad taxi service in Abu Dhabi, if you feel unsafe or uncomfortable during your trip, make sure you keep your receipt with the driver's details so you can make a complaint by calling +971 600 535353.