Glasgow taxis
Glasgow is a culture lover or history buff's dream destination; filled with stunning Victorian and art nouveau architecture and home to some of the most impressive cultural sites, such as the Scottish Opera, Scottish Ballet, National Theatre of Scotland and countless museums. With so much to see and do, the best way to get around is by taking a Glasgow taxi. There are two types of taxis available; black Hackney cabs and private hire vehicles. You can easily find Hackney Glasgow cabs by hailing one in the street or walking to a taxi rank, whilst private hire taxis can be requested on the phone or booked in advance. 
TRAINED DRIVERS
Hand picked & english speaking drivers
LOW PRICES
Same price as a regular Taxi from the line
FLIGHT MONITORING
Drivers are always on time
QUALITY SUPPORT
24/7 Email & Phone support
How much does a taxi cost?
Night time


(00:00 - 05:00)
GLASGOW CENTRAL STATION TO THEATRE ROYAL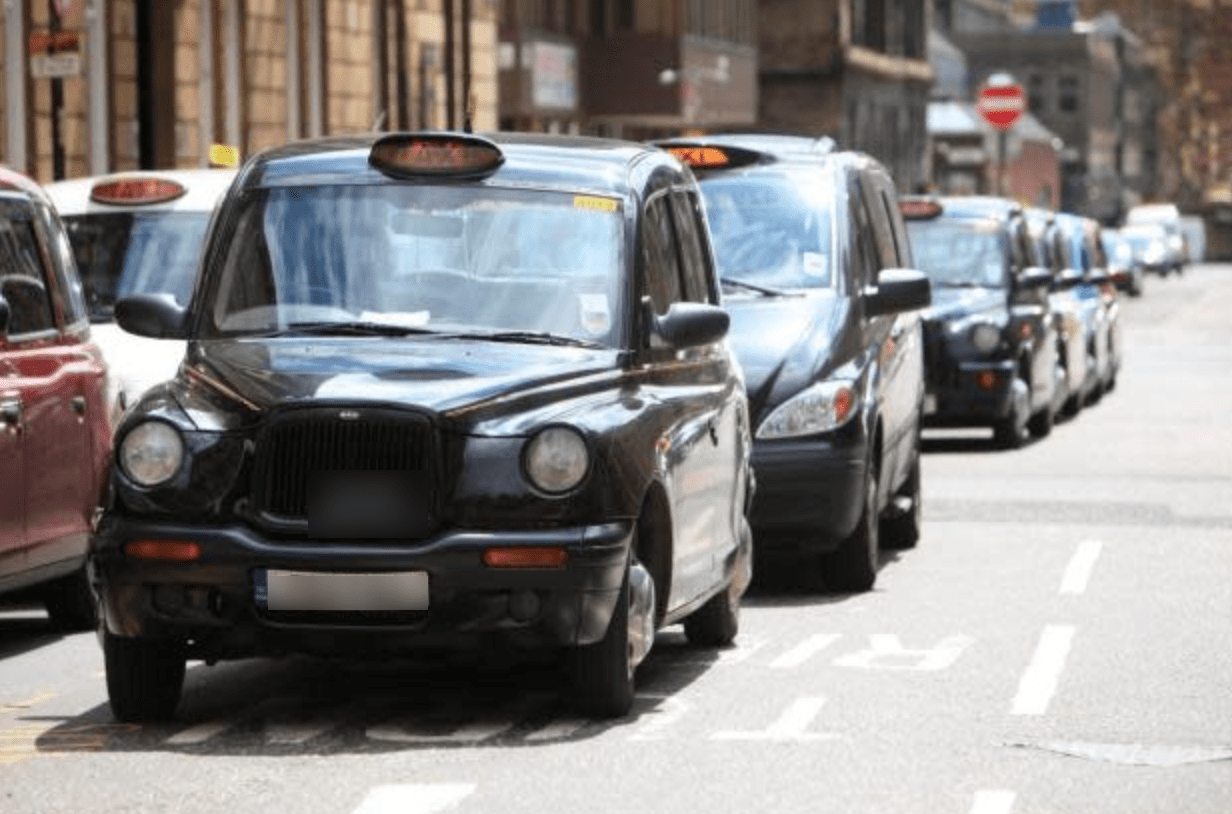 How much are taxis in Glasgow?
Private Glasgow taxi and transfer services can set their own rates and may even give set-rate prices for journeys within the city ring. On the other hand, black cabs in Glasgow must adhere to fares set by the Licensing Authority in March 2019. Since then, each black Hackney cab must use an officially calibrated taximeter to calculate their journey and stick to a list of fees put in place. There is also a different travel price depending on the time of day:
Day Tariff (06:00 to 23:00)
Base fare: £3.30 (€4)
Price per km: £0.75 (€0.90)
Night Tariff (23:00 to 06:00)
Base fare: £4.40 (€5.30)
Price per km: £0.75 (€0.90)
It's worth noting that there may be additional fees for things such as keeping your driver waiting for 1 hour, £21.20 (€25), or any toll fees that may be needed. On top of that, whilst it hasn't been implemented yet, Glasgow taxi rates will change at some point in 2023. The basic charge will be raised from £3.30 (€4) to £4 (€4.52).
To give you an idea of some indicative prices for popular routes, if you're travelling from Glasgow Airport to the city centre you'll pay around £45 (€55) and if you plan on heading from Glasgow Airport straight to Edinburgh, it'll cost approximately £90 (€110).
What our customers say about Welcome
How to get a Glasgow taxi
If you're looking for a taxi in Glasgow, you'll need to decide between a black Hackney cab or a private hire vehicle. Hackney Glasgow cabs are black with a taxi sign on the roof and black ID plates on the front and the back of the car. Private hire cars are usually saloon cars that have no taxi sign; instead, the company emblem is printed on the side doors and yellow or green ID plates are fixed to the front and back of the car. Black cabs in Glasgow can be hailed down the street or found at one of the many taxi ranks around the city. On the other hand, private Glasgow taxis can only be called and booked in advance; it is illegal for them to pick up passengers in the street or from a taxi rank. 
If you're out of the city centre or love how convenient a personalised door-to-door service is, you can pre-book your journey with Welcome Pickups, or call one of the private Glasgow cab numbers below:
Hampden Cabs: +44 (141) 429 1122
Raz Private hire: +44 (141) 212 0850
Southside Radio Cars: +44 (141) 883 3333
Glasgow Taxis: +44 (141) 429 7070
Benefits of booking your Glasgow taxi with Welcome
Have you ever found yourself standing in the rain waiting for a taxi but each one that passes you is full? Or, have you tried calling phone taxi companies only to find out that there's an hour wait time? If you book your Glasgow taxi in advance with Welcome Pickups, you will avoid any wait times and enjoy guaranteed on-time pickups, personalised transfers, 24/7 customer service, and unbeatable prices. Let Welcome take care of all your Glasgow cab needs, so you can get back to enjoying your time in the beautiful city.
Glasgow taxi tips
Hackney Glasgow cabs can fit up to 8 passengers, whereas a standard private hire vehicle can fit up to 4.
If you're travelling outside the city ring, a black cab in Glasgow may charge you a set-rate fare.
Baby seats are not provided as standard in Glasgow taxis, but you can bring and fit your own for free.
Ensure your driver resets the taximeter to the correct day or night base fare before starting your journey.
Wheelchair accessible Glasgow Taxi Service
Glasgow is very much a wheelchair-friendly city and this is reflected in its public transport. All black cabs in Glasgow are wheelchair accessible and the drivers are all trained in how to aid people with limited mobility. However, if you'd prefer the convenience of a private hire pick-up from your door, you can call Glasgow Taxis at +44 (141) 429 7070. Glasgow Taxis have a fleet of fully wheelchair-accessible taxis that will come to you 24/7. 
Glasgow taxi safety and complaints
Using a Glasgow taxi service is usually extremely safe and convenient. However, if you do experience any issues during your journey, such as having a rude driver, being overcharged or feeling unsafe at any point, you can make a complaint to the Government Licensing Authority by filling out this online form. If you can, try to note down your driver's ID number, the licence plate number or the vehicle registration number before making your complaint.