Taxis in Cappadocia
With colourful air balloons rising above "fairy chimneys" (unique rock formations) and ancient cliff dwellings, Cappadocia is quite a sight to behold and is often described as a fairyland. While exploring the geological and archaeological wonders of the region, you may want to take a taxi to get around to make the most out of your time during your trip. There are several taxi companies in the region, and taxis can readily be found in the larger towns of Cappadocia. Taxis in Cappadocia are metered, but you may be able to request a flat rate depending on where you are travelling, or you can book your ride in advance for a flat rate.
TRAINED DRIVERS
Hand picked & english speaking drivers
LOW PRICES
Same price as a regular Taxi from the line
FLIGHT MONITORING
Drivers are always on time
QUALITY SUPPORT
24/7 Email & Phone support
How much does a taxi cost?
Night time


(00:00 - 05:00)
NEVSEHIR KAPADOKYA AIRPORT TO GOREME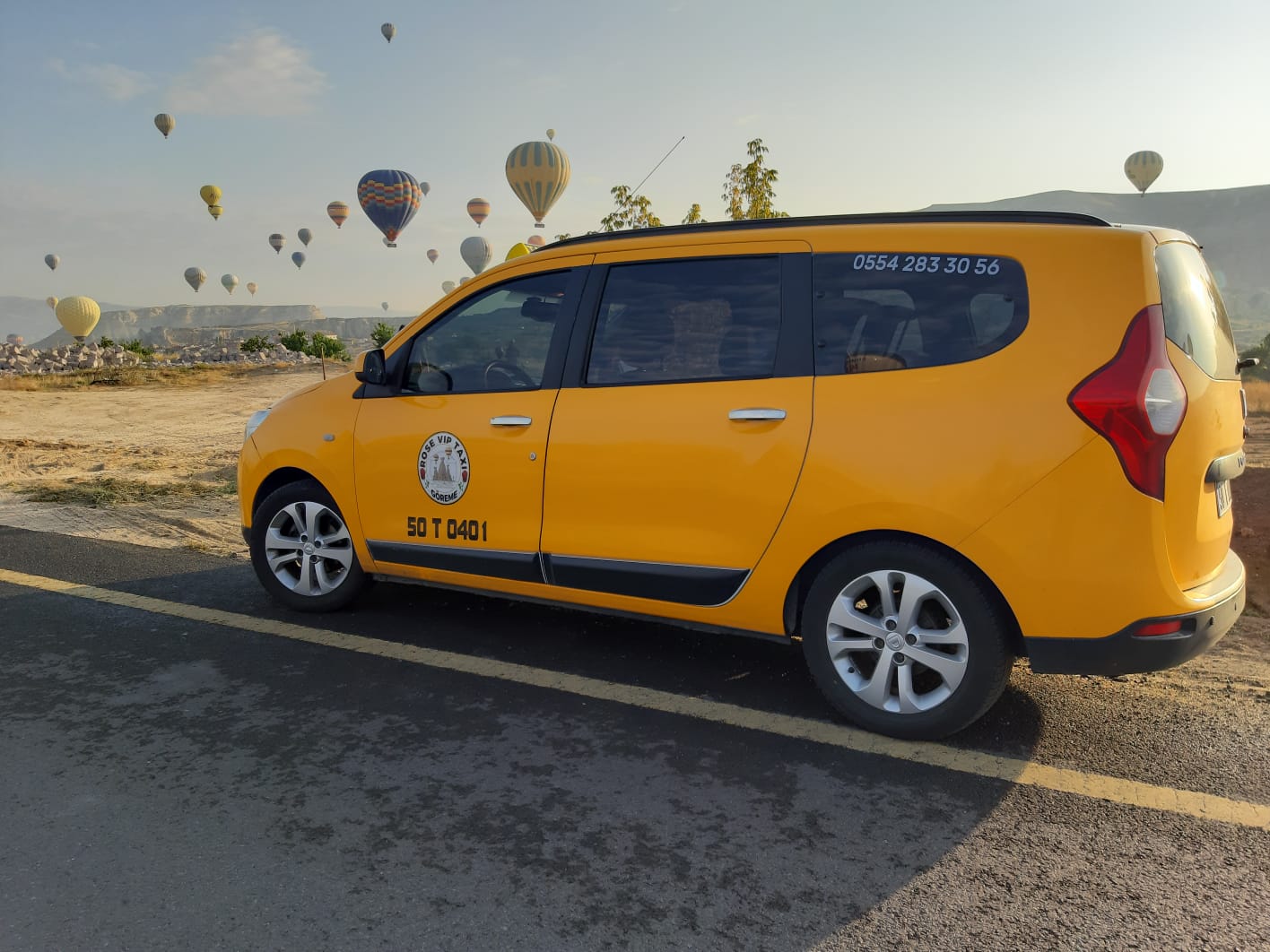 Cappadocia Taxi Prices
Taxis in Turkey are required to have a digital taximeter, and the fare is determined by a base rate, the number of kilometres travelled, and the time it takes to reach your destination. There may also be surcharges for more than 1 passenger, for luggage, or for travel at nighttime. Fares may vary between the different taxi companies and are generally estimated based on a base rate of €0.32 (TL 5) and a rate of €0.29 (TL 4.6) per kilometre, with a minimum fare of €0.63 (TL 10).
Depending on where you are travelling, you may also be able to request a flat rate, whilst flat rates are also offered if you book your ride in advance.
What our customers say about Welcome
How to get a Taxi in Cappadocia
Taxis can readily be found in the centres of the larger towns of Cappadocia. If you are in a more remote location, you may need to call and request a ride; one of the popular ones servicing the area is Taxi Cappadocia which can be reached at 0532 456 34 50 whilst you can also search more specifically based on your exact destination. You can also pre-book your ride with Welcome Pickups for a flat competitive rate and trained, local professionals.
Book your Cappadocia Taxi Transfer in Advance
Booking your Cappadocia Taxi in advance can save you some stress and time during your trip. Rather than worrying about finding a taxi on the street or wondering about the total price, you can sit back, relax and let your driver come to you at a fixed price. To ensure you have a guaranteed on-time pickup and a comfortable transfer with a professional English-speaking driver, all at a competitive rate, consider pre-booking your ride with Welcome Pickups.
Tips for your taxi in Cappadocia
Very few drivers accept payment by card; be sure to have enough cash to pay for your fare before embarking.
When taking a taxi, make sure the meter is on and is reset at the start of your ride.
Tipping your drive isn't customary, but it is common to round up the fare.
Wheelchair Accessible Taxis in Cappadocia
In recent years, Turkey has made great improvements to accessibility, but unfortunately, Cappadocia is still challenging to navigate for persons with reduced mobility. While exploring Cappadocia, you can call to request a larger vehicle that can accommodate storing a folded wheelchair, but fully accessible vehicles may be challenging to come by. It is worth contacting Mobility Turkey at +90 242 463 10 93 and discussing your requirements in detail.
Cappadocia Taxi Safety and Complaints
In Cappadocia, you may want to be a bit wary of unauthorised taxis or drivers taking longer routes to bump up your fare. It is recommended that you book your ride with a reputable taxi company with licensed taxis to ensure you get the best service for a fair price. When taking a taxi, make sure the meter is reset to the correct base fare and exercise the normal amount of caution you would in any cab. If an issue does arise, be sure to record the taxi number and license plate and keep your receipt; you can then file a complaint with the taxi company you used or go directly to your nearest police station for serious matters.