Taxis in Bogota
Bogota is Colombia's political, economic and touristic centre and a stunning metropolis. Known as one of South America's safest urban areas, this cosmopolitan place eventually wins over travelers with its colonial architecture, numerous restaurants and raucous nightlife. However, Bogota may still appear intimidating or frightening to many newcomers. So, if you have never visited this city before, we can guarantee you won't regret taking a Bogota taxi. Simply hop on one of these yellow cars and enjoy a cheap, wonderful and interesting ride, without compromising your schedule, trying to find your way around in this new place.
TRAINED DRIVERS
Hand picked & english speaking drivers
LOW PRICES
Same price as a regular Taxi from the line
FLIGHT MONITORING
Drivers are always on time
QUALITY SUPPORT
24/7 Email & Phone support
How much does a taxi cost?
Night time


(00:00 - 05:00)
BOGOTA AIRPORT TO CITY CENTRE
FROM AIRPORT TO BUSINESS CENTRE INTERNATIONAL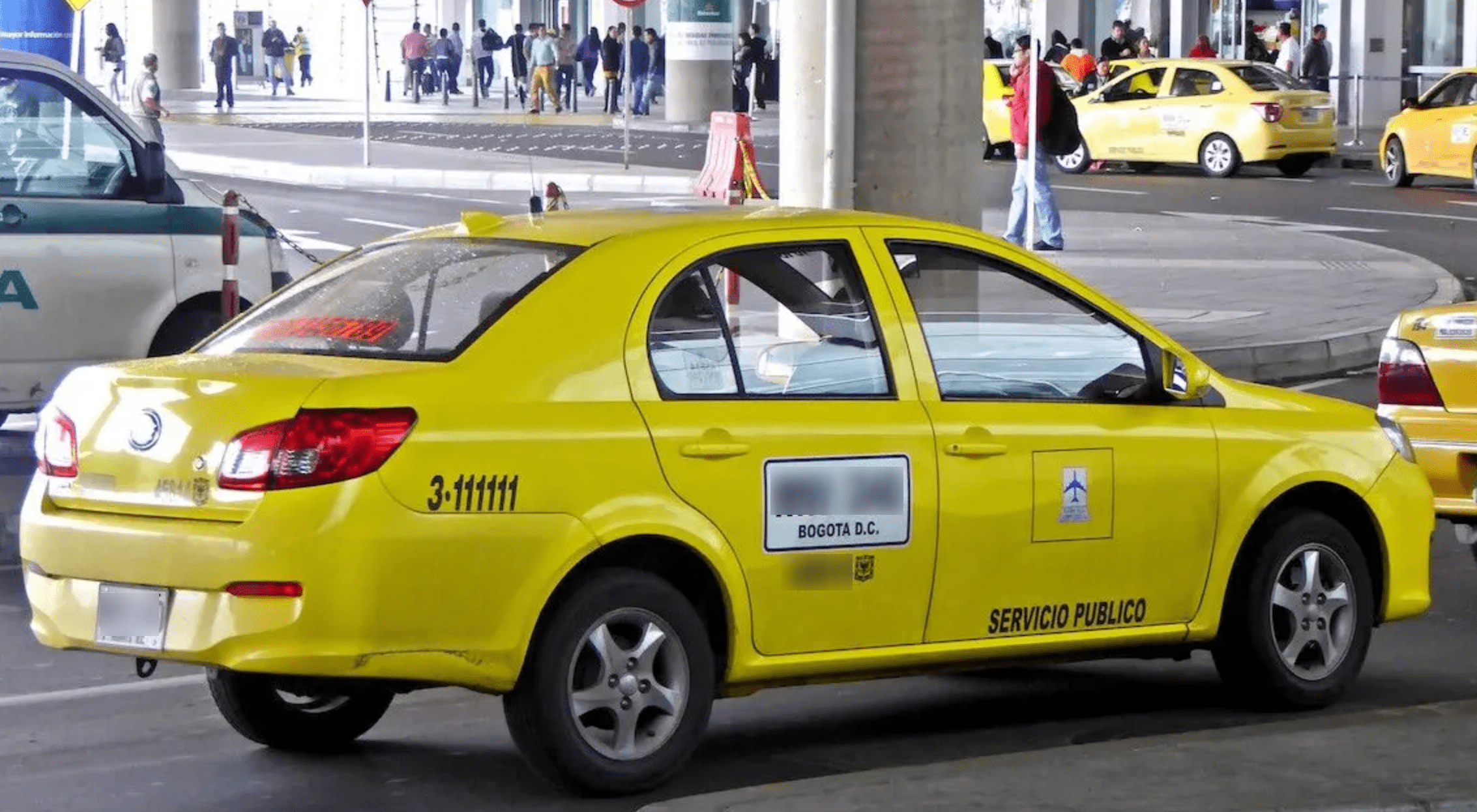 Cost of a Bogota Taxi
At the moment, Bogota taxis do not use a very clear system for calculating a taxi fare. Instead of displaying an amount of money, the taxi metre starts from the number 25 and increases by 1 digit every hundred meters. At the end of the journey, the number displayed on the meter corresponds to the fare you have to pay. That is why travelers need to be especially mindful of their money and ask the driver for an approximate fare for their destination before getting on the taxi.
The below are the general tariffs that apply for the city of Bogota:
Base Fare: 5,000.00COP (€1.12)
Taxi Fare per Kilometre: 9,656.07COP (€2.17)
Taxi Fare for 1 hour Waiting: 20,000.00COP (€4.5)
An even safer bet would be downloading the taxi calculator app (Calculadora de Tarifas). Enter the number on the taximetre at the end of the journey and tick any of the other options that apply (such as airport pick-up, etc.) and it will tell you how much you owe. That way you can make sure you are not overcharged by the end of your journey. Good news is that most journeys within Bogota will cost much less than 20,000COP. Also bare in mind that drivers don't accept 50 notes, so try to break them whenever you can to keep change for the taxi.
What our customers say about Welcome
How to get a Taxi in Bogota
In Bogotá, hailing a taxi from the street is not recommended, especially at night, as can be dangerous. There are also numerous taxi ranks scattered around the city, near major hotels and attractions. Walking to one of these is a safer bet, but there is still the risk of being overcharged or encountering a rude driver.
Travellers should certainly avoid calling a taxi or car service on their own, unless they have an intermediate level of Spanish because most people working on these services don't usually speak English! That is why it would be a good idea asking for the hotel receptionist to order a Bogota taxi for them or download a Bogota taxi app. Taxi Libres is the most reliable option for the city of Bogota.
Benefits of Booking a Bogota Taxi in Advance
Finding your way around a complex environment such as Bogota's urban area may seem like a daunting task. Fear not! Welcome is here to help you tour the city in absolute safety and comfort. Our English-speaking drivers will be waiting for you outside the airport terminal, help you into the vehicle, and give you handy travel tips throughout the ride. They know this city like the back of their hand! So start making memories before you even check-in to your hotel and book a Bogota taxi with Welcome today!
Bogota Taxi Tips
Booking a taxi through an app, such as Taxi Libres is highly recommended, as it is safer than stopping a car on the street. Alternatively, head to your hotel reception and kindly ask them to call one for you.
Please avoid taking a taxi late at night. If you need transportation after midnight, always order a taxi via an app.
Some taxi drivers don't speak English, so it would be a good idea to learn some basic Spanish phrases to be able to communicate and reach your destination successfully.
Don't accept a ride from a random driver inside the arrivals halls at the airport, as they're probably not legal.
Wheelchair Accessible Taxis in Bogota
Wheelchair accessibility in Bogota is generally poor, even in comparison to other South American cities like Buenos Aires and Rio de Janeiro. As such, ordinary taxis do not have special ramps or space for wheelchair users. For a fully customizable experience, reach Taxi Libres today and order your wheelchair accessible taxi.
Safety and Concerns for Bogota Taxis
Although the city has taken a step in the right direction trying to curtail some dangerous taxi practices, such as the "Millionaire's ride" or use of the drug Burundunga, travelers could still be scammed or overcharged by potentially nasty drivers. If you suspect that this might have happened to you, it would be a good idea to step out of the vehicle, note down the driver's plate number and head to the nearest police station to report the incident.