Taxis in Istanbul
There are over 20,000 taxis zipping around Istanbul, so catching one couldn't be easier. The standard yellow Istanbul taxis are yellow and have a "taksi" sign on top. However, there are also turquoise and black taxis available, both of which are more luxury and come at a higher price. You can choose to hail an Istanbul taxi from the street, walk to a taxi rank or call one of the local radio taxi companies. 
TRAINED DRIVERS
Hand picked & english speaking drivers
LOW PRICES
Same price as a regular Taxi from the line
FLIGHT MONITORING
Drivers are always on time
QUALITY SUPPORT
24/7 Email & Phone support
How much does a taxi cost?
Night time


(00:00 - 05:00)
FROM SULTANAHMET TO - TAKSIM
FROM SULTANAHMET TO - DOLMABAHCE PALACE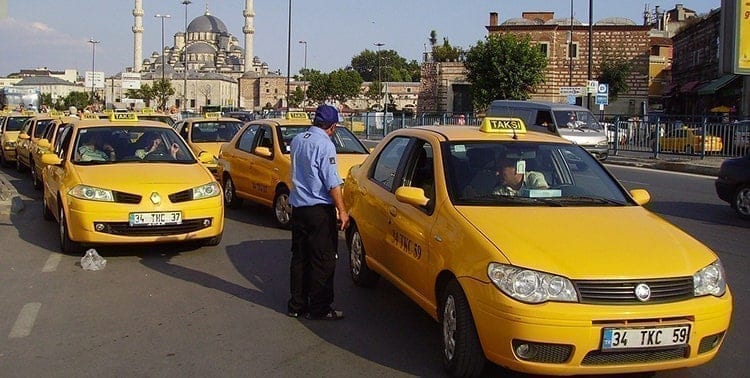 Istanbul taxi fare
All taxis in Istanbul are legally required to charge you using a taximeter. There are no official set-rate fees for taxi rides in the city centre. The following fares are for the standard yellow taxis in Istanbul. Turquoise taxis are around 15% more expensive and black taxis are twice as expensive as yellow taxis.
Base Fare – €0.51
Price per km – €0.32
Keep in mind that there may be extra charges for things such as vehicle type, keeping your driver waiting for 10 minutes (€0.46), transfers from Istanbul airport or Sabiha Gökçen airport, passing along one of the three main bridges and driving on toll roads. 
What our customers say about Welcome
How to get a taxi in Istanbul
As there are over 20,000 yellow taxis driving around Istanbul, you can very easily hail one from the street. Having said that, there are some tourist zones such as Sultanahmet Square and Istiklal Street that are pedestrian zones, so taxis cant be hailed here. 
Another option is to walk to one of the many designated Istanbul taxi ranks around the city. You can find these at all of the main squares, railway, bus and metro stations, the ferry port, large shopping malls, plazas and most restaurants. 
Your final option is to call a local radio taxi company. This is a great idea if you're travelling late at night or during bad weather. Two of the most popular radio taxi companies are Pendik Radio Taxi: +90 553 957 1660 and Kuyubaşı Radio Taxi: +90 216 418 8526. Be aware that there may be an extra charge for this service. 
Book your Istanbul transfers in advance
Although there are a large number of taxis available in Istanbul, budgeting your vacation can be difficult unless you plan and book your Istanbul taxi transfers in advance. You won't need to wait in the street for an empty taxi to pass and you won't need to carry cash with you at all times to give to the local drivers. If you're looking for stellar service and great prices, we suggest booking your Istanbul taxi in advance with Welcome Pickups. 
Istanbul taxi tips
If you're paying cash, be sure to carry change with you as the local Istanbul taxi drivers rarely have lots of coins on hand.
Most Istanbul taxis accept card payments.
Make sure your driver resets the taximeter to the base fare before beginning your journey.
Wheelchair accessible taxis in Istanbul
The standard taxis in Istanbul aren't equipped for wheelchairs. Instead, you will need to book your journey with one of the local companies like Engeli Taksi. All of their vehicles are equipped with special seating and ramps, making them fully wheelchair accessible. To book a ride with them, you can call on +90 533 962 74 33.
Istanbul taxi safety and complaints
Although Istanbul taxis are generally very well monitored and safe, sometimes you may find a driver that will be rude or try to scam you. Some of the most common scams to watch out for are switching notes, making rides longer and refusing to give change. If this does happen to you, take down the driver's ID number and the taxi number and report it to the tourist police on +90 212 527 4503.