Taxis in Izmir
Izmir is the third-largest city in Turkey and one of the most popular summer destinations. Built around the azure-blue Bay of İzmir, the city boasts elegant mosques and traditional bazaars, as well as a wealth of history for visitors to explore, including a number of important archeological sites. If you are here on your way to Ephesus and can only spare a few days to see this cultural hub, don't waste any time trying to get around by public transport. Hop on a yellow Izmir taxi instead and soak in all the history and fun at your leisure.
TRAINED DRIVERS
Hand picked & english speaking drivers
LOW PRICES
Same price as a regular Taxi from the line
FLIGHT MONITORING
Drivers are always on time
QUALITY SUPPORT
24/7 Email & Phone support
How much does a taxi cost?
Night time


(00:00 - 05:00)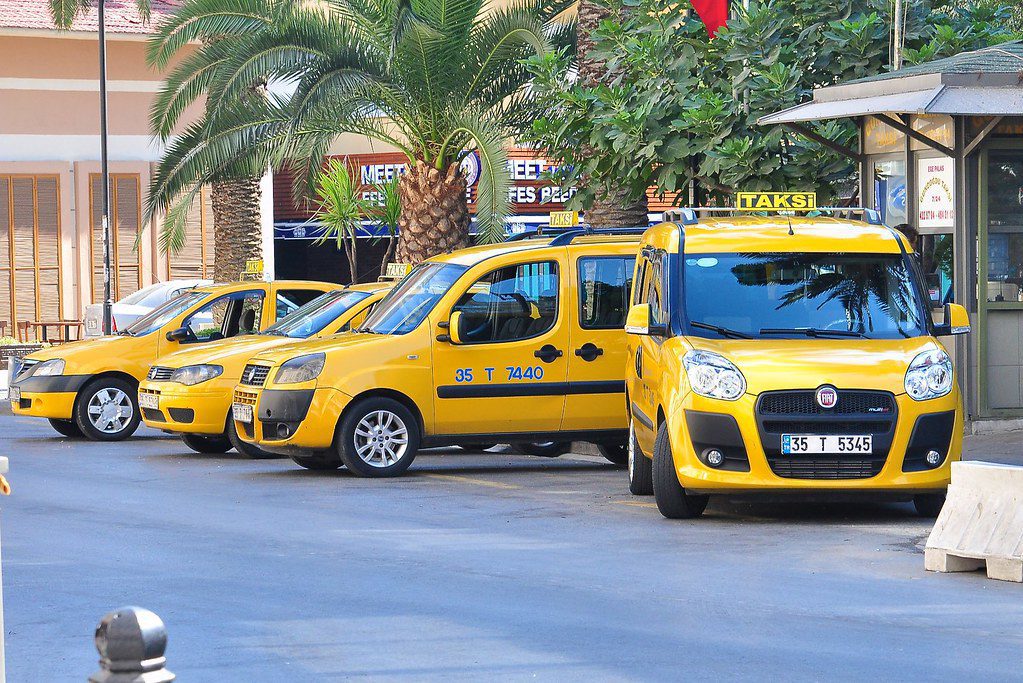 Cost of an Izmir Taxi
Taxi fares in Turkey are officially regulated by cities or districts. The tariffs in Izmir were last set in January 2019 and are binding for all taxis and taxi companies within the compulsory driving area. This is ensured by officially calibrated taximeters installed in the taxis.
The price of a taxi in Izmir depends on several factors. These are the route, journey time and traffic conditions. From these components the taxi price can be calculated. In general, Turkey has one of the cheapest taxi fares with €2.24 for a 5-kilometre ride!
The taxi tariffs are officially set as follows:
Base fare: 4.99 TL (€0.42)
Taxi fare per 1 km: 4.75 TL (€0.40)
Taxi fare per 1 hour of waiting: 35.00 TL (€2.98)
It is important to note here that the same rates are applicable 24 hours for all taxis in Izmir.
What our customers say about Welcome
How to get a Taxi in Izmir
Izmir is a cultural metropolis and an important port since ancient times. Despite the hustle and bustle of this city, picking an Izmir taxi means that getting from point A to point B couldn't be easier. You can choose to simply hail a taxi from the street, walk to the nearest taxi rank, call one of the many local companies or use a taxi app, like BiTaksi.
Taxi ranks can be found in major tourist spots throughout the city, near Kordon, the waterfront promenade in Izmir, the Clock tower and Konak square. It's easy to spot a rank as you will see the yellow vehicles with the signature 'TAKSI' light on top, lining up at the side of the road. All you have to do is walk to the front of the line and enter the first free taxi. Having said this, by far the easiest way to take an Izmir taxi is to hail one from the street. To do this, all you need to do is stop and wave your hand. Once inside, make sure the taximetre is on and then tell your driver where you need to go.
Benefits of Booking an Izmir Taxi in advance
Navigating the complicated public transportation options or standing in long queues under the hot sun may very well ruin a nice holiday. Instead of doing this, opt for the most hassle-free transfer from Izmir airport; a taxi. Once you've safely stored your handbags and personal items in the trunk and sat comfortably in your air-conditioned vehicle, you can relax and enjoy the ride while Welcome Pickups takes care of the rest.
Izmir Taxi Tips
Tips are not mandatory but if one is satisfied with the service offered, you can round up to the nearest TL.
Izmir Adnan Menderes Airport is quite a busy airport currently handling over 6 million passengers annually. This creates a large demand which may result in annoying delays. To make sure you will find a taxi on time, it's best to book one in advance.
The main cities near the airport are Izmir, Selcuk, Sirince and Kusadasi. To travel to Izmir or the other towns, the price of an Izmir airport taxi is negotiable. It is recommended that one bargains in order to get a good deal.
Wheelchair Accessible Taxis in Izmir
Being one of the most European cities in Turkey, Izmir has a lot to offer in terms of accessibility. Still, regular taxis driving around the central area may not be equipped for people with disabilities. For a hassle-free experience, you can book a wheelchair accessible taxi in advance with "Mobility Turkey". You can reach them through their website or call them on this number, +90 544 456 41 45, to order a car today.
Safety and Complaints for Izmir Taxis
It has been reported that some taxi drivers in Turkey try to rip off potential tourists or bargain their way around the final fare. If you suspect that a taxi driver may be trying to scam you, then don't waste any time; hop out of the car, note down the license plate and walk to the nearest police station.