Stress-free and affordable commutes with taxis in Guatemala City
Guatemala City is a gem of Central America, nestled in a valley of mountains. With a wealth of indigenous spots, rich architecture from colonial times, a mouth-watering local cuisine, and a vibrant nightlife; there's definitely no shortage of things to do and admire during your stay.
Compared to other destinations worldwide, taxis in Guatemala City are very affordable. You can use them to easily and quickly transfer between points of interest and attractions without breaking the bank or trying to find your way in the hassle of local public transportation. Cabs in Guatemala City roam all over the streets, and many also queue up in fort of shopping centres, monuments, intersections etc. Alternatively, you can call one of the local phone dispatch companies and request a pickup or even pre-book a personalised private transfer and get around at your own pace and schedule.
TRAINED DRIVERS
Hand picked & english speaking drivers
LOW PRICES
Same price as a regular Taxi from the line
FLIGHT MONITORING
Drivers are always on time
QUALITY SUPPORT
24/7 Email & Phone support
How much does a taxi cost?
Night time


(00:00 - 05:00)
GUATEMALA CITY TO ANTIGUA
GUATEMALA CITY TO LA AURORA ZOO
GUATEMALA CITY TO OAKLAND MALL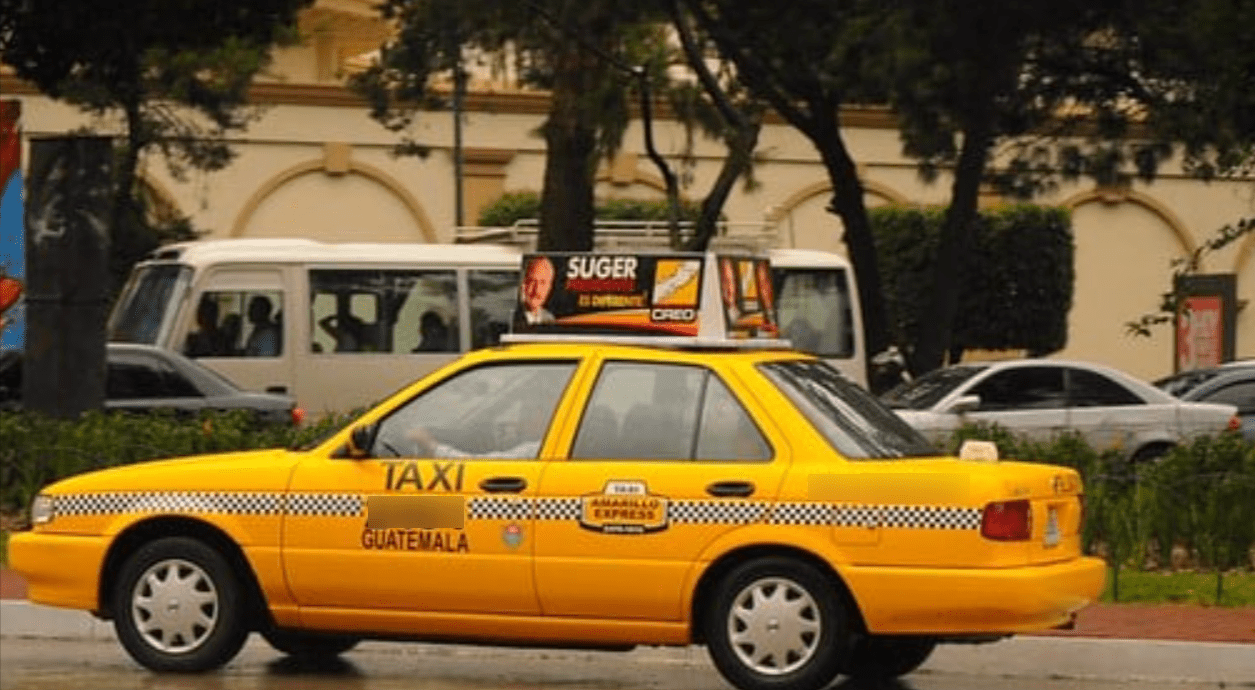 Guatemala taxi fares
Metered taxis that provide curbside pickups in Guatemala City are not a rarity. Nevertheless, drivers often do not turn on the meter, even if they have one. Be prepared to negotiate your fare depending on your exact destination. Usually, for transfers within the same city zone, rates do not exceed €2.85 (GTQ 25). Inter-zone rides are a bit more expensive but in the area of €6 (GTQ 50) maximum.
Local taxi companies are more commonly forcing their drivers to offer metered rides. In that case, the rates applied are the following:
Initial fare: €2.85 (GTQ 25)
Price per km: €0.55 (GTQ 5)
Waiting (per hour): €12.30 (GTQ 107.50)
What our customers say about Welcome
How to get a taxi in Guatemala City
Taxis in Guatemala City are white or yellow. The free-roaming ones are usually white. They stop curbside to pick up passengers or are stationed outside hotels, museums, restaurants and other local attractions. The yellow ones typically belong to phone dispatch companies. To use their services and request a pickup, you can call one of the following numbers:
Amarillo Express: +502 2470 1515
Las Americas: +502 2362 0583
Yellow Car: +502 2437 4824
Last but not least, the most convenient option is pre-booking your local transfer with Welcome Pickups. You'll get a guaranteed competitive rate, on-time pickup, and a trained English-speaking driver to transport you door-to-door without hassle.
Booking your Guatemala taxi in advance with Welcome
A transfer option dedicated to perfect door-to-door service like Welcome Pickups will make your trip's convenience and safety a breeze. In less than 60 seconds on our user-friendly app or online, you can pre-book your Guatemala City transfer at a competitive rate with no hidden fees; you'll have a friendly, hand-picked local driver pick you up on time, and you can cancel flexibly if your circumstances change. Moreover, our drivers and customer support staff are on duty 24/7, so whatever happens, someone will always be there by your side to sort things out.
Tips for cabs in Guatemala City
Generally, taxi drivers in Guatemala City don't expect gratuities, but it's always a nice gesture to someone who offers you excellent service.
Take a taxi home at night, even for a short distance. Crime in the city is usually non-violent, but prevention is always better.
Be prepared to negotiate your fare, even if the taxi is metered as not all drivers utilise their taximeters.
Wheelchair-accessible taxis in Guatemala City
Guatemala City – and the entire country, is not the most accessible destination for wheelchair or other mobility aid users. Although legislation is in place championing full accessibility, it's not implemented in practice. Most taxis can accommodate a foldable wheelchair in their trunk, but if you have additional requirements, such as the need for a ramp or a hydraulic lift, you must request the assistance of a tour operator or a specialised local company in advance.
Safety and complaints for Guatemala taxis
As with most capitals in Central America, common sense is necessary when getting around – especially in the after-hours. Avoid shady parts of town and always take a taxi to return to your hotel at night, even if it's a short walking distance. Most restaurants and nightclubs will be happy to call a cab for you.
As for taxis, the most common inconvenience you may encounter is being overcharged. Nevertheless, if you felt unsafe at any point during your taxi ride or experienced unprofessional behaviour on behalf of your driver, you can call the local authorities and report the incident to the police.