Getting around by taxi in Lisbon
The bustling city of Lisbon is one of the top destinations in Portugal, receiving over 5.4 million overnight visitors in 2022 alone! There are so many amazing things to do and see all over the city – including fairytale-like nearby towns and villages, like Sintra, Cascais and Obidos, and the best way to see them all is by riding a Lisbon taxi.
Taking a taxi saves you time and local cabs are very affordable compared to other major European cities. You can easily track down one of the classic black taxi vehicles with their green roof by hailing one from the street, calling a local company to request a pickup or locating a designated taxi rank. Of course, to travel at your pace, if you know when and where you'll be needing a ride, you can consider pre-booking and pre-paying for your trips with Welcome Pickups.
TRAINED DRIVERS
Hand picked & english speaking drivers
LOW PRICES
Same price as a regular Taxi from the line
FLIGHT MONITORING
Drivers are always on time
QUALITY SUPPORT
24/7 Email & Phone support
How much does a taxi cost?
Night time


(00:00 - 05:00)
LISBON CITY CENTRE TO CASCAIS
LISBON CITY CENTRE TO BELEM FERRY TERMINAL
LISBON CITY CENTRE TO AIRPORT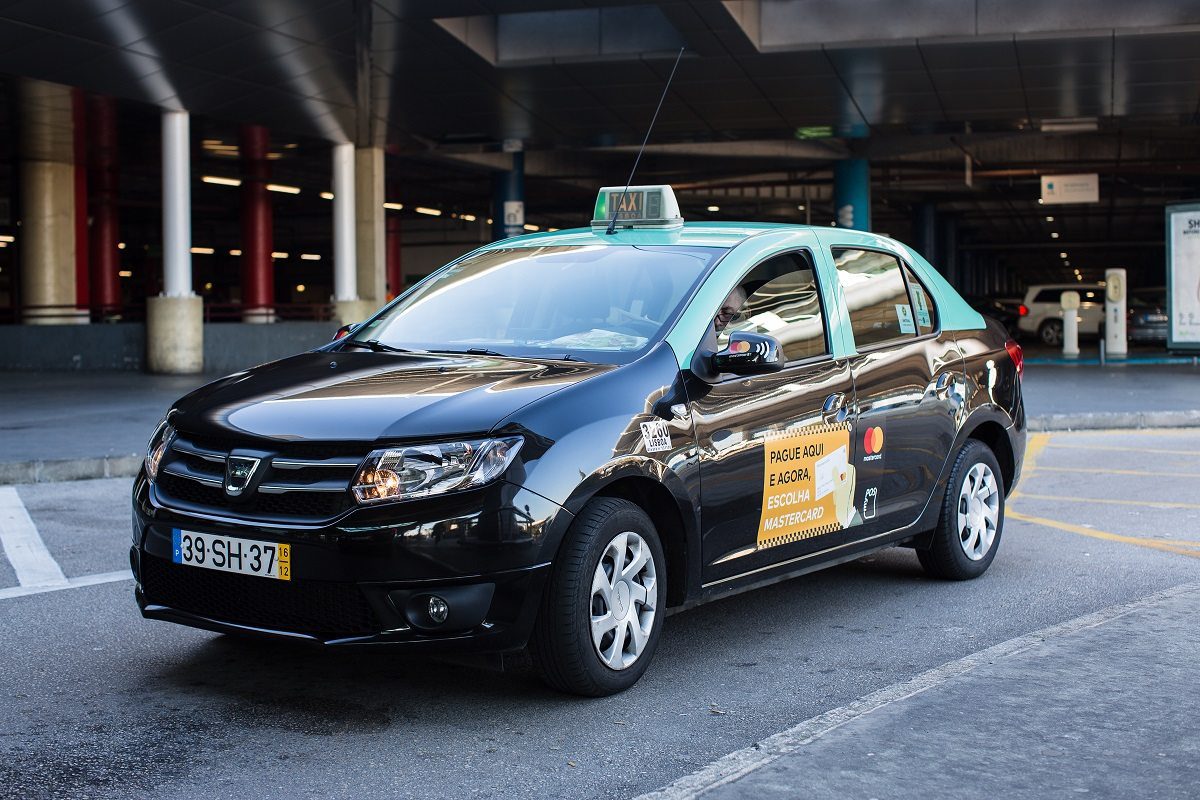 Lisbon taxi prices
By law, all Lisbon taxi drivers are required to use a taximeter to calculate fares, based on distance travelled. However, be wary of drivers that do offer set-rate fees, as these are usually much higher than the taximeter price. If you're unsure and not comfortable negotiating the cost of your journey, it's a good idea to avoid bargaining with local drivers and agreeing on questionable set fares.
With a taximeter, the cost of your ride will depend on how far away your destination is, and the time of day you're travelling. There is a 20% increase in Lisbon taxi prices during the nighttime hours of 21:00 and 06:00.
Minimum fare – day: €3.25
Price per km – day: €0.47
Minimum fare – night: €3.90
Price per km – night: €0.56
Keep in mind that there are also extra charges on top of these base Lisbon taxi prices for things such as luggage (€1.60), an hour of waiting (€14.80), every minute stuck in traffic (€0.25), pets (€1.60) telephone bookings (€0.80).
What our customers say about Welcome
How to get a taxi in Lisbon
The easiest way to get a taxi in Lisbon is by hailing one from the street. There are many easily identifiable taxis in the city centre, so all you need to look out for is the 'TAXI' sign on the vehicle's roof; if it's lit up, it shows the taxi is available. Another option is to walk to a taxi rank; cab stands can be found near major transportation hubs like the bus station, train station, ferry terminal and the airport, outside of high-end hotels and closeby to Rossio Square and the central Restauradores Square.
If you're travelling late at night, you can always call one of the Lisbon radio taxi companies to arrange a pickup or pre-book your transfers online. The most trusted cab company you can phone in Lisbon is Radio Taxis, which can be reached on +351 218 11 9000, +351 969 53 1660 or +351 919 78 1000. Keep in mind that there is an extra charge for using this service and requesting a pickup.
Booking your Lisbon taxi in advance
Whether you're travelling late at night and want everything to run smoothly, or you simply like to plan and budget before you arrive in a new city, booking your Lisbon taxi transfers in advance with Welcome Pickups is the best way to go about it.
No matter the destination, you can secure the best Lisbon taxi prices and a local English-speaking professional driver who is an ambassador for their city and wants to give you the best experience. That way you can ensure you get around at your pace, with safety, comfort and privacy throughout your trip. What is more, we offer 24/7 customer support, should you need to reach us.
Lisbon taxi tips
Make sure that your driver resets their taximeter to the base fare before you set off.
Write down your destination to avoid any miscommunication with the local Lisbon taxi drivers.
Wheelchairs, baby seats and pushchairs can be transported at no additional cost.
If you feel your driver is taking a longer route than what is necessary, check your location on Google Maps and kindly inform them of the best route.
Receipts have to be provided when asked for by law, however, they are often handwritten on paper.
Wheelchair-accessible taxis in Lisbon
Although standard Lisbon taxis you'll find in the street don't offer fully wheelchair-accessible vehicles, you can book accessible, ramp and/or electric lift-equipped vehicles through one of the following four companies:
CoopTaxis: +351 217 932 756
Auto Taxis Serra D'Arga: +351 213 970 900
Retalis: +351 218 119 000
TeletTaxis: +351 218 111 100
Make sure to inform them of your requirements, requesting an "adapted taxi" to suit your needs. Booking in advance is recommended to ensure availability.
Lisbon Taxi Complaints and Safety
Not only do drivers need to register and display their official photo ID in Lisbon taxis, but all local cabs are regularly inspected by law, to ensure they are in top-notch condition. The only thing to note is, that Lisbon taxi drivers tend to drive fast and may seem a little erratic. However, this isn't usually a reflection of your taxi driver's skills.
If you do experience any issues during your journey, be sure to ask for your receipt and report any incidents to the local transport authorities or tourist police.