Taxis in Cartagena
Cartagena is a vibrant city on Colombia's Caribbean coast, known for its colourful colonial architecture, lively nightlife, and stunning beaches. With its rich history and unique cultural blend, Cartagena offers visitors a truly unforgettable experience, and the best way to get around at your pace and make the most of this city is in a Cartagena taxi.
TRAINED DRIVERS
Hand picked & english speaking drivers
LOW PRICES
Same price as a regular Taxi from the line
FLIGHT MONITORING
Drivers are always on time
QUALITY SUPPORT
24/7 Email & Phone support
How much does a taxi cost?
Night time


(00:00 - 05:00)
FROM CARTAGENA TO BOCAGRANDE
FROM CARTAGENA TO SAN BASILIO
FROM CARTAGENA TO ROSARIO ISLANDS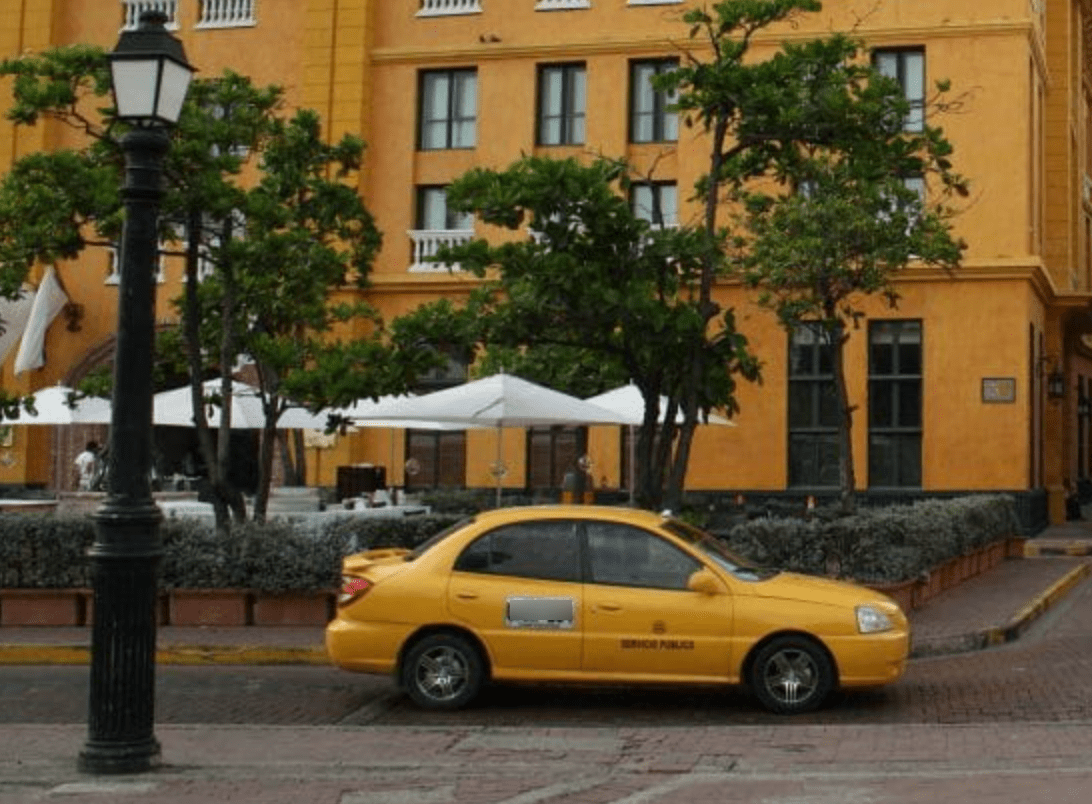 Cartagena Taxi Prices
Various Cartagena taxi services operate around the city, all of which calculate their prices using a taximeter based on the time and distance travelled. Two tariffs are applicable:
Tariff 1 (05:00 to 20:00):
Initial fee: €1.01 (COP 5,000)
Cost per km: €0.44 (COP 2,200)
Waiting price per hour: €4.03 (COP 20,000)
Tariff 2 (20:00 to 05:00):
Initial fee: €1.21 (COP 6,000)
Cost per km: €0.55 (COP 2,750)
Waiting price per hour: €4.84 (COP 24,000)
Nevertheless, if you wish to travel with a friendly, local English-speaking driver at a fixed price, you can pre-book your private transfer online with Welcome Pickups.
What our customers say about Welcome
How to get a taxi in Cartagena
Getting a taxi in Cartagena is simple; you can flag down a cab on the street as they are abundant in the city, especially in tourist areas. You can also head to any big hotel or busy hub or call a radio taxi in Cartagena. Some of the more popular companies are:
Radio Taxi Cartagena: +57 968 311 515
Taxi Imperial: +57 5 653 9494
Taxi Amarillo: +57 5 666 6666
Benefits of Booking a Private Transfer with Welcome
Travelling to a new city can be overwhelming, especially with children and heavy luggage. Finding your way around Cartagena's public transportation or waiting in long queues at taxi ranks just adds to the stress. Welcome Pickups offers a convenient ground transportation solution, so you can pre-book your private transfers in Cartagena to ensure hassle-free and pleasant rides whenever and wherever you need them.
With a focus on providing exceptional customer service, personalised rides, and a team of hand-picked and trained local English-speaking drivers, Welcome Pickups is more than just a transfer company. Pre-booking your Cartagena taxi allows you to enjoy a meet-and-greet pick-up, fast and reliable services round the clock, and door-to-door transportation. Moreover, you can book your transfer in less than 60 seconds using our handy app!
Cartagena Taxi Tips
Some taxis in Cartagena accept card payments, while others only accept cash. It's always best to confirm with your taxi driver beforehand.
Make sure that the taximeter has been turned on, reset and set at the correct tariff before starting your journey.
It is not mandatory to tip your taxi driver, but it is common practice to round up the fare to the nearest whole number or add a small amount as a tip if you're satisfied with the service.
Be aware that there is a price difference for day, night and weekend taxi journeys.
Wheelchair-accessible Taxis in Cartagena
Unfortunately, regular taxis in Cartagena cannot accommodate wheelchairs. However, when calling and booking a radio taxi in Cartagena, you can request a larger 7-seater vehicle, which can fit a folded wheelchair. Ensure you call ahead and specify your requirements when speaking to the taxi company to secure an appropriate vehicle for your needs.
Cartagena Taxi Safety and Complaints
If you encounter any issues with a taxi in Cartagena, there are several places where you can file a complaint:
– You can call the tourist police at +57 5 664 0796 or visit their office in the old city of Cartagena to file a complaint,
– You can reach out to the taxi company directly, or
– You can contact the Ministry of Transportation at +57 1 324 0800 to file a complaint.
When filing a complaint, it's essential to provide as much detail as possible about the incident, including the date, time, location, taxi license plate number, and driver's name.