Taxis in Medan
North Sumatra's capital city, Medan, has much to offer, though it is a less common tourist destination. The city is a major dynamic economic centre with a diverse population. You can find a blend of Islamic and European architectural styles in the centre and many cultural and historic sites, including Maimun Palace and the Great Mosque of Medan. If you are a foodie, Jalan Selat Panjang street is the place to go for divine street food.
Taking a Medan taxi is the most convenient way to navigate the city and surrounding area as cabs are widely available, with several taxi companies offering services around the city 24/7. Keep in mind that fares and quality of service may vary between the different taxi companies and it's always recommended to travel with official taxis only, to avoid surprises. For a completive flat rate you can rely on and a personalised ride, you can also book your transfer in advance with a professional, friendly Welcome Pickups driver.
TRAINED DRIVERS
Hand picked & english speaking drivers
LOW PRICES
Same price as a regular Taxi from the line
FLIGHT MONITORING
Drivers are always on time
QUALITY SUPPORT
24/7 Email & Phone support
How much does a taxi cost?
Night time


(00:00 - 05:00)
MEDAN AIRPORT TO THE CITY CENTRE
MEDAN TO TJONG A FIE MANSION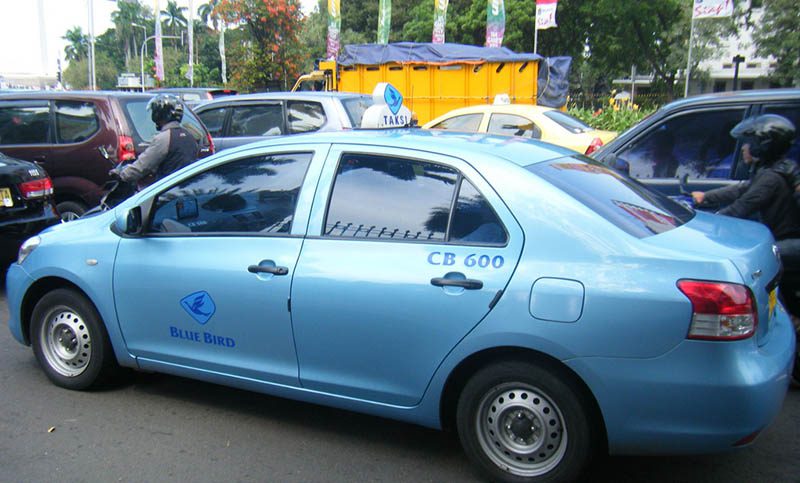 Medan Taxi Prices
Several taxi companies offer transfers in Medan. Taxi fares are determined by a taximeter which is installed in all official cabs. Fares can be estimated by a base rate of €0.50 (IDR 7,500), plus, an additional €0.30 (IDR 5,000) per kilometre travelled. To reach Medan city centre from the airport, you can expect to pay around €8.70 (IDR 142,500). For a competitive flat rate with no hidden charges, you can also book your ride in advance with Welcome Pickups.
What our customers say about Welcome
How to Get a Taxi in Medan
Several taxi companies serve the city of Medan. Taxis are easily found in the city centre. You can flag one down from the street or find drivers waiting near popular destinations. You can also call a Medan taxi company to request a ride or use a taxi app to book your transfer. A couple of the main taxi companies in Medan include Blue Bird (+62 (61) 846 1234) and Sumatera Taxi (+62 (61) 457 4702). If you know when and where you'll be needing a ride, a great alternative is to book your Medan taxi in advance with Welcome Pickups for a guaranteed on-time pickup and door-to-door service.
Booking your Medan Taxi in Advance with Welcome
If you know where and when you'll be needing a ride, you can save some time and hassle by booking your taxi in Medan ahead of time. When you book with Welcome Pickups, you know your driver will be ready and waiting for you as soon as you need to be picked up. Also, you will be charged a competitive flat rate, so you won't have to worry about what the meter may add up to.
Tips for your Taxi in Medan
Tipping your taxi driver isn't required, but often passengers will round the bill up or leave a tip of around €0.30 (IDR 5,000) for good service.
Blue Bird taxis offer charging ports, so you can power up your device during your ride.
Local taxis hardly accept card payments, so having cash with you is recommended. Alternatively, you may pre-book and pre-pay for your trip online.
Wheelchair Accessible Taxis in Medan
Wheelchair-accessible taxis are not yet widely available in Medan. Blue Bird is one of the first companies in Indonesia to offer a more accessible transfer solution. They offer Lifecare taxis to make transfers more comfortable for persons with reduced mobility, or anyone needing special care. Lifecare taxis are only available by booking over the phone; you can call +62 (61) 846 1234 to book.
Medan Taxi Safety and Complaints
Medan is known to be a relatively safe destination. Taxis are a great way to get around the city reliably and comfortably. If an issue does happen to arise during your taxi trip, keep a note of what happened, when, and where along with the taxi's license plate number. You can report your complaint to the taxi company you used for your transfer, or if needed, to the local police.